If you happen to visit Bursa and see a bunch of men hanging off cables, do not be surprised.
These men are known as the "Fearless Heroes" of Bursa and they do the maintenance on cable cars that travel between Mount Uludağ and the city center.
They work day and night under all weather conditions throughout the year to make sure that the 44 poles, steel ropes, the cabins and cable stations are up to safety standards.
Working 50 meters above the ground, the workers are picked through some grueling tests. "It is very difficult to work on the wires but we take all kinds of the security measures," said Muzaffer Çelik, leader of the maintenance team.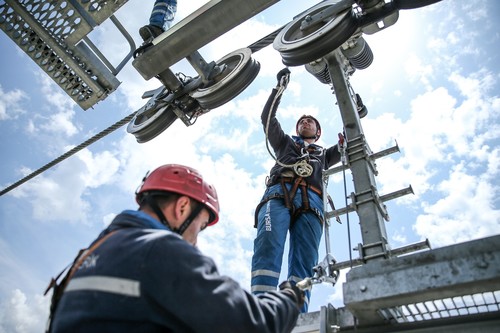 Çelik added that their job gets even more difficult in the winter but nothing can stop them from doing their job.
"We do our job with a lot of passion. From now and then, we have some crisis but we know how to get over them," he said.
Another team member, Hakkı Gümüşten has been working on the wires for the last four years. "We love what we do. There are times we work in minus 25 degrees Celsius. Our job is important because these cable cars carry thousands of people every day. We are not afraid of heights. That is why people call us 'Fearless Heroes.'"
The Bursa cable car line is one of the longest in the world. There are three main stations, with room for 140 passengers. The cable car underwent an upgrade and renovation in 2014.