For the past few years, one of the leading problems in the world has been food shortage and safety. Although food production is currently at its highest levels, it is hard to understand why there is still an increase in the number of malnourished people. Likewise, food safety has become a major problem for every country be it a developed or developing country.
With the effects of industrial food on human health often being scrutinized, some believe that excessive meat consumption causes more gas emissions in the atmosphere. Now, we have a new trend that has emerged to offer a solution to these problems - urban farming. The method employed by this farming model is called technological agriculture, or agritech for short.
Aiming to feed more people with foods that have higher nutritional value, agritech's key role is to produce natural food in indoor spaces by making use of technology. Even if you are not a farmer, you can still grow your own fruits and vegetables in your house thanks to agritech.
"Vertical farming" enables you to utilize an empty and unused space in your home or workplace. Vertical farming basically means producing food in vertically stacked growing layers that have their own watering systems with the help of LEDs that mimic sunlight. Encouraging agriculture in urban spaces, this method has been gaining popularity in the U.S. and Asia over the past decade for some viable reasons.
We sometimes forget that a small part of the millions who are struggling with famine live in cities. Access to food products sold in supermarkets or farmers markets in big cities is decreasing day by day. Technologists, who argue that the notion of agritech also has a social dimension, believe that small farms or plantation areas can be built in city centers with the help of technology. Among the innovative solutions offered for urban spaces, vertical farming is the most technological.
HIGH-QUALITY PRODUCTS
I had a chance to have a Skype meeting with Henry Gordon-Smith, a young agriculture technology expert who is the founder of the New York-based Agritecture Consulting, a leading consulting business in the field of vertical farming in the U.S. With five-person team, Gordon-Smith enables the agritech method by bringing together urban agriculture companies and new "urban farmers."
The fact that Gordon-Smith is a young entrepreneur in the field of agritech is an important detail showing that farming is not a job only for older people.
"The average age of farmers in the U.S. is 58. The new generation does not set agriculture and farming as a goal and working in this field does not appeal to them. I want to prove them wrong. My motivation to start this business was to find a technological solution to the difficulties people confront in terms of food in urban life. I believe that smart solutions must be introduced in smart cities. Vertical farming does not only enable the production of higher quality fruits and vegetables, but also demonstrates that everyone, including younger and older generations, can be a farmer," Gordon-Smith explained.
He also describes the working model of vertical farming, a brand new business line in the digital world, as follows, "When a person or a company consults us, we primarily conduct the required research and economic analysis. We firstly ask our clients what their goals are. Do they may aim to grow plants in a small space in their house that would suffice a family, or harvest as much as possible in a wider indoor or outdoor space and sell the product. We offer different solutions according to varying purposes. Sometimes we suggest implementing only vertical agriculture models in a certain part of the production space, and sometimes we suggest conventional agriculture methods especially when there is a vast space. After completing all the analyses, we begin the phases of designing and engineering the farm."
AGRITECH'S POPULARITY WILL RISE
"To give an example, a hotel that wishes to do so will be able to transform an empty space in its basement into a farm illuminated with LED lights. It does not matter how dark or damp the space is. By transforming such a space into a farm, the hotel would be able to provide its restaurant's kitchen with food it knows to be fresh and nutritious. For example, in the U.S., we eat tomatoes imported from Mexico without knowing anything about their freshness. One cannot be sure about their nutritional value," Gordon-Smith said.
He then went on to claim that food grown via vertical farming, which is similar to the common primary school experiment where beans are grown in water, is more nutritious because no supplements are used to grow them. Another benefit of farming indoors is that it allows the maximization of environmental factors that contribute to plant growth.
Vertical farming experts I've met in the U.S. stated that the only thing needed by any person or entrepreneur wishing to get into vertical farming is an empty indoor area with electrical wiring and that the farming spaces created by vertical farming can be offered to the public via small administrations and municipalities.
The companies that have gotten into the business of building urban agriculture farms and creating new technological solutions are sure that the trend of technological farming will continue to grow. These companies in the short term aim to grow "a wide range of reasonably priced and trustworthy produce with long shelf life that can be grown year-long independent of the weather." But the biggest obstacle to the faster progress of such companies is the high cost of technological farming, especially vertical farming.
Henry Gordon-Smith states that the minimum amount of capital required to start vertical farming is $50,000. On the other hand, the requirement to be amateur-engineers that can keep up with the digital environment imposed on people, especially as the projects that intend to transform cities into digital and smart cities progress, is also present in technological farming endeavors.
Anyone wishing to get into vertical farming should be able to navigate the technological expertise required and have enough knowledge to be able to organize the conditions of weather, soil and water suitable for plant growth in nature's stead.

MORE GREENS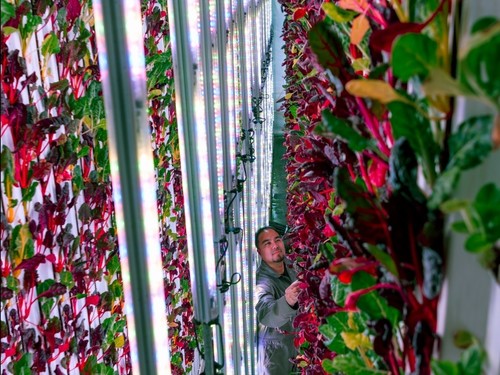 The first question that comes to mind regarding vertical farming is usually whether the product grown indoors via LED lights tastes different from the ones grown traditionally. Gordon-Smith answers this in the following manner, "I personally have not discerned any difference in taste but that's my opinion, others might disagree."
After high prices, the second disadvantage to this method of farming is that green vegetables are preferred due to their high yield. Gordon-Smith explains the reason for this preference as follows, "This is not because other products are unsuitable to grow with this method, a very wide variety of vegetables and fruits can be grown, but the yield with leafy greens is especially high compared to other vegetables."
CAN QATAR GET THROUGH THEIR EMBARGO WITH VERTICAL FARMING?
Qatar is now employing methods of urban agriculture in an effort to build self-sufficiency due to sanctions imposed on it by five member states of the Arab League, which includes the trade of food as well. David Forsenberg, the CEO of Aerofarms, one of the largest urban agriculture firms in the world, says that Qatari authorities have a positive outlook on vertical farming and that they wish to cooperate with local business people. Additionally, the Doha News Agency stated, "Qatar is interested in long term projects regarding independent food production and in the case that vertical farming can yield produce at a reasonable cost, it might be implemented in Qatar."