Abdulkerİm Mugenzi, 23, who is from Rwanda and studies dentistry at Kayseri's Erciyes University, enrolled in Turkish folk dance courses after he was impressed by a local folk dance called "zeibek."
As the youngest of six children, Mugenzi is the son of a driver father and a housewife mother. Coming to Turkey by means of the Diyanet Foundation in 2012, Mugenzi graduated from Konya International Mevlana Anatolian Imam Hatip High School and then enrolled at the faculty of dentistry.
Diligently studying as junior student at Erciyes University Faculty of Dentistry, Mugenzi also participates in a folk dances course provided for free by the Kayseri Provincial Directorate of Culture and Tourism. Getting a chance to know Turkish culture better, Mugenzi practices Turkish folk dances from various regions with his friends. At the official ceremony held at the Republic Square on the August 30 Victory and Turkish Armed Forces Day, the Rwandan university student attracted attention with his zeibek performance while wearing the traditional Efe costume. He aims to teach Turkish folk dances, which he loves, to youth in his own country.
'No discrimination in Turkey'
Speaking to Anadolu Agency (AA,) Abdulkerim Mugenzi said that he is receiving an education in the subject of his dreams - dentistry - with the support of Turkey and he didn't face any difficulty due to the friendly and hospitable attitude of the Turkish people. Expressing that he feels quite at home in Turkey, Mugenzi added, "I've never faced discrimination in Turkey. I feel quite comfortable in communication with Turkish people."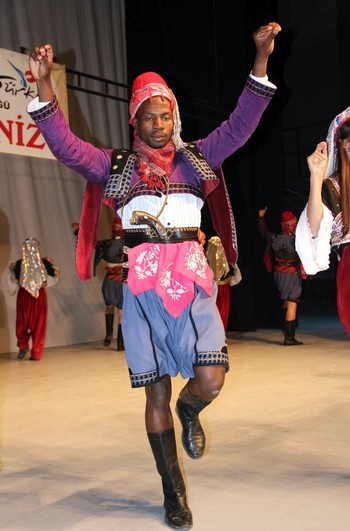 Mugenzi poses like an "efe" during zeibek dance.
Abdulkerim noted that he enrolled in the folk dance course upon the recommendation of a friend, "A friend of mine invited me to the course saying that it would be good for me to get closely acquainted with Turkish culture while learning to dance. After a while, I visited the course and watched their performance. I was impressed so much by the posture of men during the performance. Their posture encouraged me. I thought that my self-confidence will grow if I dance like them and so I enrolled. Now, I feel much braver. I feel as if I'm one of them after taking part in so many performances with these people. I got used to Turkey faster than I expected and I am getting not just an education but a lesson in Turkey's cultural codes."
He stated that it was upon his request that he wear the Efe costumes and performed zeibek at the official ceremony, "In the future, I would like to be a cultural envoy between the two countries."
Time to learn eastern folk dance
Mugenzi's classmate Göktürk Altıntaş, 22, said that he invited his friend to the course with the aim to introduce Turkish culture to a foreigner. Stating that all the course attendees were friendly and embraced Mugenzi in a short time, Altıntaş said, "He learns quite fast. He is okay in practicing zeibek, now we are learning southeastern Adıyaman folk dance. He also takes part in "halay." When he first came, we made a deal. He will teach us Rwandan folk dance after learning our dances. We hope that he will keep his word after we complete our mission."
The head of Kayseri Directorate of Culture and Tourism, İsmet Taymuş noted that the folk dance courses they offer for free are open all year long and suitable for participants of all ages and professions.
Stating that foreign students in Kayseri have also enrolled in the courses, Taymuş said, "They learn Turkish culture, music and melody at the course while making a circle of friends at the same time. Our folk dances are so beautiful that people dance hand in hand, linking arms in halay. All these are symbols of unity, friendship and loyalty to the country. In other words, every figure in Turkish folk dance has a special meaning.
"That's why we attach importance to our folk dance. The number of our course attendees is over a 100. We offer courses of folk dances from the various regions of Turkey. Zeibek and local folk dances of Gaziantep, Adıyaman, Kayseri and Elazığ provinces are some of them. Our aim is to pass down popular folk dances of Turkey to the next generations."