It is always hard to leave your pet behind when you plan a vacation or have to be somewhere at short notice. In addition to the emotional baggage, finding someone you trust to take care of your four-legged members of the family is not an easy task.
However, two young entrepreneurs from Istanbul have created a website to bring pet owners and caregivers together, making the life of pet owners easier.
Six months ago Gizem Akdaş and Umut Kaymaz put their idea to the table and decided to create an online platform. They understand that the hardest part of owning an animal is finding somebody to take care of it while one is away.
By creating PetSurfer, the duo managed to solve the biggest concern pet owners have - finding a safe place for their pets for a few days. In just six months, PetSurfer has exceeded all expectations, with 2,400 members already signed up for the service.
Being an online platform, you can register from all over Turkey. The platform offers pet owners a variety of choices including, caregiving at home, kindergarten for dogs, dog walking and house visits for your cat and dog.
On the platform, the caregivers are registered as hosts while pet owners sign up as surfers. Once you register on the website, pet owners are able to see the fees for each service.
In the coming days, PetSurfer will also feature new sections for adoption, milk mothers for new born animals who lost their mothers as well as a lost and found section.
PetSurfer meets needs
Co-founder Gizem Akdaş, who is a dog owner, said the idea behind the online platform came about because of her own need for an animal caregiver.
When she had to travel for her job, Akdaş had a hard time leaving her dog "Kiraz" behind for a few days. While brainstorming with her business partner Umut Kaymaz, the duo came up with the idea of an online platform to connect pet owners and caregivers.
Stating that similar platforms are operating in Europe and the U.S., Akdaş said: "PetSurfer gives freedom of travel to pet owners. We thought these kinds of services are needed in Turkey."
Although PetSurfer offers opportunities for pet owners, people still have concerns about the safety of the system and their animals. However, PetSurfer has thought of it all.
Safety first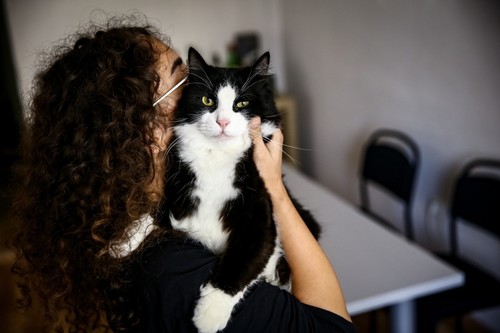 PetSurfer has a security system that consists of six steps. As a first step, the system registers you with your identity number which allows security personnel to do a background check. If members are reluctant to give their identity number, PetSurfer does not put their name in the system. The second step is to fill out a member profile correctly as possible and tell other members about experiences with animals and your own pets. Once members are registered, the security team assesses the applications before verifying membership.Member profiles are verified via a short message. Soon the website will provide a new section where one must register their address and criminal records before becoming a verified member.
Soon, PetSurfer will also sign a deal with an insurance company to ensure the safety of the pets as well as the house of the hosts.
Although the online platform offers many services, PetSurfer's best feature is the "meet and greet," section, said Gizem Akdaş. "We want pet owners and caregivers to meet first before making any arrangements. It is an important step for us. It is better to meet first, see how the caregiver and the pet get along or the pet can get used to the host's house. If there is any inconvenience on both sides, the deal can be canceled immediately. There is a 100 percent return policy when it comes to the fee."
Kindergarten for pets
"PetSurfer offers a number of services for pet owners but perhaps the best service for people who work from 9-to-5 is the 'dog kindergarten,'" said Umut Kaymaz, the other co-founder of PetSurfer.
Kindergarten for dogs is no different than human kindergarten. Pet owners can leave their dogs at these facilities and pick them up on their way back home. While their owners are away, the dogs can socialize with other dogs and release their energy as there is a lot of space in the kindergarten.
However, changing places are not good for all animals, such as cats. As they do not like to be in new places, other than a familiar environment, PetSurfer offers house calls for such pets. Caregivers stop by at houses and meet the need of the cats while the owners are away.
Kaymaz said they worked on PetSurfer for the last two years and it is amazing to have so many members in just six months.
Explaining that the feedback for the online platform is all positive, Kaymaz said: "We believe that PetSurfer is a nice platform for pet owners. The number of our host and surfer members is increasing every day. Currently we are working on our application as well. It will be available in the second half of 2019."