Officials of Şanlıurfa province, a city with great examples of stone buildings, initiated a campaign to boost the usage of the nahit stone in the city and in Turkey. Famous for its aesthetics and durability against harsh weather, the nahit stone is also known as the Urfa stone.
Mostly used in the making of houses, mosques, bridges, madrasahs and khans throughout history, the nahit stone is easy to shape due to its soft form, and it gets more stiff and durable over time when exposed to rain and sun.
With a nahit stone reserve of 86 million tones, Şanlıurfa draws attention as the most important region in the world in terms of nahit stone reserves. The buildings made of nahit stone, which has become popular again in the city, look as though they are historical structures due to the characteristics of the stone. The extraction of nahit stone, which enables structures to stay warm in winter and cool in summer, is a difficult process.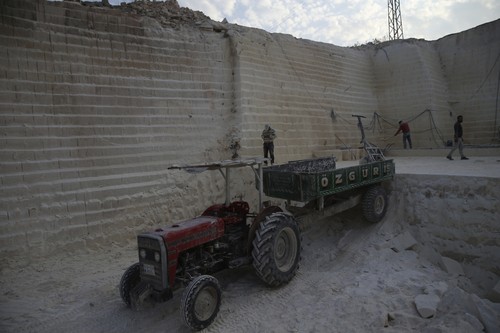 Workers in a nahit reserve.
Under the Şanlıurfa Model in Local Development Project, which was initiated for the social, cultural and economic development of the city, the Şanlıurfa Metropolitan Municipality decided to use of nahit stone in the city's architecture as well as market its use in other cities.
Officials detected spots of nahit stone reserves and now they aim to attract investors to these areas via incentives.
Urfa stone to adorn Bodrum
Şanlıurfa Metropolitan Mayor Nihat Çiftçi spoke to Anadolu Agency (AA) and said, "Şanlıurfa is a historical city dating back to 12,000 years. We want to contribute to the country's economy in addition to national and local products by offering the region as an attraction center via various projects."
Stressing that in the past, almost all the houses in the city were made of nahit stone and that is how they stand up until today, Çiftçi added, "The required analysis has been made on nahit stone, which is associated with Urfa. Our city has 86 million tons of nahit stone reserves. Our soil is quite rich in terms of this stone. We want to use these stones, especially in architecture and landscaping. It is also highly effective as a material as it gets more durable when confronted with water and sun. Structures made of nahit stone become cool in summers and warm in winters. As a municipality, we decided to use this important stone in architecture, landscaping and park-garden arrangements. We are also in the process of setting up worksites for the nahit stone reserves. We send the stone to other cities in addition to using it for our projects. We have also been receiving demands from other cities." "Recently, some officials from Bodrum visited us and conducted a study on the stone. They said 'We want to take nahit stone to Bodrum as the annual maintenance of the other stones is so high. However, nahit stone doesn't require maintenance. It can last for centuries.'"
Çiftçi noted that they want to use such an important reserve in the growth, development and improvement of Şanlıurfa and added, "For now, we use nahit stone for some projects. It changes color in the aftermath of exposure to the sun. During the making process it is easy to form, motives are engraved quite easily as if working on a soft piece of cheese. When the stone faces hot or cold weather or rain and sun, its durability increases. Another characteristics of the stone is that it adds an historic flavor to the environment it is located in. Nahit stone offers such splendid architecture, it was wise of our ancestors to have built houses with it. The secret behind 1,000-year-old structures is the nahit stone. It would be impossible to build such durable structures with any other pieces."
Mayor Nihat Çiftçi noted that they want to evaluate the stone basalt, which is another value of the city, in the making of pavements and asphalt as part of the Şanlıurfa Model in Local Development project.
Overseas Demand
General Manager of BELTAŞ Cc. that works under the Şanlıurfa Metropolitan Municipality, Ömer Faruk Küçük stated that there are so many private companies producing the Urfa stone, with the number rising day by day.
Stating that they want to use the stone mostly in architecture, Küçük said, "The stones produced here are used in Şanlıurfa and neighboring cities, however, it is difficult to send the stone to faraway cities due to its weight. With our current project we aim to produce the stone in smaller sizes by combining its dust with various components. Hence, we can market the stone in other areas."
Producing nahit stone in Şanlıurfa for seven years, Yavuz Saftaş also noted that the stone is really long lasting and durable against all kinds of harsh weather conditions. "That's why it became popular. I send the stones both to Turkish cities and various countries. Customer feedback is also quite positive."