The locals of Belgium's Faymonville village, known as "Turkish village" despite lacking Turkish residents, organized their annual carnival on Monday by waving the Turkish flag and donning traditional red and white costumes.
The small village of about 1,000 residents, none of whom are Turkish, attracts thousands of visitors, especially Turkish people, from all over Belgium and Europe each year during carnival time.
During the festival, Faymonville's Francophone residents dress up in traditional clothes and carry the Turkish flag on horseback as they march through the streets.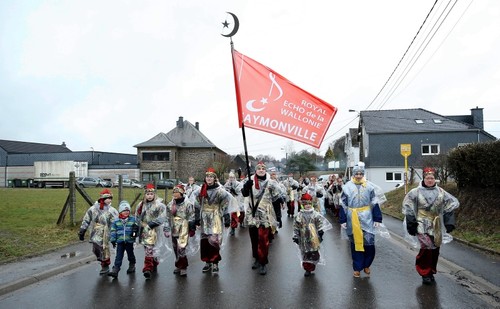 There are different accounts, dating back as far as the eighth century, as to why the Belgian residents of the eastern village are called Turks. According to one rumor, villagers rejected taking part in the medieval Crusades organized against Muslim Turks.
Another tale says the village got its nickname after its residents refused to pay church-imposed taxes to finance a war against the Ottoman Turks, and instead allied with them in the 16th and 17th centuries.
Apart from the annual festival, the "Turkish" influence can be seen in other aspects of village life, as well. The village's football team RFC Turkania (Young Turks Union) competes in Belgium's amateur league, wearing uniforms featuring the Turkish star and crescent.
In the entrance of the library building located in the town center, a marble plaque bears the Turkish star and the crescent figures, and other flag motifs can be seen on the windows of the building.