CNN has reassigned on Thursday international correspondent Diana Magnay from Israel to Moscow after a group of Israelis watching the bombardment of Gaza atop a hill allegedly threatened her "scum."
The correspondent was covering the Israeli airstrikes on Gaza when she tweeted, "Israelis on hill above Sderot cheer as bombs land on #gaza; threaten to 'destroy our car if I say a word wrong'. Scum."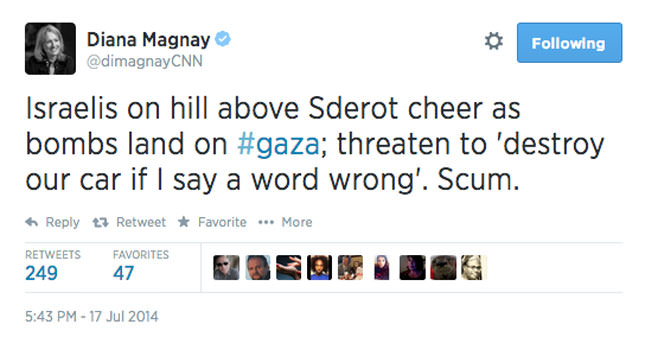 In a written statement a CNN spokesperson said that Diana Magnay had been "threatened and harassed" but "deeply regrets the language used."
The spokesperson said, "After being threatened and harassed before and during a liveshot, Diana reacted angrily on Twitter but she deeply regrets the language used, which was aimed directly at those who had been targeting our crew. She certainly meant no offense to anyone beyond that group, and she and CNN apologize for any offense that may have been taken."