The US First Lady Michelle Obama's face was reportedly 'blurred out' by Saudi state television during her visit accompanying President Obama to offer condolences for King Abdullah and meet with the new Saudi King Salman in Riyadh, on Tuesday.
The new King welcomed President Obama at the Erga Palace, where he met with the President but failed to acknowledge the first lady, BloombergView reported.
In the video posted on BloombergView, King Salman shakes hand with the President, and then moves on without shaking hands with Michelle Obama, proceeding with the prayers in the middle of the protocol.
In addition to the alleged 'blurred out', Michelle Obama was also criticized in Saudi media channels for wearing a blue dress, rather than a black one, which is a custom for funerals, the report said. Social media outlets also witnessed trends commenting on the firstly lady not wearing a headscarf.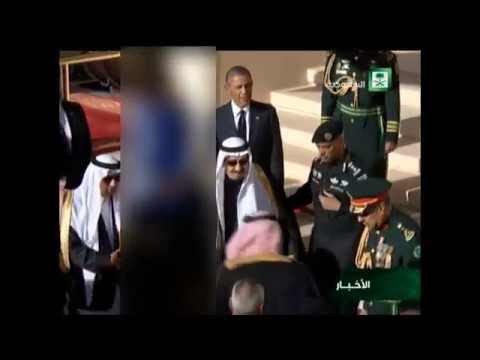 President Obama had recently explained in an interview with CNN that Saudi Arabia's human rights record is not the first priority in talks with the new Saudi king, as terrorism is the immediate concern.
Despite Saudi Arabia being the closest US ally in the Middle East, it is known for its negative attitude towards human rights, most famously women's rights, and oppression on freedom of speech. Currently, women are not allowed to drive in the Kingdom of Saudi Arabia, although the "Women2Drive" campaign by local activists has challenged the ban. Discriminatory rules relating to marriage and divorce also appear to trap women in violent and abusive relationships.
According to a 2013 report about Saudi Arabia from human rights watchdog Amnesty International, "The authorities severely restrict freedoms of expression, association and assembly and clamp down on dissent. Government critics and political activists are detained without trial or sentenced after grossly unfair trials. Migrant workers are exploited and abused. Sentences of flogging are imposed and carried out. Hundreds of people are on death row at the end of the year [2013]; at least 79 people have been executed."
Barack Obama and the first lady had cut short their India trip to go to Saudi Arabia to offer condolences and attend the post funeral ceremony with the late monarch's family.