After months of violent clashes, Kobani is free of Islamic State of Iraq and al-Sham (ISIS) fighters, but the northern Syrian town is now in ruins.
An Anadolu Agency team of correspondents and cameramen entered Kobani on Tuesday, following ISIS's apparent defeat the previous day.
For the past four months, they had been watching the developments from the Turkish town of Sürüç across the border.
The victory against ISIS, which was confirmed Monday by U.S. Central Command, follows four months of resistance by Kurdish forces and coalition airstrikes.
"While the fight against ISIS is far from over, ISIS's failure in Kobani has denied them one of their strategic objectives," CENTCOM said in a statement.
The clashes have left the town in ruins, destroying whole neighborhoods, damaging infrastructure and wrecking vehicles.
There are almost no structures which have not been damaged, with public buildings and hospitals totally demolished in air bombardments, suicide attacks and mortar shells.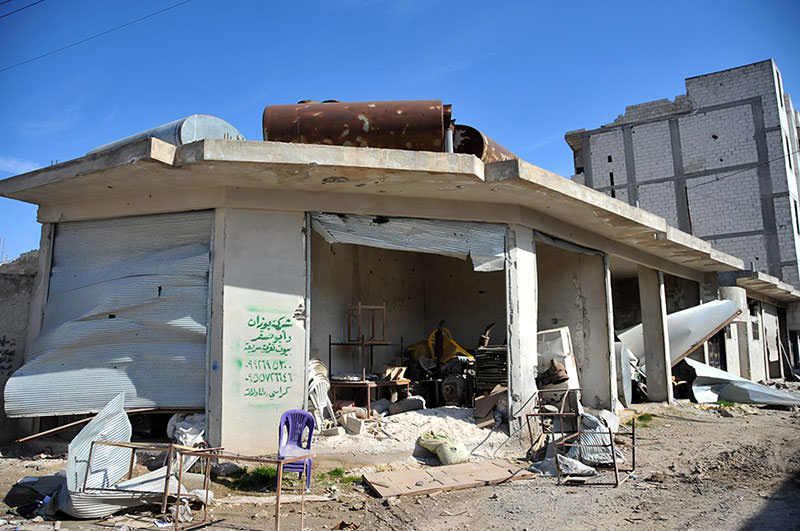 Kurdish fighters could be seen putting up sheets and carpets to cover up broken windows to shield themselves against snipers.
There are currently no civilians in Kobani and sounds of clashes can still be heard as coalition fighter jets continue their inspection flights.
The U.S. and partner nations have carried out about 1,600 air strikes against ISIS in Iraq and Syria since operations began in August 2014.
Around 180,000 Kurdish refugees have fled to Turkey since the battle for the strategic town erupted four months ago.
Meanwhile, Turkey's pro-Kurdish party lawmakers also visited Kobani on Tuesday.
Selma Irmak, Ibrahim Ayhan and Ibrahim Binici from the People's Democratic Party met Anwar Muslim, a senior representative from the Kurdish Democratic Union Party, or PYD, a group which Turkey sees as a branch of the outlawed Kurdistan Workers' Party, or PKK.
PKK is listed a terrorist organization by Turkey as well as the U.S. and the European Union.
Muslim said there is hard work ahead of them to reconstruct the town, which became a battlefield between Kurdish fighters and ISIS militants since September 2014.
"From now on, we will work for the reconstruction of a new town," said Muslim.