Israeli Prime Minister Benjamin Netanyahu pledged on Monday that a Palestinian state will not be established if he is re-elected, as part of frantic last-minute campaigning ahead of parliamentary elections.
Netanyahu, looking to shore up support from his hard-line base ahead of the Tuesday vote, made the comment in a videotaped interview posted Monday on the nrg news website.
The latest opinion polls have shown Netanyahu's Likud Party trailing Isaac Herzog's Zionist Union, with momentum shifting away from Netanyahu. Herzog has confidently predicted an "upheaval" was imminent.
"I think that whoever today moves to establish a Palestinian state and withdraw from territory is giving attack territory for extremists against the state of Israel," Netanyahu told nrg. "Whoever ignores that is burying his head in the sand. The left is doing that, burying its head in the sand time after time," he said.
When asked if that means a Palestinian state will not be established if he is elected, Netanyahu said "indeed."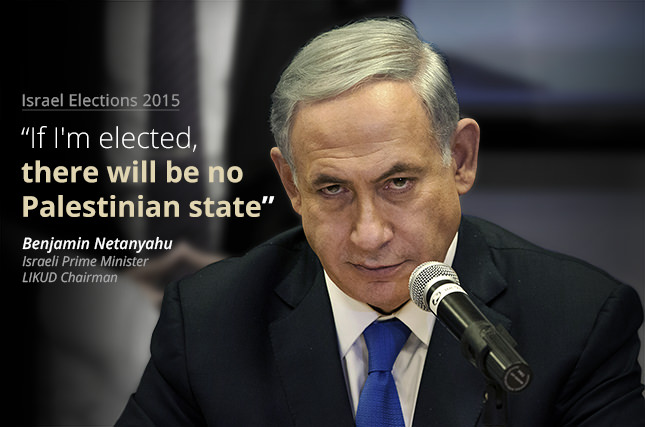 The election, called by Netanyahu in December two years ahead of schedule, is widely seen as a referendum on the Israeli leader who has governed the country for the past six years. While Netanyahu could still end up in the best position to cobble together a ruling coalition, the slipping support has rattled Likud which began the campaign all but assured that it would stay in office.
In recent days Likud has been on a get-out-the-vote blitz, with Netanyahu stepping up his nationalist rhetoric, saying a dovish government would spell disaster for the country and complaining of an international conspiracy to oust him. Netanyahu, who rarely speaks to the media, has given a series of interviews to Israeli media in recent days and on Sunday night, he addressed an outdoor rally before tens of thousands of hard-line supporters in Tel Aviv.
"We will preserve Jerusalem's unity in all its parts. We will continue to build and fortify Jerusalem so that its division won't be possible and it will stay united forever," he said. "Likud's victory is the only thing that can ensure the continuation of a national leadership and will prevent the establishment of a left-wing government." Netanyahu said during a visit to occupied East Jerusalem's Jewish-only Har Homa settlement on Monday.
Herzog has been surging in the polls on a campaign that promises to repair ties with the Palestinians and the international community and also bring relief to the country's struggling middle class.
Visiting his party headquarters, an upbeat Herzog talked about a "crucial" vote for the country and warned against splitting the anti-Netanyahu vote among the various centrist parties, including charismatic leader Yair Lapid's Yesh Atid Party.
"Whoever wants Lapid, whoever wants Yesh Atid, in the government has to vote for us. They have no other choice," he said. "Whoever wants an upheaval has to vote for us."
Lapid himself got a warm welcome in the coastal city of Netanya, where people stopped him in the street to take selfies. He accused both Netanyahu and Herzog of working outside deals with special interest groups and said that only he was tackling the real issues facing the Israeli middle class.
Lapid has so far refused to commit to either Herzog or Netanyahu, though he is widely seen as a logical ally of Herzog's in a future coalition.
Under Israel's electoral system, no party has ever won an outright majority in the 120-member parliament. Instead, the party with the best chance of forming a coalition usually the largest party is given the chance to form a coalition.
Since neither Likud nor the Zionist Union is expected to earn more than a quarter of the votes, the election will likely be followed by a lengthy period of negotiations over the next coalition government.
A potential kingmaker could be found in the new centrist party of Moshe Kahlon, who is running on an economic platform that deals almost exclusively with bread-and-butter issues while putting Israel's diplomatic challenges on the back burner.