The World Health Organization has asked the Syrian government for permission to send mobile clinics and medical teams to the besieged town of Madaya to assess the extent of malnutrition and evacuate the worst cases, its representative said on Tuesday. An aid convoy on Monday brought the first food and medical supplies for months to the town, where thousands are trapped and local doctors say some have starved to death. Elizabeth Hoff, WHO representative in Damascus who went into Madaya on Monday in the convoy, said the agency needed to do a "door-to-door assessment" in the town of 42,000 people, where a Syrian doctor told her 300-400 needed "special medical care". "I am really alarmed," Hoff told Reuters, speaking by telephone from the Syrian capital where the Norwegian expert has been based since July 2012. "People gathered in the market place. You could see many were malnourished, starving. They were skinny, tired, severely distressed. There was no smile on anybody's face. It is not what you see when you arrive with a convoy. The children I talked to said they had no strength to play."
On Monday, the WHO brought in 7.8 tons of medicines including trauma kits for wounds, medicines for treating both chronic and communicable diseases, and antibiotics and nutritional therapeutic supplies for children, Hoff said. It intends to return on Thursday as part of a U.N. convoy with more medical and food supplies, she said. The Syrian Observatory for Human Rights, a group that monitors the war, said at least 300 people left the town and were taken by government forces to the Damascus region. The U.N. said its vehicles were not used to take anyone out of Madaya. Hoff said another Syrian doctor had told her that "mothers had absolutely no milk for breast-feeding, the milk had dried up and the babies are not satisfied". "The female doctor also reported having done 27-30 C-sections (caesarean sections) in the past seven months. She does not have the requisite training, but she saw it as a life-saving intervention," Hoff said. Many malnourished people were too weak to leave their homes. "We need to go in with the Syrian Arab Red Crescent for a door-to-door assessment, if there are these cases we need to verify and make sure they get urgent treatment," Hoff said. "I sent an immediate request to authorities for more supplies to be brought in. We are asking for mobile clinics and medical teams to be dispatched." She added: "We need unhindered, sustained access, the only thing that will help in the long term is lifting the siege."
WHO simultaneously delivered 3.9 tons each to Foua and Kafraya, two villages in Idlib province encircled by rebels fighting the Syrian government.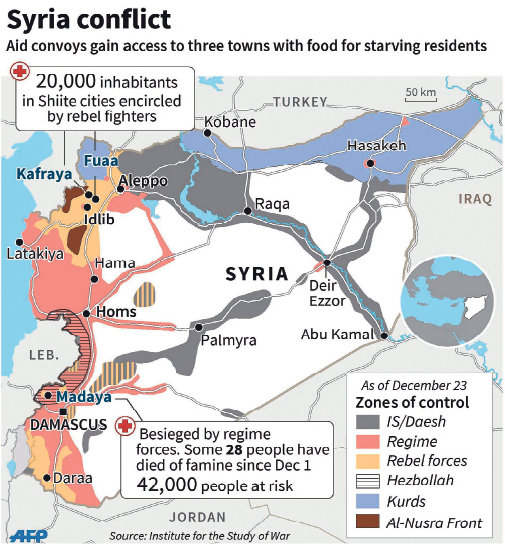 Hoff visited two medical sites in Madaya, one a private practice based in a home run by two doctors, and the other a makeshift field hospital in a basement. Neither had supplies. "The doctors at the private practice said they had run out of medicines they received in October and patients preferred to spend what little money they had on food and not health care," Hoff said. "They reported widespread malnutrition and serious problems with severe acute malnutrition, I cannot confirm what they reported." The two doctors lacked equipment for measuring wasting in a child, or even a scale to weigh patients, she said. The makeshift field hospital, down a dark flight of stairs, lacked hygienic conditions, Hoff said. "The room is often so crowded that they had to give a drip to a patient outdoors because there was no room in the clinic." The two doctors at the private clinic told her that they see patients with "acute respiratory infections, urinary tract infections and anaemia", she said. Others had low blood sugar. "An elderly lady had not eaten for 20 days, she was picked up unconscious on the street and brought in. She had bruises from the fall. She was severely undernourished." The first Syrian doctor there told her he had names of 300-400 people requiring immediate medical care. "The doctor in the clinic reported that he hadn't eaten for three days." "I spoke with a man who said he was 45 and severely malnourished, he could hardly talk. He said he had four children at home who are in a bad situation. He was totally dehydrated and had a yellow color and was distressed." "A pregnant woman was there who came in regularly unconscious ... she was lying in front of me, with very low blood sugar and lacking food. The nurse had nothing to give."
The U.N. humanitarian chief has called for Monday's delivery of aid to be the first of many and welcomed a Syrian statement that such deliveries should be repeated and sustained. Stephen O'Brien told reporters after briefing the U.N. Security Council behind closed doors that the arrival of convoys to help civilians in the three towns cut off for months by the war in Syria must not be "either one-off or exceptional." O'Brien said efforts will be made to get ambulances to Madaya on Tuesday to evacuate the 400 people, of all ages, if safe passage can be assured. It will take several days to distribute the aid in Madaya, near Damascus, and the Shiite villages of Foua and Kfarya in northern Syria, and the supplies are probably enough to last for a month, aid agencies said. "It's really heartbreaking to see the situation of the people," said Red Cross spokesman Pawel Krzysiek, who oversaw the distribution in Madaya. "A while ago, I was just approached by a little girl and her first question was, 'Did you bring food?'" Sajjad Malik, a representative of the U.N. High Commissioner for Refugees who took part in the operation described how grateful the people were. "It's cold and raining, but there is excitement because we are here with some food and blankets," Malik said.
The Independent last week reported that 40,000 civilians are starving in the town after several graphic images of malnourished civilians were released on social media. Activists said the civilians had started eating weeds, insects and even cats. "Encircled by land mines and forces from the Lebanese militia Hezbollah, hundreds are suffering from malnutrition. With severe shortages of basic foodstuffs, many have resorted to eating wild plants, insects and even cats," the Independent said. An activist told the daily that the "Lebanese [Shiite] militia, which has been fighting on the side of [Syrian President] Bashar Assad in the Syrian conflict, was effectively holding civilians hostage in order to gain leverage over two embattled [Shiite] towns in Syria's northern Idlib province. The towns Kafrayya and Fua are besieged by members of the umbrella group Jaish al-Fatah." "One of its members, Ahrar al-Sham, was among the groups that had been battling pro-government forces in the strategic town of Zabadani, which lies close to Madaya," the report said. "The price of food has spiraled uncontrollably, with a 1 kilogram bag of rice costing as much as $100. One photograph showed a car for sale in exchange for 10 kilograms of rice or 5 kilograms of baby formula. The vehicle was incorrectly attributed to Mr. Alloush, according to Mr. Ibrahim. 'I wish Mr. Jamil had a car,' the activist said. 'He could sell it rather than dying like that. The poor man used to have a bike and nothing more.' He added: 'All those who have cars, they are offering them for sale.' The activists said that they had tried and failed to raise the plight of the entrapped inhabitants of Madaya. They have become convinced that no one cares," the daily wrote.