Iranians have begun nationwide celebrations to commemorate the anniversary of the 1979 Islamic revolution. State television on Thursday aired footage of rallies in Tehran and other cities and towns across the country, many of them in frigid winter weather conditions. The demonstrators chanted traditional slogans against the U.S. and Israel, and the streets in many cities were decorated with anti-U.S. and anti-Israeli banners and posters. The rallies commemorate Feb. 11, 1979, when followers of Ayatollah Ruhollah Khomeini ousted U.S.-backed Shah Reza Pahlavi. The U.S. helped orchestrate the 1953 coup that overthrew Iran's popular prime minister, Mohammad Mossadegh, and brought Pahlavi to power.
Iranians waved "Death to America" banners and took selfies with a ballistic missile, weeks after Iran finalized a nuclear deal with world powers. In the capital, hundreds of thousands converged on the historic Azadi (Freedom) Square, where President Hassan Rouhani was set to make a speech. Many demonstrators carried the traditional placards reading "Death to America" and "Death to Israel" while others carried the Iranian flag. State television said millions turned out nationwide at revolution rallies in all main cities marked by the burnings of those two countries' flags.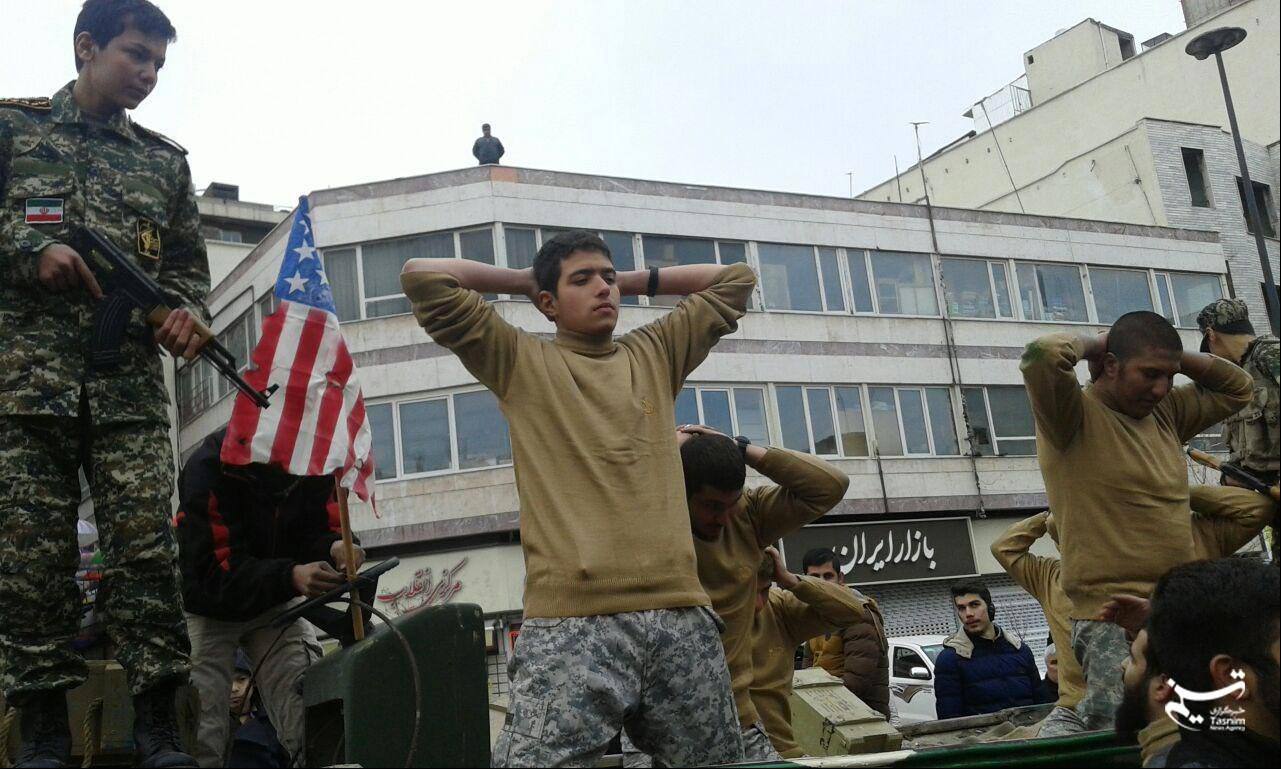 Iranian protesters staged a show, vivifying the capture of 10 U.S. sailors.

Iran holds annual celebrations commemorating its 1979 revolution, but Thursday was the first since a landmark deal with world powers, including the United States, was finalized, paving the way for punishing economic sanctions on Tehran to be lifted. The deal has seen a host of foreign investors declare interest in Iran, an unblocking of frozen Iranian assets held abroad and a warming of ties between the Islamic republic and the West.
Young people at a rally on Thursday reconstructed a scene from mid-January that saw U.S. Navy sailors detained by Iranian Revolutionary Guards. State television has repeatedly broadcast pictures of the 10 sailors with their hands on their heads. On Wednesday night, a brief video also showed one soldier in tears. Touted domestically as proof of Iran's ability to defend its borders, the sailors were released within 24 hours, just days before the nuclear deal was finalized on January 16.
Revolutionary Guards were present on Thursday, displaying a long-range Imad ballistic missile in central Tehran. Many people were taking selfies with the missile, the ISNA news agency reported. Last October, Iran "successfully" tested the new missile, which Tehran says has a range of 1700 kilometers. Local media also published images of General Qassem Suleimani, chief of the Guards' Quds special forces, marching in the rally. Louis Farakkhan, leader of the American group Nation of Islam, was also to make a speech as honorary guest after Rouhani. Iran's Supreme Leader Ayatollah Ali Khamenei and other leaders had called in recent days for mass participation in rallies in a bid to demonstrate national unity.