Trucks carrying aid entered four besieged towns in Syria on Wednesday, in what the United Nations described as a test for the country's warring sides ahead of a hoped-for ceasefire. The Red Crescent said trucks laden with supplies entered Moadimayet al-Sham, near Damascus, the first delivery of aid since world powers agreed on an ambitious plan to cease hostilities by Friday and dramatically ramp up humanitarian access. The agency's Muhannad al-Asadi told AFP that 35 trucks entered the town, "carrying 8,800 sacks of flour, 4,400 food parcels, high-energy foods and medical equipment." An AFP journalist said three trucks also entered Madaya, a town besieged by Syrian forces in Damascus province. And the U.N.'s humanitarian coordinator for Syria, Yacoub El Hillo, said aid trucks had reached the Shiite towns of Fuaa and Kafraya, in northwestern Idlib province, which are surrounded by rebels. "Dozens of trucks will follow" for Madaya, Fuaa and Kafraya, he said. "We are about the finish the process." He said that aid dispatched Wednesday to towns, including Zabadani, under government-imposed siege in Damascus province, was enough for 93,000 people. Almost half a million people in Syria are in areas under siege, according to the U.N. Prospects for the ceasefire, announced by top diplomats in Munich last week, have been fading as violence continues to shake Syria, including air strikes on hospitals and repeated Turkish shelling of Kurdish militia. The U.N. estimates there are 486,700 people in around 15 besieged areas of Syria, and 4.6 million people in hard-to-reach areas. In some, starvation deaths and severe malnutrition have been reported.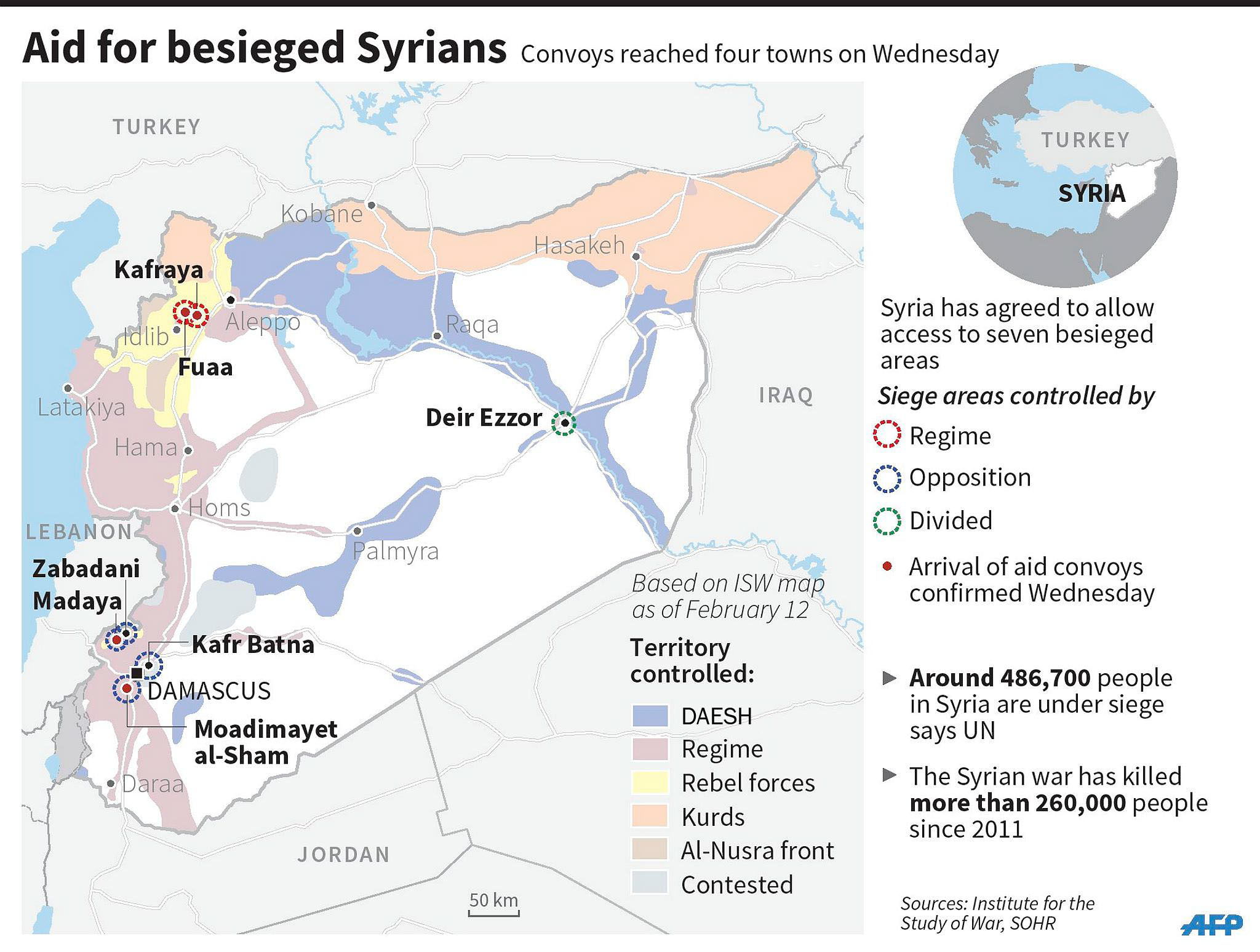 U.N. envoy Staffan de Mistura said aid deliveries would provide a "test" for Syria's warring sides ahead of Friday's planned truce. "It is the duty of the government of Syria to want to reach every Syrian person, wherever they are, and allow the U.N. to bring humanitarian aid," he said in Damascus. A senior aide to Syria's Bashar Assad accused the envoy of deviating from his role as a mediator. "His mission now is to establish a list of terrorist groups, and a list of opposition groups who should dialogue with the Syrian government," Buthaina Shaaban told AFP. "Instead of that he was working on humanitarian aid, which is not really his mission because he is a facilitator."
Diplomats have been pressing the ceasefire deal as a step forward in efforts to end Syria's nearly five-year conflict, which has left more than 260,000 people dead, devastated the country and forced millions from their homes. A major international push to resolve the conflict, including Western and Arab nations that have largely backed Syria's opposition and Assad's key supporters Russia and Iran, was launched last year. But peace talks between the regime and opposition in Geneva quickly collapsed this month and a major regime offensive, backed by Russian air strikes, has continued in northern Aleppo province. A U.S. military spokesman said on Wednesday that Russian and Syrian regime raids may be intensifying. Air strikes on five medical facilities and two schools in northern Syria earlier this week killed at least 50 people, the U.N. said. One hit a hospital supported by charity Doctors Without Borders (MSF), prompting widespread condemnation.
The Independent last month reported that 40,000 civilians are starving in the town after several graphic images of malnourished civilians were released on social media. Activists said the civilians had started eating weeds, insects and even cats. "Encircled by land mines and forces from the Lebanese militia Hezbollah, hundreds are suffering from malnutrition. With severe shortages of basic foodstuffs, many have resorted to eating wild plants, insects and even cats," the Independent said. An activist told the daily that the "Lebanese [Shiite] militia, which has been fighting on the side of Bashar Assad in the Syrian conflict, was effectively holding civilians hostage in order to gain leverage over two embattled [Shiite] towns in Syria's northern Idlib province. The towns Kafrayya and Fua are besieged by members of the Islamist umbrella group Jaish al-Fatah." "One of its members, Ahrar al-Sham, was among the groups that had been battling pro-government forces in the strategic town of Zabadani, which lies close to Madaya," the report said. "The price of food has spiraled uncontrollably, with a 1 kilogram bag of rice costing as much as $100. One photograph showed a car for sale in exchange for 10 kilograms of rice or 5 kilograms of baby formula. The vehicle was incorrectly attributed to Mr. Alloush, according to Mr. Ibrahim. 'I wish Mr. Jamil had a car,' the activist said. 'He could sell it rather than dying like that. The poor man used to have a bike and nothing more.' He added: 'All those who have cars, they are offering them for sale.' The activists said that they had tried and failed to raise the plight of the entrapped inhabitants of Madaya. They have become convinced that no one cares," the daily wrote.