An EgyptAir flight from Paris to Cairo with 66 people on board crashed on Thursday morning in the the eastern Mediterranean, close to southern Greek island of Karpathos while still in Egyptian airspace.
In a series of posts made on its official Twitter account, the airline said its flight MS804, which included 56 passengers, seven crew members and three security personnel lost contact with its radar system early morning.
The "possibility that the plane crashed has been confirmed," as the plane hasn't landed in any of the nearby airports, said the officials, who spoke on condition of anonymity because they were not authorized to speak to the media.
The official said a signal had been picked up from the plane two hours after it disappeared from radar, thought to have been an emergency beacon.

Meanwhile, the plane crashed into the sea off the southern Greek island of Karpathos while in Egyptian airspace, a Greece aviation source told AFP.
A Greek frigate searching for the aircraft discovered two large floating objects in a sea area 230 miles south of the island of Crete on Thursday, Greek defence sources said.
The objects appeared to be pieces of plastic in white and red. They were spotted close to an area where a transponder signal was emitted earlier, the sources said.
Greek state TV ERT reported similar information, saying two "orange-coloured" objects were located in the same area.
The EgyptAir flight from Paris to Cairo dropped off radar screens shortly after leaving Greek airspace and minutes after entering Egyptian airspace.
"At around 0029 GMT (3:29 am) when it was in Egyptian airspace, the plane disappeared from Greek radars... it crashed around 130 nautical miles off the island of Karpathos," the source told AFP.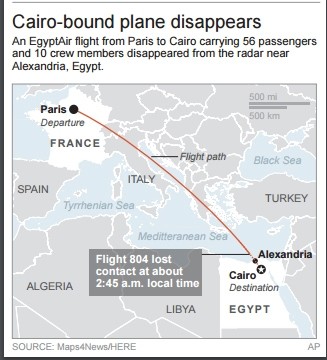 Thirty Egyptians and 15 French nationals are among the passengers on the EgyptAir plane that disappeared from radar en route from Paris to Cairo this morning, the company said.

The other passengers include two Iraqis, and one person each from Algeria, Belgium, Britain, Canada, Chad, Kuwait, Portugal, Saudi Arabia and Sudan, the airline says on its official Twitter account.
"EGYPTAIR A320 was at a height of 37,000 ft [feet], and disappeared after entering the Egyptian airspace with 10 miles [16 kilometers]," it tweeted.
"An informed source at EGYPTAIR reported that EGYPTAIR Flight No MS 804 has lost communication with radar tracking system at 02:45 (CLT)," it added.

Meanwhile, Egypt's aviation minister said that a terrorist attack was more likely to have taken down the missing EgyptAir aircraft early Thursday morning than a technical failure.

There were no known security concerns about passengers aboard the missing plane but further checks are underway, he told a news conference.

The minister said however that it was still too early to draw any conclusions as to the cause of the plane's disappearance.
The airline said relatives of the passengers can get more information at the toll-free number 080077770000 from any landline in Egypt.
"Special teams from the Egyptian Armed Forces are at site located for inspection and rescue," it added.
Greece joined the search and rescue operation for the EgyptAir flight with two aircraft: one C-130 and one early warning aircraft, officials at the Hellenic National Defense General Staff said. They said one frigate was also heading to the area, and helicopters are on standby on the southern island of Karpathos for potential rescue or recovery operations.
An EgyptAir plane was hijacked and diverted to Cyprus in March. A man who admitted to the hijacking and is described by Cypriot authorities as "psychologically unstable" is in custody in Cyprus.
The incident renewed security concerns at Egyptian airports after a Russian passenger plane crashed in Sinai last October, killing all 224 people on board. Moscow said it was brought down by an explosive device, and a local branch of the Daesh has claimed responsibility for planting it.
In 1999, EgyptAir Flight 990 crashed into the Atlantic Ocean near the Massachusetts island of Nantucket, killing all 217 people aboard, U.S. investigators filed a final report that concluded its co-pilot switched off the autopilot and pointed the Boeing 767 downward. But Egyptian officials rejected the notion of suicide altogether, insisting some mechanical reason caused the crash.