More than 400 people were killed and 7,021 were injured in western Iran and northern Iraq after a major earthquake of magnitude 7.3 shook Iraq's Sulaymaniyah late Sunday, the United States Geological Survey (USGS) said, issuing an "orange" alert for "shaking-related fatalities and economic losses."
Iraq's Interior Ministry said seven people were killed and 321 people injured in Iraq as a result of last night's earthquake, while Iran's state-run news agency IRNA reported at least 407 died and 6,700 others were injured on the Iranian side.
The epicenter of the earthquake is 32 kilometers southwest of Halabja near the Iranian border, data from the USGS website showed. It struck at a depth of 23.2 kilometers (14.4 miles), a shallow depth that can have broader damage. Magnitude 7 earthquakes on their own are capable of widespread, heavy damage.
Iranian officials said a total of 60 people were killed and 300 were injured in the country's Kermanshah province.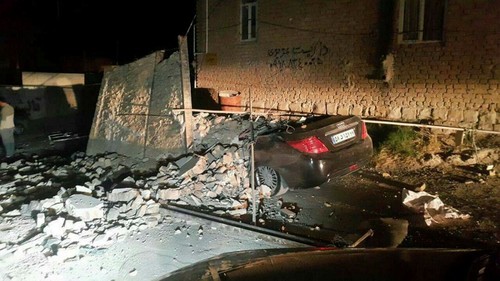 "Four people were killed by the earthquake" in Darbandikhan, the town's mayor Nasseh Moulla Hassan told AFP.
Another two people were killed in Kalar, according to the director of the hospital in the town about 70 kilometers (45 miles) south of Darbandikhan.
State television had previously reported six dead in Qasr-e Shirin, close to the Iraqi border, around 40 kilometers southwest of Azgaleh.
A 12-year-old boy was killed and over 50 people were injured in Iraq, according to the official statements.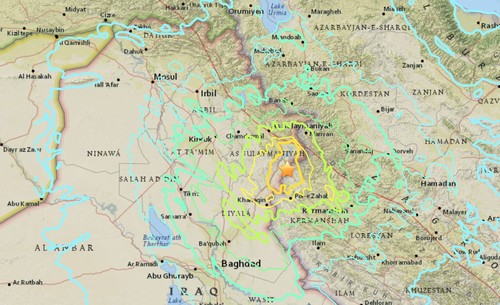 Anadolu Agency reporter Salih Bilici said 10 people have been hospitalized in Irbil.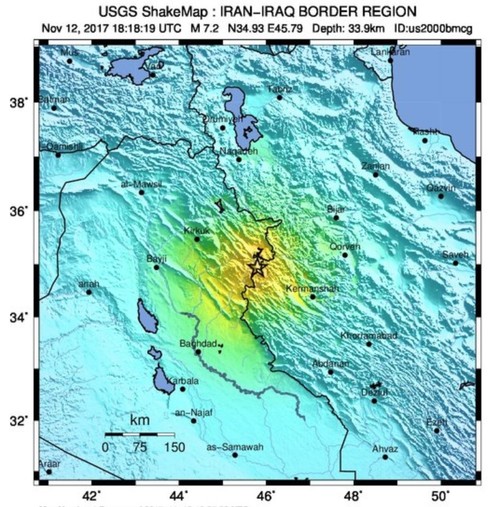 Local sources said the earthquake with a depth of 33 kilometers was felt in border towns in Iran and Turkey.
Deputy Prime Minister Recep Akdağ said no destruction or damage occurred in Turkey from magnitude the earthquake.
In southeastern Turkey, the earthquake was felt from Malatya to Van, according to residents. In the town of Diyarbakir, locals also left their homes before returning.
Turkey has mobilized in response to the quake, with Health Minister Demircan saying "We have made preparations for aid to earthquake-affected areas should a request come from N. Iraq." Presidential Spokesman Ibrahim Kalın also said Turkey's Disaster and Emergency Management Authority (AFAD) and Turkish Red Crescent have started preparations to provide medicines and basic necessities such as blankets. The two Turkish organizations will also conduct search and rescue operations if needed, Kalın said.
According to the Turkish Red Crescent's statement, the aid organization and AFAD have already sent eight first response vehicles and over 40 personnel to the quake-hit region.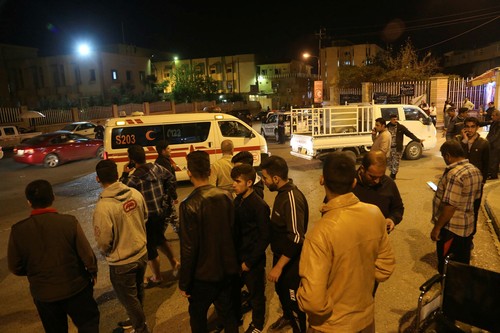 People in Iraq's Sulaymaniyah rushed to the streets after the quake (AA Photo)
The statement added that a total of 4,000 tents, 7,000 blankets and a truck carrying food supplies dispatched from the southeastern offices of the Red Crescent and AFAD to the area.

Turkey has become the first country to offer help upon the quake, a tweet from the autonomous Northern Iraq's Kurdistan Democratic Party (KDP) said.
Turkey is the first country to offer emergency assistance to KR after the 7.2 Earthquake. The death toll might rise

— KDP ForeignRelations (@kdpfro) November 12, 2017
Iranian provinces in the northwestern, western and central areas of the country were also impacted. The quake was felt in several Iranian cities, damaging 8 villages and causing electricity cut-offs in some areas, Reuters said. Iranian social media was abuzz as people evacuated their homes.
MORE — Major 7.2 magnitude quake in Iraq's Halabja also felt in several Iranian cities, 8 villages damaged and electricity cut in some areas https://t.co/KCxkP9S4ZA pic.twitter.com/wtfa69IlYv

— DAILY SABAH (@DailySabah) November 12, 2017
The Iraqi town Halabja is widely known for the massacre of 1988.
According to official numbers, 5,000 people were killed and 7,000 injured when Iraq's then-president Saddam Hussein ordered a chemical attack on the city on March 16, 1988.