Lebanon's Saad al-Hariri said on Wednesday he would hold off presenting his resignation as prime minister in response to a request from President Michel Aoun to allow more dialogue.
"I presented today my resignation to President Aoun and he urged me to wait before offering it and to hold onto it for more dialogue about its reasons and political background, and I showed responsiveness," Hariri said in a televised statement upon returning to Beirut late Tuesday more than two weeks after announcing while in Saudi Arabia that he had resigned his post.
Hariri's resignation on Nov. 4 was not accepted by President Michel Aoun, who said he wanted to hear from Hariri in person first. It was not clear whether Hariri will insist on his resignation, re-negotiate the terms for his re-appointment or withdraw his resignation as many hope.
Hariri's televised resignation from Saudi Arabia had sparked a political and diplomatic crisis as Lebanese officials accused the Gulf kingdom, which is feuding with Iran for influence in the region, of forcing the Sunni, Saudi-aligned politician to resign and detaining him for days.
The premier cited Iran and its Lebanese proxy Hezbollah's meddling in the region as a reason for his decision to step down, and also cited concerns for his own safety in Lebanon. Hezbollah is a partner in the coalition government formed by Hariri a year ago.
Hariri has been silent since, and Lebanese are hoping his arrival in Lebanon will help clear up the mysterious circumstances surrounding his unusual resignation.
His resignation plunged Lebanon in turmoil and triggered concern that the tiny country, which has enjoyed relative calm amid a Middle East on fire, would again be dragged to the forefront of the intensifying regional rivalry between Saudi Arabia and Iran.
It set off international efforts, led by France, to prevent the upending of the country's delicate sectarian-based political order.
He left Saudi Arabia for Paris on Saturday by invitation of French President Emmanuel Macron, before traveling on to Beirut by way of Egypt and Cyprus. Hariri arrived in Beirut a private jet from Cyprus on Tuesday night, after meeting with Cypriot President Nicos Anastasiades.
Hours after returning to the country following a nearly three week puzzling absence, Hariri participated in Independence Day celebrations Wednesday, his first official appearance since he suddenly announced his resignation from abroad, stunning the country.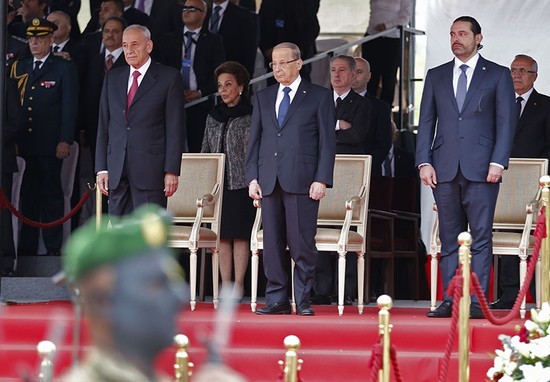 PM Saad Hariri (R), President Michel Aoun (C) and House Speaker Nabih Berri attend a military parade to celebrate the 74th anniversary of Lebanon's independence in downtown Beirut, on November 22, 2017. (AFP Photo)

Hariri appeared on the parade's grandstand with Aoun and Parliament Speaker Nabih Berri in his first official appearance. Even if his resignation is accepted, Hariri would still be care-taker prime minister until a new government is formed.
Hariri cracked a smile after a brief chat with Aoun as they reviewed the troops. In previous appearances since his resignation, Hariri looked mostly tense, tired or sad.
Hariri then drove a car with Berri to the presidential palace, where he met with Aoun and Berri privately as is customary after the parade. He was to meet later with supporters at his residence in the city center.
Posters have been erected around Beirut and other cities welcoming Hariri's return.
The announcement that he was stepping down was followed by sharp Saudi rhetoric against Hezbollah, which the kingdom accuses of meddling on Iran's behalf in regional affairs.
Hezbollah has been fighting on the side of Syria's Bashar Assad in that country's six-year civil war, where many of Assad's enemies are opposition backed by Saudi Arabia. The kingdom says Hezbollah is also advising Houthi rebels waging a war against Yemen's Saudi-backed government. Hezbollah denies it is militarily supporting the Houthis.
Hezbollah says Saudi Arabia is sowing instability in Lebanon, and accused the kingdom of partnering with Israel to start a war with Lebanon.
Hariri, in his only in depth interview since announcing his resignation, told his media station Future TV that he could retract his resignation if a deal could be struck with his opponents to distance Lebanon from regional conflicts.
At France's invitation, Hariri left Saudi Arabia to Paris on Saturday. He then traveled to Beirut on Tuesday, stopping first in Cairo and Cyprus for visits with the two countries' presidents.
In Cairo, Hariri said he had a long chat with Egypt's President Abdel-Fattah el-Sissi "about the stability of Lebanon and on the need for us as Lebanese to keep our distance from regional issues."
El-Sissi and French President Emmanuel Macron are reportedly trying to mediate a solution that would involve rolling back Hariri's resignation.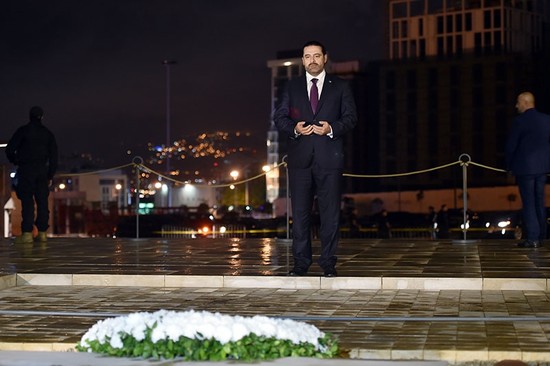 Upon arriving in Beirut, Hariri went straight from the airport to pray at the grave of his father, the late Prime Minister Rafiq Hariri, assassinated in 2005. He then retired to his home in central Beirut.