Thousands of Palestinians in the West Bank, Gaza Strip and East Jerusalem took to the streets on Thursday to protest U.S President Donald Trump's decision to recognize Jerusalem as Israel's capital.
At least 80 Palestinians were wounded in clashes with the Israeli army on Thursday in the West Bank and Gaza, while the Hamas militant group called for a Palestinian uprising following US President Donald Trump's decision to recognize Jerusalem as Israel's capital.
Palestinian youth threw stones and burnt tyres in some areas.
"Jerusalem will never be the capital of Israel, regardless of what Trump said," Jamal Muheisen, a senior member of the Fatah party, said at a rally in Ramallah.
In the West Bank, crowds of protesters set tires on fire and hurled stones at anti-riot troops. In the biblical town of Bethlehem, troops fired water cannons and tear gas to disperse a crowd, in clashes that could cloud the upcoming Christmas celebrations in the town of Jesus' birth. In Ramallah, the seat of the Palestinian government, protesters set tires on fire, sending a thick plume of black smoke over the city. In Hebron (Al-Khalil), Israeli forces — using live ammunition, rubber bullets and teargas — clashed with protesters in the city's Bab al-Zawiya district.
Trump's dramatic break on Wednesday with decades of U.S. policy on Jerusalem counters long-standing international assurances to the Palestinians that the fate of the city will be determined in negotiations. The Palestinians seek Israeli-annexed east Jerusalem, occupied by Israel since 1967, as a future capital.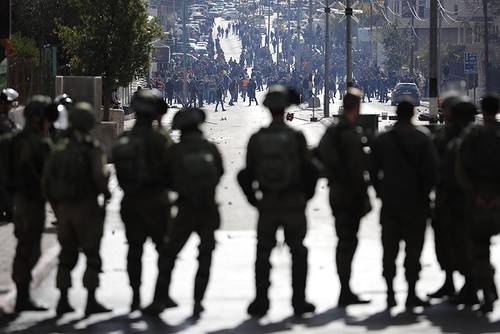 Palestinians shuttered their schools and shops on Thursday to begin three "days of rage" over Trump's decision. Rallies were underway in other West Bank cities, and a demonstration was being held outside the Damascus Gate of Jerusalem's Old City amid a heavy Israeli police presence.
There were no serious casualties reported in Thursday's clashes, while, the Palestinian Red Crescent Society said it had treated dozens of Palestinians for various injuries. No deaths have been reported.
But Friday, the Muslim holy day, could provide an important test when Palestinians gather for weekly mass prayers.
In the Gaza Strip, Palestinian resistance movement Hamas' leader Ismail Haniyeh called on Palestinians to launch a new intifada, or uprising, against Israel on Friday.
"The American decision is an aggression on our people and a war on our sanctuaries," Haniyeh said in a speech, urging supporters "to be ready for any orders."
"We want the uprising to last and continue to let Trump and the occupation regret this decision," he said.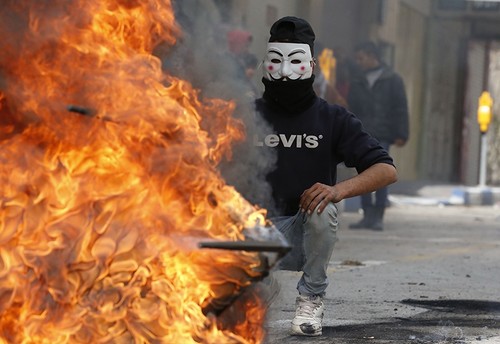 Spontaneous protests sparked in Gaza overnight, with angry youths burning tires, American and Israeli flags and Trump posters.
The Israeli military said it would deploy several battalions to the West Bank ahead of Friday, while other troops have been put on alert to address "possible developments."
The conflicting claims to Jerusalem, and especially its Old City, where sensitive Jewish, Muslim and Christian holy sites are located, lie at the core of the Israeli-Palestinian conflict. While Trump's decision had no impact on the city's daily life, it carried deep symbolic meaning, and was seen as siding with Israel and an attempt to impose a solution on the Palestinians.
The international community rejected Trump's decision branding it "unilateral" and detrimental to peace process, while anger at the U.S. has rippled across the Arab world.