Israeli forces on Tuesday detained a 16-year-old Palestinian girl during an overnight raid in the occupied West Bank.
Ahed al-Tamimi was taken into custody after Israeli forces raided her home in Nabi Saleh village in the northern West Bank, her father said.
"A large Israeli force raided our house at dawn and arrested Ahed while she was sleeping in her bed," Basem al-Tamimi told Anadolu Agency.
"Israeli forces have beaten everyone at the house before searching it and confiscating all computers and cameras," he said.
"My daughter was handcuffed and taken into an unknown destination," Basem said.
Ahed's mother was also detained after she went to a detention center to check on her daughter. "My wife went to a detention center east of Ramallah to check on our detained daughter, but she has not come back home," Basem said.
"We were told by our lawyer that she has been detained," he said.
The Israeli army said in a statement the Palestinian girl was arrested for participating in "violent riots" in her village.
"She was arrested on suspicion of attacking Israeli soldiers during the riots," it said.
Another family member, Mohammed, is recovering in hospital after being shot in the head with a rubber bullet Friday, the family said.
The arrest came after a video went viral of her slapping Israeli soldiers in the occupied West Bank as they remained impassive. The video supposedly shot Friday showed two Palestinian teenage girls approaching two Israeli soldiers, before shoving, kicking and slapping them while filming on mobile phones.
The heavily armed soldiers do not respond in the face of what appears to be an attempt to provoke rather than seriously harm them. They then move backwards.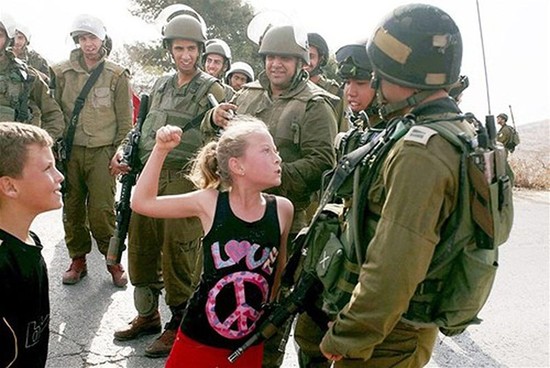 In 2012, Ahed was awarded with "Hanzala Courage Award" by Başakşehir Municipality in Istanbul for challenging Israeli soldiers, who had arrested her brother.
At the time, then Turkish Prime Minister Recep Tayyip Erdoğan (the current President of Turkey) and his wife had met the Palestinian girl.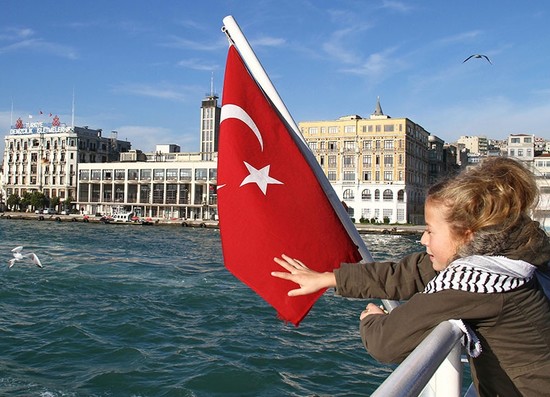 Ahed's father, mother and brothers had been repeatedly arrested by Israeli forces for their opposition to the decades-long occupation of Palestinian territories.
Israeli Defense Minister Avigdor Lieberman said Tuesday that the Palestinian girl would not be the only one to bear the consequences of her actions.
"Her parents and her surroundings won't get away from what they deserve," Lieberman said during a meeting with community leaders on Gaza border.
The video of Ahed and the soldiers was widely used by Israeli media, which often accuses Palestinian protesters of seeking to provoke the army into responses which are then filmed.
Intelligence Minister Yisrael Katz said on public radio he was "boiling with anger" when he saw the video.
"But the soldiers did the right thing."
Education Minister Naftali Bennett said that Tamimi could face seven years in prison.
Tension has been high in the Palestinian territories since U.S. President Donald Trump officially recognized Jerusalem as Israel's capital earlier this month, triggering protests across the Arab and Muslim world, as well as worldwide condemnations.
Since then, 11 Palestinians have been martyred and over 3,000 injured during several protests in West Bank, East Jerusalem and Gaza Strip, according to the Palestinian Ministry of Health.
According to Palestinian official figures, more than 6,400 Palestinians are currently held in detention facilities throughout Israel.