Actor Dwayne "The Rock" Johnson, one of Hollywood's top-paid stars, spilled a little too much detail about Saudi Crown Prince Mohammed bin Salman's meeting with Hollywood's A-listers on Wednesday after saying he will be bringing tequila to Riyadh to share with the prince and his family.
The Rock posted a screenshot of the Hollywood Reporter article about Salman's meeting at Rupert Murdoch's mansion which was also attended by Morgan Freeman, director James Cameron and expressed his gratitude to the prince.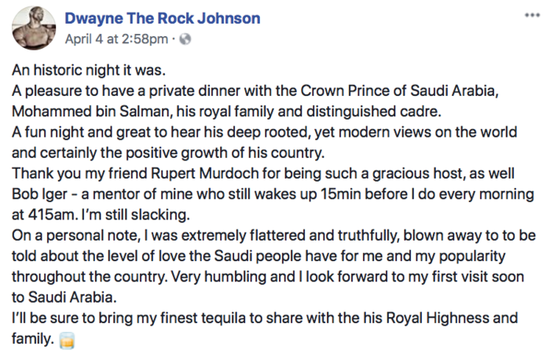 "I look forward to my first visit soon to Saudi Arabia," Johnson wrote on his Instagram page. "I'll be sure to bring my finest tequila to share with his Royal Highness and family."
Realizing the peculiarity of offering tequila to the leader of the alcohol-banned kingdom in a public post, Johnson hastily edited his caption and changed it to "Luckily, I brought my own tequila."
Salman arrived in the U.S. more than two weeks ago with an intention of changing the U.S. perception about Saudi Arabia and promote a sweeping reform drive aimed at liberalizing the highly conservative kingdom. The list of people Crown Prince has met during the trip is quite long and includes media moguls like Oprah Winfrey and Rupert Murdoc, former U.S. President Bill Clinton, Henry Kissinger, and U.N. Secretary-General Antonio Guterres.
Prince Mohammed also arranged more than $2.3 billion in arms sales from the U.S., including more than $1 billion in missiles. The deal includes about 180 Paladin howitzer systems, artillery-firing vehicles on tracks. The vehicles look like a combination of a tank and a cannon and launch 155 mm shells.