Over 4200 Palestinian civilians have been injured by Israeli troops since the Great March of Return, the Palestinian Health Ministry said on Tuesday.
1539 of the total 4279 injuries were inflicted by gunshots, 1878 by tear gas, and remaining injuries were caused by rubber bullets and other acts of violence, the ministry added.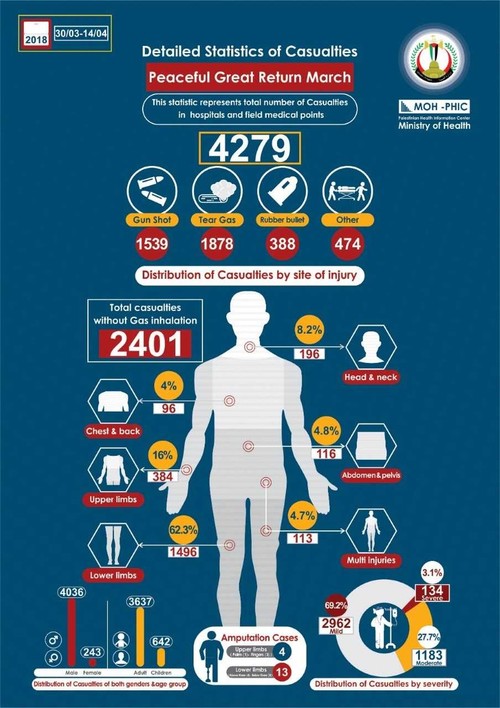 Over 130 of the injuries were severe and more than 1100 of them were moderate, the ministry added.
17 Palestinians had to be amputated for survival after being exposed to Israeli troops' attacks.
The "Great March of Return" kicked off a six-week-long border protest. Israeli forces opened fire on rallies marking "Land Day," an annual Palestinian commemoration of the deaths of six Arab Israeli citizens killed by Israeli forces in 1976, during demonstrations against government land confiscations in northern Israel.
On May 15, when Palestinians mark the "Nakba" or "Catastrophe" when hundreds of thousands fled or were driven out of their homes in 1948, when the state of Israel was created. Israel has long ruled out any right of return, fearing it would lose its Jewish majority.
Israel withdrew from Gaza in 2005, but citing security concerns, still tightly controls its land and sea borders. Egypt also keeps its Gaza frontier largely shut. Gaza's continued border closure has made it increasingly difficult for Hamas to govern. Life in the coastal strip has deteriorated further in recent months, with rising unemployment, grinding poverty and daily blackouts that last for hours.