Israeli troops killed three Palestinians, including a 15-year-old boy, after opening fire on protests at the Gaza Strip border on Friday as protesters continued demonstrations for the 11th consecutive Friday against Israel's decades-long occupation and decade-long blockade of their territory.
The officials originally listed four Palestinians as killed but revised the number, saying a 26-year-old casualty was in critical condition after having been revived.
Gaza's National Authority for Breaking the Siege (NABS), which is coordinating the rallies, dubbed Friday's demonstration the "Friday of Jerusalem".
In a statement, the NABS reiterated calls to the people of Gaza to take part in the rallies with a view to "breaking the decade-long siege" of the strip.
NABS member Ahmed Abu Rteima, for his part, said: "Peaceful mobilization is our most powerful weapon."
He also called on Palestinian demonstrators to "redouble their efforts to get through the rallies without losses and refrain from giving the Israelis a pretext to attack".
"Palestinians everywhere are rising up for Jerusalem," Abu Rteima asserted.
Medical personnel set up field hospitals near the Gaza-Israel security fence to provide immediate medical treatment if needed.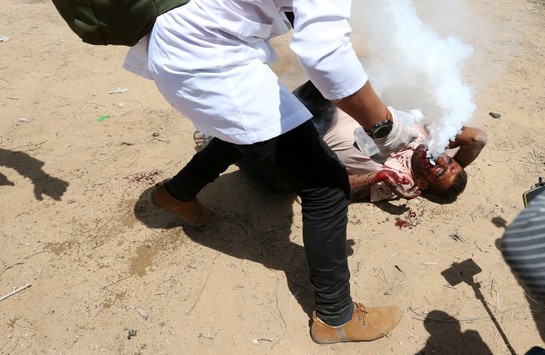 Later on Friday, medics said that Israeli troops fired tear gas and live bullets at Palestinians taking part in the protests, injuring at least 100 people.
The army said it was taking action to disperse thousands of Palestinians, some of whom threw rocks the troops and burned tyres, and prevent any breach of the fortified frontier fence.
Witnesses say that along one stretch of the fence, they heard gunshots. They say Israeli soldiers also fired tear gas volleys. One man with a bullhorn shouted, "America is the biggest evil."
Early Friday morning, local eyewitnesses said Israeli forces -- using unmanned aerial drones -- had torched several protesters' tents east of Gaza's southern city of Rafah.
Israeli forces have killed at last 120 Palestinians in protests along the border since a campaign was launched on March 30 to demand the right to return to ancestral lands that are now part of Israel, hospital officials say.
Friday's march coincides with "Jerusalem Day," instituted by post-Islamic Revolution Iran as an annual protest against Israeli control over the holy city.