Palestinians in the Gaza Strip will celebrate the first day of the Muslim Eid al-Fitr holiday on Friday amid rising poverty rates and deteriorating economic conditions.
Gaza worshippers knelt on prayer rugs spread on sandy soil, several near the perimeter fence with Israel, joining hundreds of millions of Muslims around the world Friday in marking the holiday that caps the fasting month of Ramadan.
The three-day Eid al-Fitr holiday is typically a time of family visits and festive meals, with children getting new clothes, haircuts and gifts. In the Middle East, celebrations were once again marred by prolonged conflict in hot spots such as Syria, Afghanistan and Yemen.
In the Gaza Strip, some worshippers performed the traditional morning prayers of the holiday in areas several hundred meters (yards) away from the heavily guarded fence with Israel.
Friday's prayers marked the continuation of weeks-long protests against a blockade of Gaza, imposed by Israel and Egypt after the 2007 takeover of the territory by Hamas. Since late March, more than 130 protesters have been killed and more than 3,800 wounded by Israeli army fire in the area of the fence.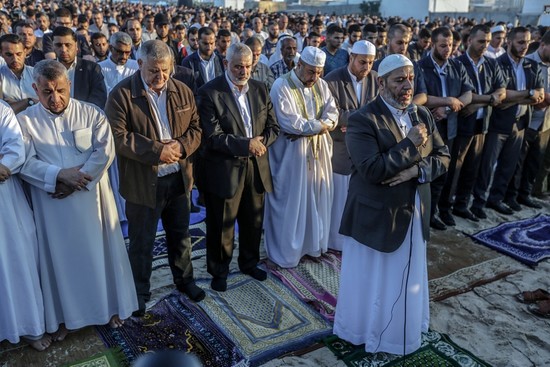 Top Hamas Sheikh Ismail Haniyeh (front row 3-L) attends Eid Al- Fitr morning prayers near the border between the Gaza Strip and Israel in the east of Gaza City, June 15, 2018. (EPA Photo)

Ismail Haniyeh, the top Hamas leader, joined worshippers in an area east of Gaza City. At one point, as the faithful bowed their heads on their prayer mats in unison, a young man on crutches — presumably injured in previous protests — followed the ritual while he remained standing. Some activists later approached the fence, burning tires.
Protest organizers said they planned to release large numbers of kites and balloons with burning rags throughout the day Friday, in hopes they will land in Israel and cause damage.
The protests have been organized by Hamas, but turnout has been driven by growing despair in Gaza about blockade-linked hardships; unemployment now approaches 50 percent and electricity is on for just a few hours every day.
Hamas has also billed the protests as the "Great March of Return," suggesting they would somehow pave the way for a return of Palestinian refugees and their descendants — about two-thirds of Gaza's residents — to return to ancestral homes in what is now Israel.
Hundreds of thousands of Palestinians were expelled or fled in the Mideast war over Israel's 1948 creation.
Haniyeh told reporters after Friday's prayers, which were also being held outdoors in another location east of the town of Khan Younis, that protests would continue.
He said a recent U.N. General Assembly resolution blaming Israel for the Gaza violence "shows that the marches of return and breaking the siege revived the Palestinian issue and imposed the issue on the international agenda." The resolution also said Israel had used excessive force against Palestinian protesters.
Israel says it is defending its territory and civilians living near Gaza. It has accused Hamas of trying to use the protests as cover for damaging the fence and trying to carry out cross-border attacks. Israel and Egypt argue that the blockade is needed to contain Hamas which has a history of violence and refuses to disarm.
In Jerusalem, senior Muslim cleric Muhammad Hussein told tens of thousands of worshippers that a plan for an Israeli-Palestinian peace deal, expected to be unveiled by the Trump administration, is unfair and "aims at the liquidation of the Palestinian cause."
President Donald Trump has promised to negotiate the "ultimate deal" but the plan's reported, though unconfirmed parameters have been dismissed by the Palestinians as siding with Israel.
The Palestinian issue also loomed large in Iran.
Supreme Leader Ayatollah Ali Khamenei, addressing worshippers Friday, praised citizens for showing up at massive rallies last week in support of the Palestinians on Jerusalem Day. That day was initiated by Iran in 1979 to express support for the Palestinians and oppose Israel.
Iranian President Hassan Rouhani said in an Eid al-Fitr message that he believes the "land of Palestine will be returned to owners of the land with the help if God."



A Palestinian youngster lights fireworks celebrating Eid al-Fitr in the east Gaza City, June 14, 2018. (AA Photo)

Israeli and Egyptian blockade that has gutted Gaza's economy and continues to deprive its roughly two million inhabitants of many basic commodities, including food, fuel, and medicine.
Although local traders are selling their goods at reasonable prices, or even considerable discounts, most Gazans just lack the money, according to a number of traders who spoke to Anadolu Agency.
"Most of the people come to the market but leave empty-handed as they can't afford anything," one trader said.
A number of Gazans who spoke to Anadolu Agency said they could no longer celebrate the Eid like they used to due to lack of cash.
In Gaza City's largest public market, 20-year-old Soha Ahmed pulled her young daughter from a toy shop despite the girl's entreaties.
"But I love that doll," her daughter cried out.
Soha later told Anadolu Agency: "I came to the market today to buy a new dress for my daughter -- for 50 shekels [about $15] -- but I have nothing extra for toys."
"My husband is a civil servant employed by the Palestinian Authority in Ramallah," she explained.
"He got part of his salary a week ago but had to pay off the debts he had accumulated over the past month," she lamented.
Toy vendor Ibrahim Haboush, 28, complained about the lack of customers during the usually busy holiday season. He explains that he has been selling large quantities of toys over the past years, but this year only 20 percent of products in his stores have been sold so far.
Habboush says that "customers have very little cash and want to buy toys at a very cheap price, which can cut deeply into my earnings."
"This is due to the high poverty rate prevailing in the largest segment of the population of the Gaza Strip," he added.
He said the Palestinian Authority's deductions from the salaries of its employees in the Gaza Strip have had a significant impact on the overall situation of the markets and caused a collapse in living standards.
Last year, Palestinian President Mahmoud Abbas took a number of punitive measures as a way of piling pressure on Hamas to relinquish its control of the Gaza Strip. The measures included cutting the salaries of Gaza-based employees by 30 percent, reducing electricity supplies to the territory, and the forced retirement of around 6,000 employees.
"People flock to markets, but they don't buy or even have enough money to buy," said Fayek al-Masri, a public transportation driver.
Al-Masri's main source of income was also affected by the deteriorating economic conditions, as, he says, "many people prefer to walk instead of using public transportation."
In the middle of a public market, sweets vendor Ahmed Qassem stands in front of his cart, decorated with various candies and holiday souvenirs, to get the attention of pedestrians, but to no avail.
"We have lots of goods, including new arrivals, and we have surplus from last year's products at lower prices, but there's no purchasing power," Kassem said.
Unusually, thousands of Palestinian families will not be able to prepare Eid cookies this year as a result of the bad economy.
"My husband is a seller from a small vehicle, and because of poor purchasing power and low income, we won't be able to buy supplies for this year's Eid cookies," said Palestinian woman Rania.
She explained that Gaza's worsening economic situation affected all Palestinian families.
Rania went on to lament that they will not buy high-quality sweets like most years, but will have to make do with what is available or sold at the lowest prices.
Maher al-Tabba, spokesman at the Gaza Chamber of Commerce said: "Gaza greets Eid al-Fitr amid the most difficult economic and living conditions."
Unemployment in the Gaza Strip rose to 49.1 percent in the first quarter of 2018, he said, adding: "That means 255,000 unemployed people."
Among university graduates, unemployment stands at 64 percent, he added.
About one million Palestinians depend on aid they get from the United Nations Relief and Works Agency for Palestine Refugees in the Near East (UNRWA) and international and Arab relief groups operating in the Gaza Strip.
The poverty rate in the Gaza Strip, said al-Tabba, reached 53 percent, with an absolute poverty rate of 33 percent.
He added that about 72 percent of Palestinian households on the Gaza Strip suffer from food insecurity.