Turkish language lessons have been added to the school curriculum in eastern Jerusalem for the first time with an agreement between the state-run Yunus Emre Institute and Ibrahimiyye high school in Jerusalem.
"Citizens of Palestine and Turkey have a good connection and with this step there will also be a language connection," said Erman Topçu, temporary charge d'affaires of the Turkish Consulate-General in Jerusalem.
Teachers from Yunus Emre Institute will teach 60 students the Turkish language at one of the most reputable high schools in Jerusalem, Ibrahimiyye, which has approximately 1,300 students.
Erman Topçu and the principle of the Yunus Emre Institute in Jerusalem Reha Ermumcu joined the first Turkish lessons, which have been offered as elective courses three times a week.
Students have shown great interest in the course, according to the institute.
Abdalla Elian, one of the students, said that he was really happy about the new Turkish course in their curriculum, adding that he wants to learn Turkish as soon as possible.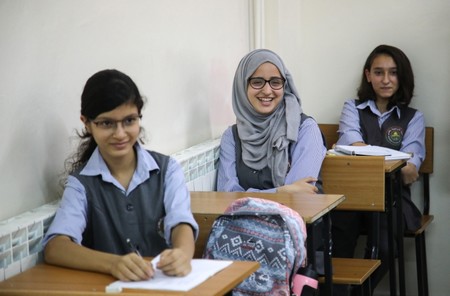 Topçu visited one of the classrooms and chatted with students before class and later announced that the most successful student in the Turkish language course will be awarded a return ticket to Turkey.
Topçu said he was really thankful for the works of the Jerusalem Yunus Emre Institute.
"After this class, students will become more successful and play a pivotal role in building necessary communications as representatives of both countries," he said.
The principal of the high school Nadire Ebu Garbiyye said Turkey was a "very close country to Palestine and a lot of Palestinian students are going to universities in Turkey," and indicated that they decided to add Turkish to their curriculum alongside French and English.