In another blatant display of xenophobia, a restaurant manager beat a Syrian boy in western Turkey, six months after the beating of a Syrian boy by a Burger King manager in Istanbul drew public outrage.
The unidentified boy was selling tissues at a restaurant in İzmir's Basmane Square. The manager of the restaurant, apparently enraged over the boy approaching restaurant patrons, tried to drag him out. When the boy resisted, he started slapping him. Passersby intervened, but the man continued hitting the boy who fell on the ground and crawled under the tables in front of the restaurant to escape the blows. His nose bled from the beating. Onlookers tried to help the scared boy to no avail. The boy left the scene in tears, while the man won't be prosecuted for the very public beating.
In January, a Burger King manager was caught on camera as he beat a Syrian boy eating leftover French fries in trays at a branch of the fast food chain in Istanbul's Şirinevler district. The manager was fired after the video of the beating emerged online.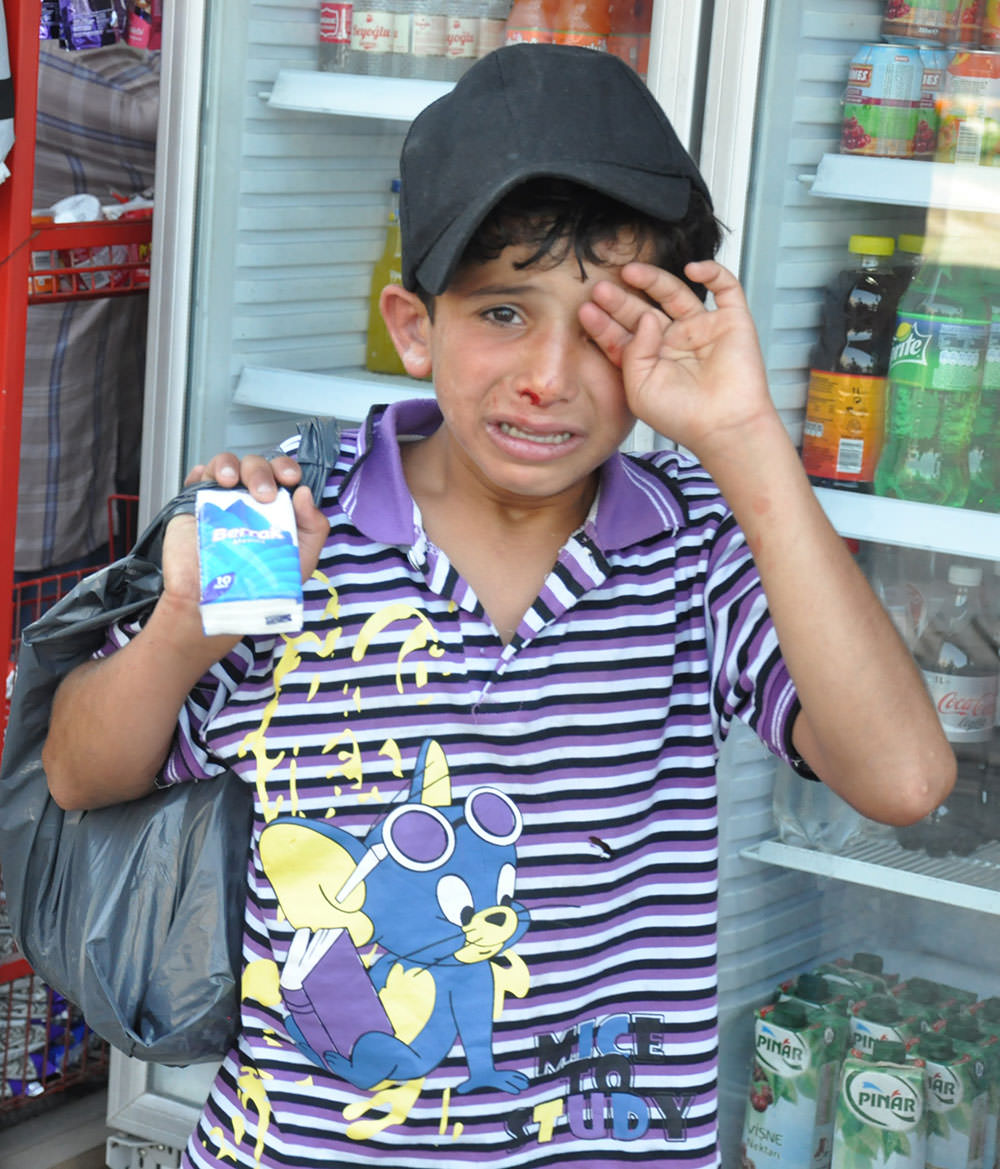 As photos of the crying boy with a bloodied nose surfaced, social media users expressed outrage, describing the restaurant manager as an "animal" and relating similar instances of harassment of Syrian boys begging or selling tissues.
İzmir's Basmane district is heavily populated with Syrian migrants who want to cross into Europe illegally via the Aegean Sea. Most of them are impoverished and stay in parks. They turn to begging or selling tissues to earn a living.
Turkey hosts over 1.8 million Syrians displaced by four years of conflict in its southern neighbor. Only a small fraction of them are accommodated in tent camps in southern Turkey, while poor Syrians are forced to squat in abandoned buildings and other places. Though the Turkish public in general has an embracing approach toward Syrians, sporadic cases such as the one in İzmir occur due to a worrying xenophobic sentiment toward Syrians who are viewed as a financial burden on Turkey.