In the face of the growing number of Syrians risking their lives crossing to Greece, authorities in İzmir, which is on the Aegean coast, have started rounding up Syrian refugees and sending them to the country's refugee camps for displaced Syrians in the south.
İzmir has seen an influx of Syrian refugees recently with many staying in parks, the courtyards of mosques and abandoned buildings. They often attempt to sneak across to the Greek islands off the coast of İzmir at night.
Authorities rounded up hundreds of Syrians yesterday and Wednesday and bussed them to refugee camps along the Turkish-Syrian border.
A stadium in the city has been allocated as a gathering point for Syrians to speed up the process of their transfer to the camps. Officials checked the IDs of migrants staying outdoors and transferred them to the gathering point.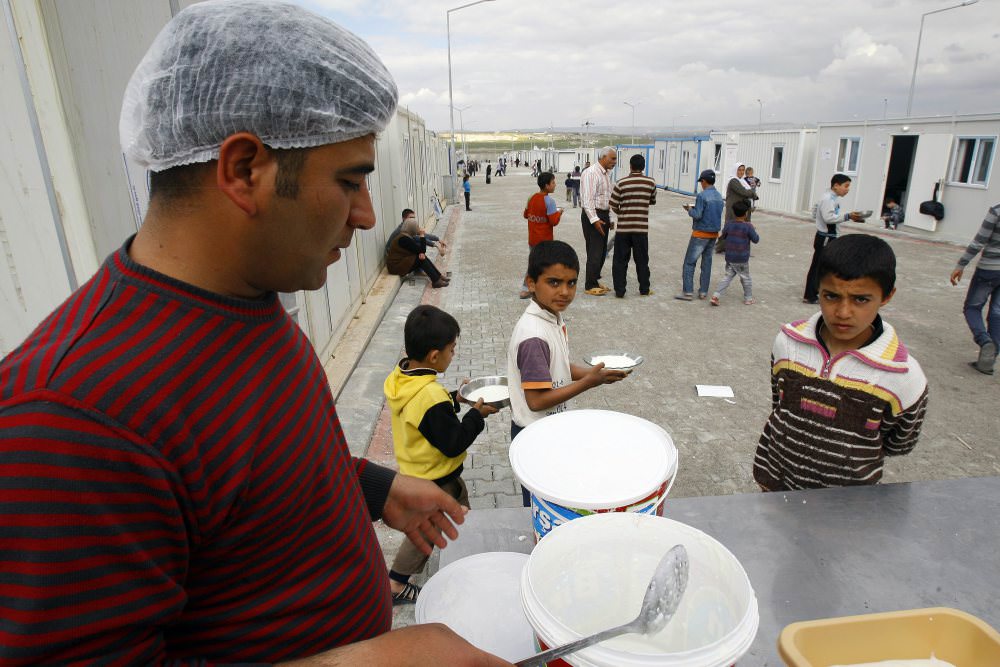 İzmir Governor Mustafa Toprak told Anadolu Agency that Turkey already has modern camps in its border provinces but Syrians occasionally travel to other cities to earn a living. Toprak said there were some 69,000 Syrians in İzmir who were officially registered, adding that some Syrians used Turkey as "a gateway to third countries." Turkey issues temporary IDs for displaced Syrians who took shelter in the country after fleeing the four-year civil war in Syria, though a large number of Syrians still remain undocumented. Toprak said they took security measures to prevent it. "It is unacceptable to have unregistered migrants living in inhumane conditions here and to leave them at the mercy of human smugglers," he said.
Number of Syrians in Turkey exceeded 1.9 million according to an Interior Ministry official. Only a small fraction of them live in 25 camps along the border.
"We tell Syrians how dangerous it is to travel by sea and we tell them they have to abide by Turkey's regulations for (migrants)," Toprak says.
A measure for migrants was checkpoints at the entrances to the city. Vans and trucks with closed backs suspected of carrying illegal immigrants are being stopped at checkpoints.
Yesterday, police patrolled the districts of İzmir where Syrians concentrated and directed those planning to sneak onto the Greek islands to the gathering point.
Basmane, a main square of İzmir that has been flooded with Syrians for weeks, was relatively empty yesterday with many sent to refugee camps. Those refusing to go to the camps are allowed to stay in İzmir.
Syrian refugees, stuck between a civil war and an uncertain future in their country, make up the majority of those flocking to Turkish cities on the Aegean coast to board boats heading to Greece, their main gateway to Europe. Turkey, meanwhile, is stuck between offering a dignified life for refugees, which brings a huge financial burden, and stopping their dangerous journeys that occasionally end up at the bottom of the sea as the overcrowded decrepit boats have little chance of completing the journey.
A Turkish daily quoting Coast Guard statistics reported that nearly 26,000 illegal immigrants were intercepted in 756 operations between January and July in 2015. That is almost 50 times higher compared to only 546 in 2011, while nearly 2,000 illegal immigrants were intercepted in the first week of August.
As many as 1,000 migrants are estimated to cross every day to the Greek islands of Lesvos, Kos and smaller ones dotting the Aegean Sea, to where the western Turkish cities of İzmir and Çanakkale, two main migrant hubs, are littoral.
Fearing an uncertain future with no end in sight to the ongoing civil war, Syrians, described as "guests" by Turkey, which grants them a temporary status, seek to travel to European countries in pursuit of a better life. Although Turkey is praised for the state-of-art camps it provided for Syrians, they have only a capacity of less than 300,000 people. Turkey has spent more than $5 billion for Syrian refugees since 2011 and frequently criticizes the international community for doing little to address the plight of refugees. Germany and other European countries are accused of not sharing the burden of Syria's neighbors in tackling the refugee crisis.