Preparations are underway for Sunday's religious service at Akdamar, an Armenian orthodox church situated in a scenic island in Lake Van in eastern Turkey. The service, the first in four years, marks a new chapter for religious freedoms. The annual mass was first held in 2010, after a restoration of the church named after the island. It had to be canceled in 2015 and the following years due to a campaign of violence by the PKK terrorist group active in the region.
Speaking on the upcoming mass, Aram Ateşyan, the acting Armenian Patriarch, said Turkey was "changing." "It is not the old Turkey. We have a stronger state, a state giving rights to minorities," he told Anadolu Agency.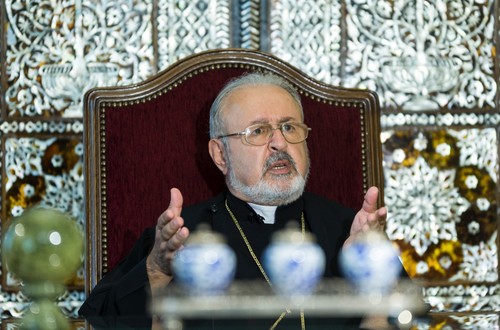 A large turnout is expected both from the Orthodox faithful in Turkey and abroad for the mass in small island. Ateşyan says the island is distinguished by its church, which was originally named Surp Haç but came to be known as Akdamar church. He noted that the church was closed for a long time to religious services but "many things changed" after the ruling Justice and Development (AK) Party came to power. "The church was repaired in 2007 and we were granted a right to hold an annual mass by the Culture and Tourism Ministry," he pointed out.
The ministry officials will also attend Sunday's service that will host Armenians of Orthodox faith whose population is concentrated in Istanbul. More participation is anticipated from Armenia.
"We had about 7,000 people attending the service in 2011. We don't expect such a high number this year but it will be huge even if only 2,000 people show up," Ateşyan said, adding that the interest in the service was "clear" as almost all hotels in Van were fully booked.
"This is a historic city both for Armenians and the world. It is a special place for us. We should promote it more, promote its historic places," Ateşyan said.
The church is open to visitors as a museum but crowded events were barred as acts of terrorism escalated in Turkey's east and southeast where the PKK was active. After a brief lull, the PKK, which has conducted a campaign of terror in the region since the 1980s, had resumed its attacks in 2015. Counterterrorism operations since have reinstated safety in the region, which is dotted with prominent sites for Christianity and Islam.
Added to the UNESCO Tentative List of World Heritage in 2015, the church was built between 915 and 921 A.D. by architect Bishop Manuel, under the supervision of Gagik I Artsruni, an Armenian king. Believed to be constructed to house a piece of the "True Cross," which was used in the crucifixion of Jesus Christ, the church was restored in 2005 and opened in 2007. The Ministry of Culture and Tourism approved a TL 4 billion (around $3 billion in 2005) budget for the project, which lasted two years and included several architects, engineers and archaeologists.
Ateşyan says minorities faced "taboos" in the past and were worried about their existence but it changed with the AK Party. "We are able to repair our churches and some minorities are approved to build new ones," he said, referring to past restrictions on non-Muslim communities in the country. "We feel like we exist again."