Religious minorities in Turkey organized a prayer event on Sunday for the soldiers participating in anti-terror Operation Peace Spring in northeastern Syria.
Held at the Deyruzzaferan Monastery located in the southeastern Mardin province, Roman, Armenian, Jewish, Assyrian and Chaldean religious groups attended the mass.
Speaking at the mass, Metropolit of Mardin and Diyarbakır for Assyriac Church Saliba Özmen said he prayed for the success of the operation and offered his condolences to the families of killed soldiers.
"It is our sincerest hope and prayer that the Operation Peace Spring brings lasting peace and calm to Syria and to the rest of Middle Eastern nations. Let us not spare our prayers for regional peace and stability and to those who fight for it," Özmen said.
Yusuf Çetin, Patriarchal Vicar of the Syriac Orthodox Church in Istanbul, Ankara and Izmir said the Syriac Orthodox community was praying for the success and wellbeing of Turkish soldiers.

"We Syriacs have lived in these lands for more than 5,500 years. We have always sided with our government during both the Ottoman Empire and the Turkish Republic. We are praying and offering our support for the success and development of our nation," Çetin said extended his condolences to fallen soldiers.
"We pray the operation will bring peace and calm the region's people deserve. We thank god for accepting our prayers as there has been a pause in fighting. We hope Operation Peace Spring's objectives will be fulfilled without further bloodshed," Archbishop Sahak Masalyan, Head of the Armenian Patriarchate of Turkey's Spiritual Council said.
Meanwhile, Turkey's Chief Rabbi Ishak Haleva could not attend the mass and sent a video statement instead.
"Turkish Jewish community will continues to pray to god, as we have done in the past, for the wellbeing and success of our nation, government and leaders," Haleva said in his video statement.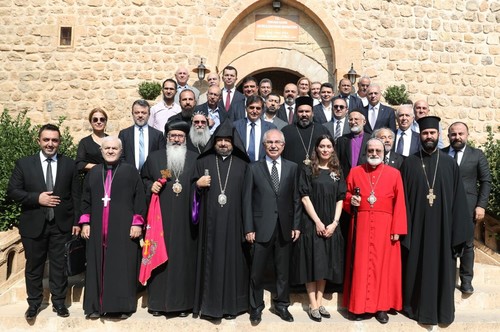 Operation Peace Spring was launched on Oct. 9 in order to secure Turkey's borders, aid the safe return of Syrian refugees and ensure Syria's territorial integrity. The operation, conducted in line with the country's right to self-defense borne out of international law and U.N. Security Council resolutions, aims to establish a terror-free safe zone for Syrians return in the area east of the Euphrates River controlled by the U.S.-backed Syrian Democratic Forces (SDF), which is dominated by YPG terrorists.
The PKK — listed as a terrorist organization by Turkey, the U.S. and the European Union — has waged a terror campaign against Turkey for more than 30 years, resulting in the deaths of nearly 40,000 people, including women, children and infants.