Turkish rider Can Öncü won his maiden Moto3 race to become the youngest grand prix winner in motorcycling at age 15. He is also the first Turkish winner of the race.
Making his debut at the season-ending Valencia Grand Prix in Spain yesterday, Öncü secured the historic victory by taking advantage of crashes in front of him on a wet track at Ricardo Tormo circuit.
He started fourth and moved to third by the end of the first lap, then second-place Marco Bezzecchi crashed early in the race and leader Tony Arbolino went down with 12 laps to go.
The long-haired KTM rider almost crashed on the final lap but was able to recover to finish four seconds in front of 2018 champion Jorge Martin and third-placed Briton John McPhee.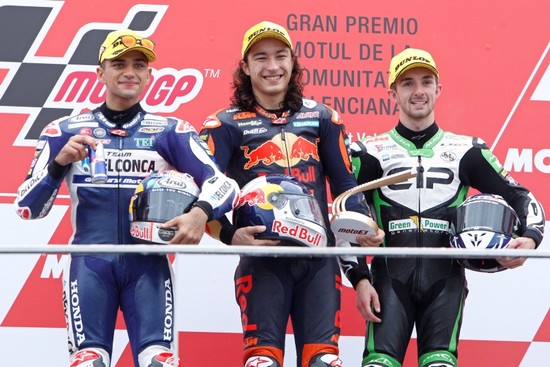 Öncü celebrated wildly with team members and twin brother Deniz, who is also a rider. Deniz was on the pit wall late in the race and tried to get his brother to slow his pace on the treacherous track as he held a comfortable lead of nearly eight seconds during the final laps. Öncü won at 15 years, 115 days, breaking the record held by British rider Scott Redding since 2008. He also became the first rider to win on his grand prix debut since Japan's Noboru Ueda in a 125 cc race in 1991.
"It's incredible. I have no idea what is going on," said the young racer after arriving at the finish line. "I hope this will get me back here next year," he said.
The racer has secured the top title in Red Bull MotoGP Rookies Cup this season and is already a rising star in the world of motorsports where Turks made a name in the past few years.
The Öncü twins first joined motorcycle racing when they were eight years old. Two years later, they made it to Turkish national team of motorcyclists. Soon, they rose to high ranks in the Turkish and European Supermoto Championship. Their success secured them a place in Red Bull KTM Factory Racing Team, one of the most important motorcycling teams in the world.
In an interview with the Sabah newspaper last year, Öncü credited his father for his success. "He is always our biggest supporter," Can said. He also recalled his Norwegian mother's reaction when they first started out. "My mom lashed out in the beginning. To this day she doesn't watch our races. If she does, she watches dreading it," he said.
Kenan Sofuoğlu, Turkish world champion motorcyclist who went on to become a lawmaker in Turkey, is the one who discovered the twins.