Doyen singer Mustafa Sağyaşar and his son Cemil Sağyaşar came together to introduce their album "Senfonik İstanbul" (Symphonic Istanbul) that includes 12 songs that combine melodies of polyphonic music and Turkish classical music.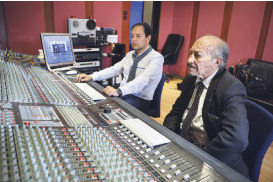 Turkish classical music singer and choir conductor Mustafa Sağyaşar entered the studio located in Beşiktaş, Istanbul to listen to the album "Senfonik Istanbul," which was directed by his son Cemil Sağyaşar. Listening to the instrumental songs on the album, Mustafa Sağyaşar and his son sang the famous classical song "Üsküdar'a Giderken" (While Going to Üsküdar). Then, they answered questions from AA.
Cemil Sağyaşar said that they collected some of the most well-known songs in Turkish classical music accompanied with symphonic music in cooperation with Istanbul Metropolitan Municipality Kültür A.Ş. He said that the reed flute and accordion solos accompanying the symphony orchestra have drawn special attention.
The album includes songs devoted to Istanbul such as "Üskürdar'a giderken," "Mendilimin Yeşili," "Entarisi ala benziyor," "Sarıyer'in ortasında," "Beyoğlu'nda gezersin," "Karanfil oylum oylum," "Gemilerde talim var," "Bir dalda iki kiraz," "Suya iner tavşanlar," "Ey bostancı," "Seni sevdim seveli kanaryam" and "Şu gelen atlı mıdır." Emphasizing that songs and folk songs about Istanbul are "very nice and special," Sağyaşar said that those songs were given a universal dimension using the harmonic richness of western music, while protecting the special melodies of Turkish classical music.
In addition to saying that the project was a surprise to his father, Sağyaşar stressed that he used improvisation techniques, which he learned from his father, in the preparation phase of the album. Sağyaşar said that the album, which was prepared within six months, is an instrumental album. "When a soloist sings songs, those songs belong to the soloist in a sense. We preferred to say 'songs and folk songs about Istanbul.' I didn't want to attribute the songs to my interpretation and myself. I just wanted everybody to sing those songs in concert with the orchestra that they already know. We made an instrumental album so that everybody can sing. I am a singer and I have been occupied with music for a long time; however, I pulled myself back as a singer in this project. I wanted it to become more widespread among people. It was a very difficult project because symphony is difficult all by itself. Therefore, the construction phase of this project was intensive. Making symphonic music while being faithful to the melodies of Turkish music was more than difficult," said Sağyaşar.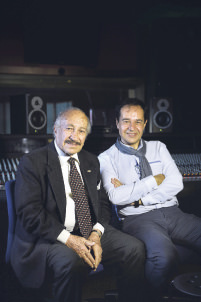 Saying that they used instruments like reed flute, violin and accordion, Sağyaşar said, "The first phase was to release the album. The child was born. Aren't we boasting about our Istanbul? We would like to announce this to the world. We expect support from everyone." He emphasized that people who are engaging in Turkish classical music should be supported and that everything is not about popularity.
Pointing out that his father Mustafa Sağyaşar is one of the last remaining representatives of Turkish classical music, Cemil Sağyaşar remarked that real singers would like to make themselves heard somewhere every day. He said that the value of Turkish classical music singers should be known while they are alive not after they pass away.
Mustafa Sağyaşar said that songs about Istanbul had a significant place in Turkish classical music and he loved the new album very much. Stressing that 60-70 people can sing the instrumental songs in the album, and that this is an advantage, Sağyaşar said that he also asked his son the reason why the album was wordless and his son answered, "if there were words in the album, it couldn't be played everywhere but instrumental songs can be played everywhere." Mustafa Sağyaşar also said, "Music with words can be distracting. Songs about Istanbul are a kind of music appealing to all people, not only an individual. Songs and folk songs about Istanbul have a privilege. Therefore, it should not be thought of as usual music. They almost have a nationalism side. We should think in this way. There are 12 notes per octave in Western music while Turkish classical music has 24 different notes per octave."
Mustafa Sağyaşar said that he would continue to perform Turkish classical music and that this was an advantage for him and music lovers. In addition to saying that young musicians should perform Turkish classical music, preserving its essence as much as possible, Sağyaşar underlines that Turkish music should be protected.
Sağyaşar highlighted that the claim "people want this" has no meaning but is taking shelter in a wrong harbor. "The audience sings songs along with me in my concerts as if they were a choir that practiced before. Moreover, everyone needs to make an effort instead of coming into the position that someone else has labored to produce. I introduced at least 60-70 songs, that the youngest generation knows, to Turkish music lovers by using the triangle of stage, plate and radio," he concluded.