A popular summer holiday destination on Turkey's southwestern Aegean coast, Bodrum combines warm summer nights with world-class performances at the International Gümüşlük Classical Music Festival running until Aug. 8. Brilliantly executed for the last 12 years, the festival offers a tempting array of musicians under the artistic guidance of state musician Gülsin Onay.
The five-week music marathon commenced on July 3 with the opening concert of Onay accompanied by the Karşıyaka Chamber Orchestra in the Bodrum Antique Theater, the only structure in the district that has survived from the Classical Age. Based in San Francisco, the Kronos Quartet is probably the most exciting headliner in the festival program. A foremost ambassador of contemporary chamber music, the Grammy-winning group, featuring David Harrington and John Sherba on violin, Hank Dutt on viola and Sunny Yang on cello, will perform at a 2,500-year-old ancient stone quarry in Bodrum's seaside fishing village Gümüşlük on July 14. Pushing the boundaries of string quartet music, the four experienced musicians have released more than 50 recordings so far and are still considered as being on the cutting edge of art.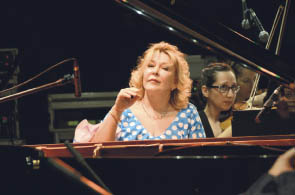 Prior to this concert, award-winning solo flutist Bülent Evcil will share the stage with collaborative pianist Phillip Moll from the U.S. on Wednesday. On the program list of the ancient stone quarry are Russian pianist Vyacheslav Gryaznov on July 18, Austrian Trio Klavis on July 21, English pianist Martin Roscoe on July 27, French classical violinist Gilles Apap and Serbian pianist Miroslav Dacic on July 29, Serbian pianist Avika Vavic on July 31, Gülsin Onay on Aug. 4 and Turkish pianist Ayşedeniz Gökçin on Aug. 8. While Gryaznov is referenced as the Russian star of the 21st century, Martin Roscoe is known as the "U.K.'s best loved pianist." Young pianist Ayşedeniz Gökçin has made a name with her piano covers of Pink Floyd and Nirvana songs.
Aiming to take classical music far beyond the boundaries of concert halls, the festival also encourages young and talented musicians with its piano competition dedicated to Ahmed Adnan Saygun, one of the Turkish Five composers who promoted western classical music in Turkey. Taking place between July 20-23, the competition's third edition will be led by Gülsin Onay, Martin Roscoe and Vyacheslav Gryaznov as the jury committee.
Aside from 15 concerts including student performances and the piano competition, the Gümüşlük Classical Music Festival acts as an education hub for students. The festival center will present master classes on flute, piano, violin, chamber choir and singing given by guest musicians until Aug. 12. Since 2006, the Gümüşlük Festival Academy has provided master classes for young musicians from all around the world. So far, 450 international students from 20 countries have received training certificates, and 10 students have been given bursaries. Organized by the Bodrum Classical Music Association, the festival is sponsored by DenizBank. Running since 2004, the Gümüşlük Classical Music Festival was also honored with an EFFE (Europe for Festivals, Festivals for Europe) label for the 2015-2016 seasons. As a festival portal, the primary intention of the EFFE is to provide basic information for cultural and artistic festivals in Europe and increase their visibility, while supporting innovative and excellence trends.