Regarded as one of the best live bands in Turkish rock music history, the Blue Blues Band comes to the silver screen in a documentary focusing on the lives of its deceased members Yavuz Çetin and Kerim Çaplı. The life stories of these two musical geniuses, who not only changed music history in Turkey but also in the world, is told in the documentary "Blue" directed by Sertan Ünver. Produced by Suzan Güverte, the documentary features Yon Thomas, who worked with the Red Hot Chili Peppers and Iron Maiden as a cinematographer, and Yekta Kopan as a project consultant. Nearly more than 60 musicians, such as Teoman, Aylin Aslım, Erkan Oğur and Batuhan Mutlugil, were interviewed. Batu Mutlugil and Sunay Özgür, the surviving members of the legendary band, offer insight about the rock and blues scene in Turkey in the 1990s, the adventures of the band and the lives and genius of Çetin and Çaplı.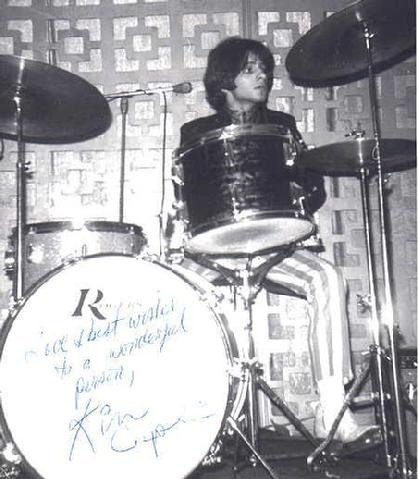 Kerim Çaplı, known as Kim Çaplı in the U.S., the son of musician Erdoğan Çaplı and opera artist Azra Gün, was born in 1949. The Çaplı family moved to the U.S. where Çaplı was introduced to the world of music by his father, and he began to accompany his father on stage at the age of 6. When he was 16, Çaplı, who was covering The Beatles songs, founded several bands with fellow musicians; however, he earned success and recognition with his band the Sundowners. They released their first single in New York and then moved to Los Angeles. Çaplı's band was invited to join a world tour with The Monkees and Jimi Hendrix. This tour earned Çaplı a place on stage with Hendrix, and they played at Woodstock in 1969, which is considered a legendary festival due to its headliners. Apart from his solo work, Çaplı continued to work with Davy Jones, the front man of the Monkees, and he co-wrote the song "Hard to Believe," which was featured on the Monkees album "Pisces, Aquarius, Capricorn & Jones Ltd."
The musical genius, who could play guitar, keyboard and drums, suddenly returned to Turkey at the height of his career in the U.S. in 1978. After his return, he was the drummer of cult Turkish pop-rock band MFÖ for many years. In 1990, he played drums in the Blue Blues Band, which he founded with Batu Mutlugil, Sunay Özgür and Yavuz Çetin. Suffering from psychological and physical illnesses, Çaplı passed away in 2004 due to cerebral edema. In one interview, director Ünver talks about his research on Çaplı. He said Çaplı was a very mysterious man, as there was no information about him when he started. He said when he got in touch with Çaplı's friends in America most of them thought that Çaplı had committed suicide as he never told them that he was returning to Turkey. According to Ünver, Çaplı was a very complicated person and musician; however, there is one thing that everybody agrees on: He was a musical genius. Ünver believes that if Çaplı had never returned to Turkey, he would have been a star in the world of music.

Çetin, a musician, songwriter and singer in the blues and psychedelic music genres, gained fame for the skill and sensitivity of his guitar playing. Born in 1970, he was first introduced to music at the age of 10. At 14, the young music enthusiast was already taking blues and rock guitar lessons from guitarist Hasan Cihat Örter, and the following year started mastering the acoustic guitar and subsequently the electric guitar. Before graduating from Istanbul's Haydarpaşa High School, he and classmate Ercan Saatçi, who in later years became a noted musician, entered HEY magazine's music competition, and their song "I Will Cry" became the winning entry. While he continued his studies at Marmara University's Department of Music, Çetin took the stage for acclaimed live performances. In the beginning of the 90s, he joined Batu Mutlugil, Sunay Özgür and Kerim Çaplı in the Blue Blues Band.
In 1997, Çetin released his debut solo album "İlk," produced by his longtime musical companion Saatçi, but the album was unable to capture the spirit of the moment and was overlooked by music lovers. Six weeks before his 31st birthday, after expending months of intense effort writing all of the tracks for his second album, "Satılık," and having completed the album's final recording session, Çetin committed suicide by leaping from Istanbul's Boğaziçi Bridge. After his death, "Satılık" was released and soon became a cult album that music authorities call a "work of genius."
After more than a decade, the musical legacies of these two musicians are kept alive with the documentary "Blue." You can find clips from the documentary on the official "Blue" Facebook page.