Sufi music virtuoso Serkan Kamacı released his first album 16 years after embarking on his musical career: An album which he considers not only to be the fruit of his career but also of his spiritual voyage. Primarily inspired by Mawlana Jalaluddin Rumi, Kamacı says his biggest chance in life was given to him when he became a student of ney (the reed flute) under masters Niyazi Sayın and Mustafa Büyükipekçi, the former student of ney legend Ömer Erdoğdular. With a teaching career that spans 12 years, Kamacı has taught more than a thousand students and continues giving ney lessons at various art centers, including the Lifelong Learning Center İSMEK and the Sertarikzade Cultural Center. Kamacı has the ability to effectively inspire anyone who wants to write his or her own story, sharing his artistic perception that is deeply rooted in and empowered by Sufi tradition.
Working as a guest artist at the Edirne State Turkish Music Society under the General Directorate of the Ministry of Culture, Kamacı has had an insatiable interest in music since his childhood. He said, "I was in search for music in my heart, inspired by Allah - I don't know the exact reason for this. As his holiness Mawlana says, 'If it is bread that you seek, you will have bread. If it is the soul you seek, you will find the soul. If you understand this secret, you know that you are what you seek.'"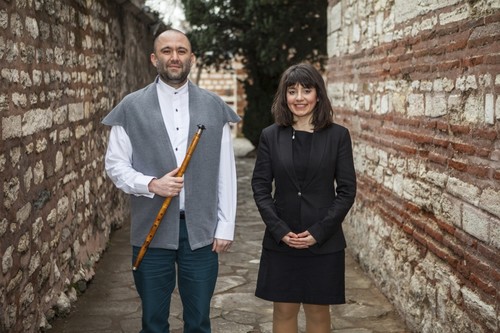 His immense love for music led Kamacı to an amazing story of meeting the Turkish reed flute. While in high school, Kamacı and his friend decided to establish a Sufi musical group. He decided to play the bendir (frame drum) while one of his friends wanted to play the ney. After that he decided to make a surprise for his friend, selling all of his cassette tapes to raise money and buying a ney for his friend. He later learned that the instrument he bought was not a Turkish ney that is used in Sufi music but an Iranian ney. His friend couldn't make a sound with the instrument as it is extremely difficult, but Kamacı was able to successfully play the Iranian ney in his first attempt. Then, he began to search for a teacher. His path crossed with Turkish ney player Mustafa Büyükipekçi and he took the first major step of his musical career. His master urged him to get his musical education at a conservatory and Kamacı successfully completed his exams and began his studies at the Department of Turkish Classical Music of Haliç University's Conservatory in Istanbul. After completing his undergraduate education, Kamacı completed a master's degree in the same department, working with famous ney prodigy Niyazi Sayın at Istanbul Technical University.
Music was a close friend throughout the spiritual journey
For Kamacı, music is more than an art and the love of art. He thinks that music is a vessel that gives us a way to reach God: "Music is a way to reach Allah and it is an infinite vessel. That is to say, music is an expression of divine love for Allah," he said. Kamacı thinks that the first thing an artist must be capable of seeing is beauty: "One day, my master asked me if I would drink a very delicious trotter soup cooked in a famous soup restaurant in the district where I lived. I said 'no.' He replied by saying that in that case, I would never be a good ney performer. Years later, I understood what he meant: If I can't see the beauty in that soup or in anything, I will not be a good artist. As Rumi says, 'We are beautiful, may you blossom out too, adorn yourself,'" Kamacı said.
Unforgettable memory with President Erdoğan
Having given a very special concert for Turkish President Recep Tayyip Erdoğan, Kamacı said the recital was one of the most unforgettable and exciting memories of his musical career. "Our President Recep Tayyip Erdoğan was then the prime minister. I played the ney for him. It was 2011 and his son Bilal Erdoğan wanted to make a surprise for him for his birthday and called me and my friends who are musicians. We performed our music for him and his family in their home for about an hour. He loved it and was deeply touched. Our president appreciates arts and artists. This is a memory that I will never forget and I am very proud of," he said.
'Bişnev' emerged from the first couplet of Mathnawi
In Mathnawi, Rumi explains the meaning of religion and the very roots of spirituality in Islam in a way that welcomes everyone. The fact that the first 18 couplets of the Mathnawi are about ney, and the painful chapter of the separation from God were so meaningful for Kamacı, he chose to make the ney his main instrument. The name of Kamacı's first album, "Bişnev" is derived from the first couplet of Mathnawi: "Listen to this ney that is complaining and narrating the story of separation." He clarifies why he chose "Bişnev" for the name of his album: "Bişnev [bishnev] means 'listen' in Persian. Listening is 80 percent of music. The first verse of the Holy Quran came to our Prophet starting with the order 'Read!' I think the Mawlana made reference to this order by saying 'bishnev.' That is to say, listen the word of Allah, the beauty that comes from Allah and the music that is one of the most beautiful manifestations of Allah," he said. The ney virtuoso dedicated his album to his spiritual master, as he defines, to Mahmud Nedim Aysoy, who is a Sufi thinker and an Arabic translator.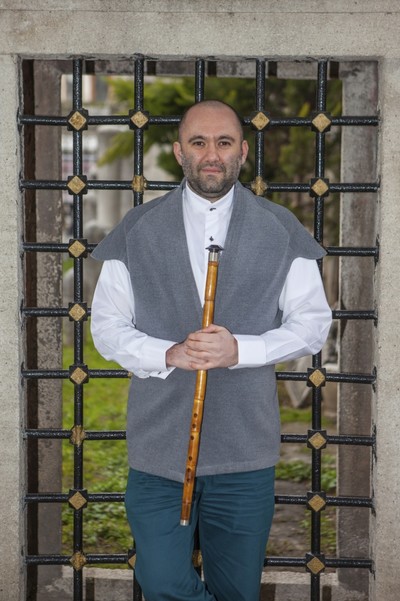 'Maqam Souzinak holds special place in my heart'
In Turkish classical music and in oriental music form, each artist prefers some "maqams," which are musical modes that can be described as the technique of improvisation that defines the patterns, pitches and development of a piece of music. Thus, maqams symbolize different modes of expressions, feelings and even footprints of some ideas and imagined ideas.
Having composed a lot of hymns in Sufi music, Kamacı has a deep love for the maqams "souzinak" and "hicazkâr." Making compositions in also "Husseini," "rast," "saba" and "nikriz," he expresses the feelings and senses that these maqams awaken in his soul. "Souzinak is like fire that melts the hearth. Hicazkâr is its sister but at a higher fret. Rast is a very positive maqam and evokes feelings like modesty, simplicity, satiety and satisfaction in my soul. Nikriz means puissance, power and making confident steps," Kamacı explained. He wants to publish a music book gathering the notes of the hymns in the album. Continuing to give concerts under the project of Contemporary Hymns with the Municipality of Kağıthane, he says the concerts will go on.
Further need for Sufi museums across Turkey
There are some Sufi museums like the Galata Mawlawi Museum in Istanbul and the Mawlana Museum in Konya. Emphasizing that these museums set good examples, Kamacı stressed that there should be more Sufi museums erected around the country to increase awareness of Sufi culture among new generations. He says the objects used in "dergahs" (places where Sufi dervishes gather and live) should be displayed in museums. He thinks that the Sufi culture is so valuable for the expansion of modesty and leniency in society.
Kamacı performs every month at the Sertarikzade Cultural Center under the event titled, "Ney Meşkleri" (Ney Performances). The concerts generally take place on the first Friday of every month but the dates can occasionally change. This month there will be a special concert on March 24. There will also be a Turkish classical music concert at the Edirne State Turkish Music Society where artists will perform on March 22. If you want to play the ney, Kamacı can be your teacher in the Sertarikzade Cultural Center in the Eyüp district or at İSMEK in the Şirinevler district.