The Istanbul State Opera and Ballet Modern Dance Group (MDİst) will celebrate its founding seven years ago with a special production titled "Jizel," a contemporary version of the classic "Giselle" ballet, which has been created by Aysun Aslan with residents of Istanbul.

The founder of Türkuaz, the first modern Dance Community in Turkey, Aslan has paved the way for modern dance to increase in popularity across the country. After a while, she returned with the world-renowned ballet "Giselle," which she has turned into a contemporary modern dance version adapted for our region.

Classical characters such as Albrecht, Giselle, Hilarion and Myrtha will be depicted as Alb, Jizel, Hila and Mirta and integrated with the history of music of Adolphe Adam.

Ayşegül Alev designed the contemporary costumes, Ferhat Karakaya designed the plainstage, Kerem Çetinel designed the lighting, and Yaşar Saraçoğlu did the visuals. This modern dance version was performed yesterday for the first time at the Beşiktaş Municipality's Fulya Sanat.

Speaking to Anadolu Agency at the project's general rehearsal, Aslan described how "Giselle," one of the most important works in the classical ballet repertoire, was transformed into "Jizel." She noted that this was first offered in March by MDTİst's Art Director Beyhan Murphy even though at first the project wasnot "Giselle," but Aslan wanted to test a few other works and for Murphy to choose from among them. Murphy chose "Giselle." "It's a personal work of art for me. I started the conservatory at 8 years of age, and "Giselle" was my first performance at the age of 12. It was the main focus of our school; everyone started performing and graduated with it. Therefore, we've danced through all parts of it. While it's a difficult work of art, it's dramatic structure and music is perfect," continued Aslan.

During the preparation stage, they had many discussions and exchanged ideas with Murphy, and in the end, as it is hard to change a classic and overcome the rules, they decided to write it as how it is read in Turkish as "Jizel." Aslan added that the performance has now broken the taboos of viewers and that she has changed the classical structure and plot of the ballet.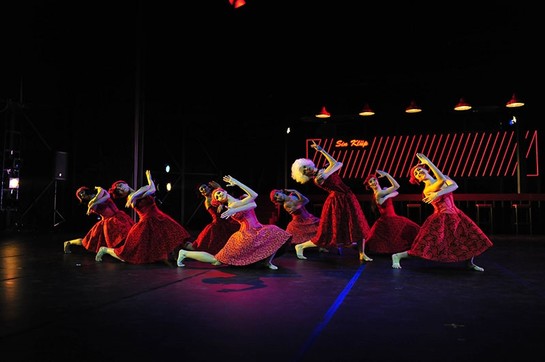 With regard to how she returned to the stage after taking a leave of absence to focus on her son's education, Aslan thanked Murphy and said: "I thought that since it had been so many years that I've been away, I wouldn't be able to do anything. I thought my career was over, but thank goodness it isn't, and I have to thank Murphy for her support in this progress."

According to Aslan, the audience will again be watching something related to "Giselle" in essence, while it's set in modern times. "For those who know the ballet, the great class divide will still be there. Giselle is still a villager, while Albrecht is a prince, a count; the division of social classes cannot get any more divisive than this. While Albrecht is trying to trick Giselle, he also has a fiancé, and then there is Hilarion who is in love with Giselle. Therefore, the main themes are general and widely popular all around the world: love and revenge, which still remain in our version," said Aslan. However, in this version, Jizel is a lower class hairdresser. Alb has grown up in a mansion. The different in class and the themes of love, betrayal and revenge are all still there.

The second part of the performance takes place in the Sin Club. "Sin means grave in Turkish so I've again carried Jizel to the grave in my own version. It's a great coincidence for this word to mean different things in these languages," said Aslan.

Murphy stated that, gradually, a modern dance community is forming in Istanbul, and they are progressing with those who have studied contemporary and modern dance as well as ballet. She added that the identity of the modern dance community is slowly being established after seven years, which normally doesn't happen before five years.

The plot of "Jizel," which will be performed April 26, May 2 and May 10 at Fulya Sanat, follows Jizel, a young, naive hairdresser working with her mother, Berte, who is very uncomfortable with the interest of her neighborhood fellow, Hila. She starts falling for Alb, the handsome son from the mansion where she works as a private hairdresser, and they secretly start meeting. During one of these hidden encounters, Alb wins Jizel's heart, as he offers her an engagement ring. Hila, who is constantly following the young girl, soon finds out about the engagement ring and tells Jizel's mother. Berte is devastated as she thinks the class difference with Alb will bring only disaster; yet, no matter how she insists that her daughter give up Alb, Jizel is indifferent to the idea.

Hila becomes obsessed with Alb and starts to follow him. One day he sees the young man meeting a very pretty, chic young woman, Batil. It is very obvious that Batil and Alb have an affair. Although Hila immediately lets Jizel know about what he has witnessed, he cannot convince her. Then, he hires a man to follow Alb, who finds out that Alb and Batil are preparing to get engaged. He proves it with photographs he has taken in secret. Once Jizel sees the photos, she becomes desperate and raids the engagement ceremony right when they're about to put on the rings. In the row, Jizel grabs Hila's gun and accidentally shoots Alb, who collapses right away. Hila shouts, "You've killed him" and abducts the young girl among the crowd. The young girl's life takes shape like she never imagined. As she almost surrenders to Hila, she finds herself in a totally different world. Yet, fate has other surprises for her.