Organized by the Istanbul Foundation for Culture and Arts for two decades, the 24th Istanbul Jazz Festival will bring the best of jazz to Istanbul with more than 200 local and foreign artists are set to take stages at 20 different venues in the city between July 4 and June 20.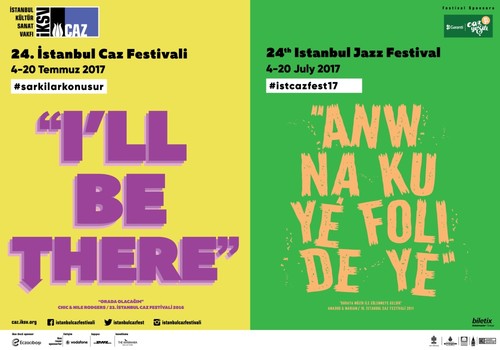 The festival's promotional campaign is an open-hearted invitation to the event as it takes inspiration from the unifying power of songs. Its posters will feature lyrics written by the performers at the festival including Nile Rodgers, Özdemir Erdoğan, Mercedes Sosa, Jane Birkin, Aynur Doğan, Eleftheria Arvanitaki and Mahsa Vahdat. Through their words, the posters will refer to various moments in the festival's 24-year history.
In the first week of the Festival, the doyen of Turkish pop and jazz, Fatih Erkoç and the Conductor of the state-run TRT's Big Band Kamil Özler will be receiving their Lifetime Achievement Awards.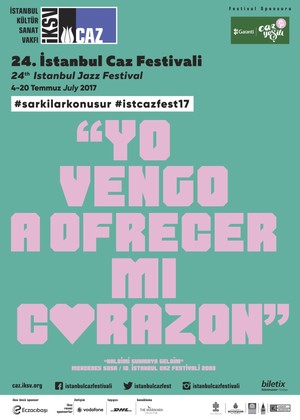 Jazz pianist Jacky Terrasson, French trumpet player Stephane Belmondo, JUNUN, Shye Ben Tzur, The Rajasthan Express, Levent Yüksel, Taksim Trio, Cenk Erdoğan, Korhan Futacı and Kara Orkestra, Rain Lab, Tolga Bilgin, Kristian Lind and Geeva Flava as well as some of the best names in jazz, contemporary world music, blues, and soul will light up the festival.
It will also host a special night to commemorate flamenco legend Paco de Lucia. Esteemed musicians who have worked alongside Lucia for a long time will come together for this project.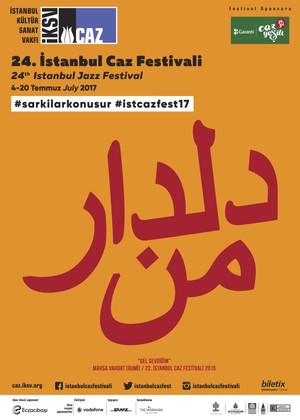 The flutist, Jorge Pardo, who worked with Lucia for years and has collaborated with the likes of Chick Corea, will take the stage with Carles Benavent and Jose Maria Bandera. Together they will offer a contemporary interpretation of flamenco on electronic bass and pay tribute to the musical legacy of the virtuoso.
On the night, legendary vocalist and a long-term coworker of Paco de Lucia, David de Jacoba, and El Pirana, a remarkable guitarist and cult percussionist who is deemed as the true successor to Lucia's throne, along with Turkish musicians Levent Yüksel, Taksim Trio and Cenk Erdoğan will be performing his songs.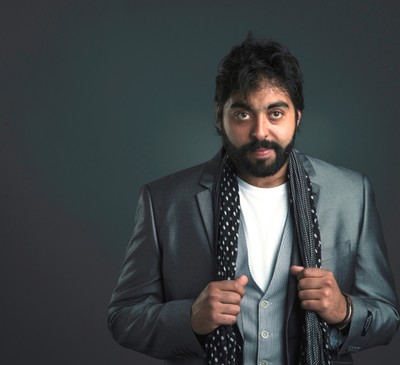 In addition, Spanish dancer Nino de Los Reyes, who has been described as a breath of fresh air in flamenco with his highly futuristic techniques, will accompany the musical show.
For the first time, the festival will be organizing an event for the children, titled "A Childlike Day."
Concerts and various workshops will be held as part of the event and the "Night Out" segment will carry the festival to Kadıköy on the Anatolian side of the town. Meanwhile, also part of the Jazz Festival, "ViTRin: Showcase from Contemporary Music from Turkey," will feature local musicians and ensembles alongside international musicians.
AWARD CEREMONY
The stalwarts of Turkish pop and jazz Fatih Erkoç and the conductor of TRT Big Band Kamil Özler will receive their Lifetime Achievement Awards. The ceremony will be followed by a concert by Erkoç where he will be performing his favorite songs. Afterward, the Austrian band DELADAP, which combines the highly energetic tunes of swing with Balkan melodies, will take the stage to bring more excitement to the award ceremony night.
When: Tuesday, July 4, 9 p.m.
Where: Austrian Cultural Office Garden
BALLADS, CHANSONS AND MORE
Jazz pianist Jacky Terrasson and French jazz trumpeter Stephane Belmondo will come together at the French Palace Garden. The duo, with their joint 2016-album "Mother," has consolidated their collaboration.
The audience will get an opportunity to witness the duo's ballads, cantons, and notes that smell of nostalgia. The opening night of this new section of the festival will also welcome contrabass player Kağan Yıldız and pianist Can Çankaya.
When: Wednesday, July 5, 9 p.m.
Where: French Palace Garden
SPIRITUAL TONES OF MUSIC
As part of ViTRin, the dark melodies of composer and saxophonist Korhan Futacı, who is known for his lyrics, compositions and saxophone performances in the album "Fantastic" of Tamburada, will join the energetic Kara Orkestra (Black Orchestra).
They guarantee a great musical experience and will take the stage on the opening night with singer-songwriter İdil Meşe and one of the most successful names in the local hip-hop scene, Da Poet's Rain Lab.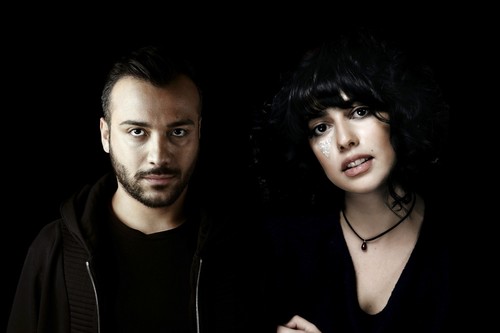 When: Wednesday, July 5, 10 p.m.
Where: Salon İKSV
"NIGHT OUT" ON KADIKÖY STREETS
The festival will continue on the Asian side of Istanbul for the third year as it welcomes leading names of the local music scene including Kolektif İstanbul, Ceylan Ertem, Gevende, Son Feci Bisiklet, Jakuzi and many others on Club Quartier, Moda Sahnesi, Kadıköy Sahne, Atölye Hangart, Zor, KargART, All Saints Moda Church and Dorock XL's stages.
When: Thursday , July 6, 7 p.m.
Where: Kadıköy, Moda
SUFI, ELECTRONIC MUSIC BLENDED
One of the leading composers and poets of the Sufi tradition, Shye Ben Tuzur will take the stage with his JUNUN project coproduced with the Indian band The Rajasthan Express at the Beykoz Kundura.
Before JUNUN's traditional and electronic melodies, Kamasi Washington, a bass guitarist, vocalist and composer, and the founder of West Coast Get down Collective, Miles Mosley will share the album "Uprising," his first solo.
When: Friday, July 7, 7:45 p.m.
Where: Beykoz Kundura Factory
FLAMENCO STARS FOR PACO DE LUCIA
Paying homage to the cult flamenco guitarist and composer, Paco de Lucia, the 24th Istanbul Jazz Festival will host an unforgettable concert. Flutist Jorge Pardo and Carles Benavent, bringing a twist to flamenco and guitarist Jose Maria Bandera will be performing Paco de Lucia's music.
The concert will also feature legendary vocalist David de Jacoba as well as guitarist and percussionist El Pirana, along with Turkish musicians Levent Yüksel, Taksim Trio and Cenk Erdoğan.
Spanish flamenco star Nino de Los Reyes will also grace the stage.
When: Saturday, July 8, 9:30 p.m.
Where: Zorlu PSM Main Theater Stage
TAKSİM TRIO: FROM TURKEY TO WORLD
As part of the ViTRin segment of the event, Hüsnü Şenlendirici, İsmail Tunçbilek and Aytaş Doğan aka the Taksim Trio will be featured at the Istanbul Jazz Festival in a special concert. The trio was applauded at WOMEX 2007 and performed at the Queen Elizabeth Hall in London the same year.
They released their second album in 2013 that featured some of the most popular songs by Turkish musicians including Orhan Gencebay, Zülfü Livaneli and Şükrü Tunat. The trio's work mainly features the clarinet, bağlama, and kanun.
When: Saturday, July 8, 7:30 p.m.
Where: Zorlu PSM Drama Stage
FIRST EVENT FOR VITRIN
The Jazz Matinee will showcase "Yürüyen Merdiven" featuring Tolga Bilgin and Kristian Lind together with Geeva Flava, who was one of the finalists of Young Jazz last year and mesmerized audiences with entertaining an entertaining performance in the Fenerbahçe district in the festival's Jazz in the Park segment.
After Geeva Flava, Yiğiy Özatalay will take the stage with Mustaka Kemal Emirel, Swedish double bass player Kristian Liad, and Turkish trumpet player, Tolga Bilgin.
When: Saturday, July 8, 3:15 p.m.
Where: İKSV Salon
A CHILDLIKE DAY AT THE FESTIVAL
In a first at the Jazz Festival, this year's event will showcase "A Childlike Day" featuring Oran Etkin, Hakan Başar and Music for Peace Wind Instruments Ensemble. It will also offer different workshops for children and teenagers.
The concert will tell the entertaining stories of different jazz instruments and will feature clarinet virtuoso Oran Etkin and vocal Deniz Taşar, Riccardo Marenghi at the drums, Ertan Şahin playing the tuba and Barış Mert Peker at the piano.
Pianist Hakan Başar, 13, will also perform at the event. Oran Etkin's "Timbaloolo,, along with the free concert of Music for Peace Wind Instruments Ensemble will surely give the children a day to remember.
When: Saturday, July 8, 3 p.m.
Where: Sakıp Sabancı Museum: The Seed