A great marine painter who left 6,000 paintings behind him, Ivan Aivazovsky is described as "the author of the sea" by renowned Russian poet, playwright, and novelist of the Romantic era Alexander Pushkin. Amazing the audience with his realistic waves and lunar paths, he was an avid and inquisitive artist. For instance, he was anxious to know how Niagara Falls looked or what the difference between sea waves and ocean waves was.
The Russian artist's fascination with the sea, sun, storms and disasters is not actually a coincidence when his nature and role as a representative of the Romantic school of painting are considered. Having had 120 solo exhibitions in Russia and abroad, Aivazovsky was only 26 years old when his paintings were shown at the Louvre Museum in Paris.
He had tsars, sultans, popes and geniuses among his admirers, and the artist considered Istanbul as the most beautiful city in the world. He visited it eight times, seeing every part of the city, and had numerous paintings dedicated to it. He witnessed the life of three Turkish sultans during these visits, and they also awarded him many medals.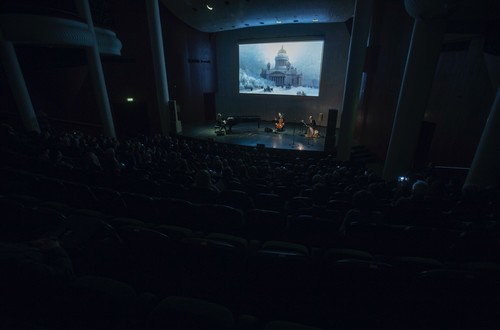 Spectators experienced a journey with thousands of Ivan Aivazovsky paintings accompanied by music in "Aivazovsky Rhapsody" in Moscow.
This great painter of Istanbul was commemorated on the 200th anniversary of his birth with an unprecedented project entitled "Aivazovsky's Istanbu,l" which is comprised of two parts, the exhibition and concert. The concert of the project, whose exhibition part has not been presented yet, has met many spectators in Moscow, New York, Los Angeles and Feodosia to date. Featuring "Aivazovsky Rhapsody," composed by pianist and composer Anjelika Akbar, it is to be performed in Russia, Europe and Turkey thanks to the great interest of the listeners.
Speaking to Daily Sabah, Akbar, who is also the project officer, expanded on the project and her rhapsody. Akbar said that Turkey has more than 50 paintings of Aivazovsky, and they are used as the background at bilateral meetings with foreign presidents. She added: "The paintings of Istanbul have a special place among the paintings of Aivazovsky as he reflected all the perspectives of the city. Many critics appreciate his masterpieces as a peak in art. He observed the people, buildings, sunrises and sunsets in Istanbul with such a deep insight that these observations underlie the visual memory of the city. This is why Turkish people accept him as if he is one of them."
Speaking of the photographic memory of the artist, she continued, "When he looked at something, he kept every single detail in his mind and reflected them on his canvases. However, we also see that he, sometimes, changed the views and architectural constructions of Istanbul in his works and added some fantastic details. This is what makes his Istanbul paintings both real and mystical."
While mentioning how the idea of the project appeared, Akbar implied that Bülent Özükan and Murat Öneş, as Boyut/ONE, invited her to the very first stage. "I was really happy when I heard the combination of Aivazovsky, Istanbul, painting and music, and then we started to work diligently. Actually, I involved in it as a composer and pianist, but I later managed the process of organizations at home and abroad and the international relations of the project. I took over and was the project officer. We created an idea and art circle that I can describe as 'Aivazovsky net.' After searches in Russia, the U.S. and Europe for some years, we had more than 500 paintings of Aivazovsky in the digital media space with a high technology."
Akbar and her team presented this very special concert to spectators in Moscow for the first time. It was held under the auspices of the presidency with the support of the Turkish Airlines, Ministry of Foreign Affairs, Turkish Embassy to Moscow and Ambassador Hüseyin Diriöz. Renowned and important figures from the Russian parliament attended the concert, performed at International Music House, which is an important place for international and Russian music.
Referring to the interest and admiration of the concertgoers, which led to an important meeting for Turkish-Russian relations, the pianist stated that it was a good example of cultural diplomacy.
"The audience members said that they experienced a journey in time and space with thousands of paintings and notes. I believe they felt a part of this meaningful whole," said Akbar.
Aivazovsky Rhapsody
"Aivazovsky Rhapsody," which was composed and performed by Akbar as part of "Aivazovsky's Istanbul," accompanied by violinist Danila Popov and percussionist Berkant Çakıcı, is comprised of various musical elements. Noting music is a way of translating what she has lived and felt for her, Akbar stated that she reflected what the paintings of Aivazovsky had made her feel in this rhapsody.
"Of course, this work was not composed, only looking at paintings. I searched for it in terms of music and history. I prepared a list of the countries that the artist lived in and visited and the songs of his time. I tried to use the pieces that he possibly heard. However, the most important element was my feelings and inspiration taken from his paintings, even if the searches also had a great place in the composing process," the composer said.
She continued by talking about the process that they went through. She said together with Muraş Öneş she created the concept, taking inspiration from each other. While she took inspiration from the images prepared by Öneş, he was also inspired by Akbar's compositions. She describes this process as an interdisciplinary work. Stressing that they overcame the physical and technical difficulties thanks to their collaboration, Akbar added: "Colors mean sound for me. I have been hearing a sound whenever I look at a painting since my childhood. Therefore, adapting the works of a painter was something that I was familiar with."
Saying that the best part of the project is the coexisting of people who sympathize with each other, she reported the first inspiration source of the rhapsody was the paintings of Aivazovsky, but the effects of the Ottoman and Tatar music, Caucasian tunes, Western Classical Music and the song titled "Katibim" can clearly be felt while listening to it. Implying that all of these elements came together for her, Akbar added that the concert is an unexpected surprise for art lovers as it is Turkey-based. "When I hear good comments on the project, I am moved. I feel a great honor since I am a lover of Turkey."