İş Sanat offers a wide range of events including unique projects of the most loved artists of our country, children's events as well as classical, world and jazz music concerts, poetry readings and dance shows and will be closing its 18th season with concerts and shows by leading figures in music and performance art.
The last month of the season will start with Orhan Veli's poetry on May 7. Due to the high interest of young viewers, there will be a matinee at 5:00 p.m. before the actual poetry reading at 8:30 p.m. Nina Zilli, famous for her song "50 Mila" used by director Ferzan Özpetek in his movie "Serseri Mayınlar" (Loose Cannons), will perform for at İş Sanat on May 10.
The last classical music concert of the season will take place on May 15 with famous Venezuelan pianist Gabriela Montero and the Scottish Ensemble performing a repertoire from Mozart, Bach and Piazzolla.Conducted by Serdar Yalçın, the Istanbul Opera Orchestra and Chorus will be reinterpreting Neşet Ertaş's folk songs with a symphonic concert titled "Gönlüm Hep Seni Arıyor" (My Heart is Always Looking for You) on the night of May 18. On May 22, the Jose Antonio Ruiz Dance and Flamenco Group will end the 18th season of İş Sanat with their "Picasso" show.
Nina Zilli greets fans for the first time in Turkey at İş Sanat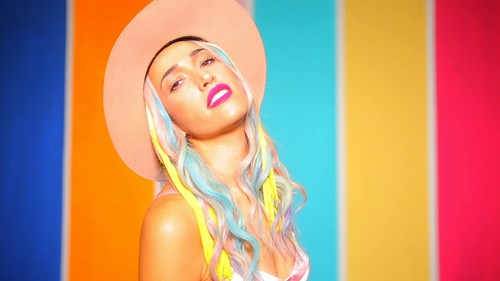 A super star of Italian pop music scene, Nina Zilli will be hosted by İş Sanat. Within the scope of her "Modern Art" tour, Zilli will perform for her Turkish fans for the first time in Turkey. Her first breakthrough was with her extended play "50 Mila" in 2009, which was also used in the soundtrack of Ferzan Özpetek's movie, "Loose Cannons," making her a favorite among Turkish cinema and music lovers.
With her 2010 album, "Sempre Lontano," she achieved great success and represented Italy in the 2012 Sanremo Music Festival and at the Eurovision Music Contest, organized in Azerbaijan. With her strong voice and impressive interpretation, Zilli was also a jury member at Italy's famous music contest Italia Got Talent. Those who do not want to miss Nina Zilli should visit İş Sanat on May 10.
Final classical concert of the season: Gabriela Montero and the Scottish Ensemble
The final classical concert of the 18th season of İş Sanat will be performed by Venezuelan pianist Gabriela Montero, known for her unique improvisational talent along with her extraordinary piano repertoire. The artist, who stands out with her stage energy and the communication she establishes with the audience, is also the winner of two Echo Klassik Awards.
Britain's leading string orchestra, the Scottish Ensemble, will be accompanying Montero on stage. The Scottish Ensemble, famous for their musical collaboration with artists from different disciplines, offers unforgettable experiences to their listeners with their rich concert programs. Gabriela Montero and the Scottish Ensemble will be at İş Sanat to perform an outstanding repertoire including Mozart, Bach and Piazzolla on May 15.
Glamorous closure with Jose Antonio Ruiz Dance and Flamenco Group
One of the living legends of Flamenco, Jose Antonio Ruiz's "Picasso" show will close the 18th season of İş Sanat. Moderating the Spanish National Bale for years, Ruiz has won numerous awards throughout his career and his group's "Picasso" show premiered in 2001 at the International Granada Dance and Music Festival.
Ruiz created the choreography for the show from Pablo Picasso's paintings and takes the viewers on a journey through the different eras of the Spanish painter. Comprised of two sections, "Picasso Paisajes" (Picasso Views) and "Flamenco Invocaciones" (Passion of Flamenco), the show will be on İş Sanat's stage May 22.