Ezgi Ayçe is the young, beautiful daughter of music teachers. Her friendly personality makes her easy to talk to and on top of being a good performer, she writes lyrics and composes songs. She says that she has dedicated her life to music. She created the song "Yarım Sevda" (Unfinished Love), the hit single of Enbe Orchestra's new album "Enbe Orkestrası 2018" directed by Behzat Gerçeker. We recently had a chance to chat with Ezgi Ayçe, who recently received an offer from RedOne, the producer of Geo Slam and Lady Gaga's albums.
Born to music teachers, Ayçe explained the influence her family had on her musical journey. "Once I opened my eyes to the world, I felt the real meaning of music in my family. My mom and dad tutored students for Bolu Fine Arts High School at home. I woke up to music, rhythms and melodies all the time and received piano and guitar lessons early on. My parents quickly discovered that I had a beautiful voice. I was in my mom's choir in middle school and I entered voice contests. In high school, I sang songs in my dad's orchestra," she noted.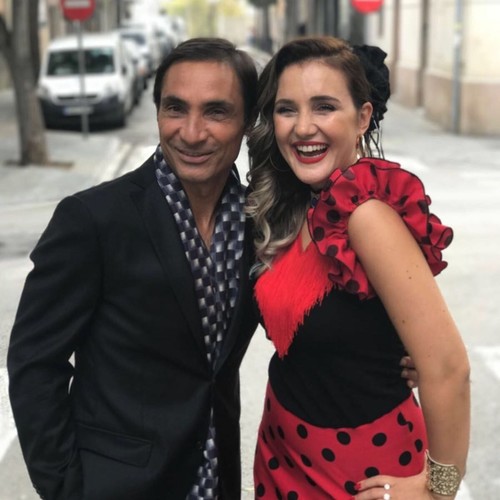 Ezgi Ayçe with Behzat Gerçeker, whom she worked with as part of the Enbe Orchestra's new album.
Born in İzmir and raised in the small town of Akçakoca in Düzce province, Ayçe had a hard time in Istanbul at first. "When I got into the Department of Landscape Architecture in university, I came to Istanbul. At first, I was afraid of going out. Akçakoca is a very small and safe place. Istanbul is crowded and chaotic. My phobia of going out lasted for nearly three months. Then, I broke out of my shell. After graduate school and business life, I dedicated myself to music. I was in the Istanbul European Choir and Boğaziçi Jazz Choir. I traveled around the world and performed on more than 300 stages," she explained.
The young musician describes her style as pop: "I am not a jazz singer. I sing jazz songs in a pop style because some like jazz music as others are not familiar with it. In fact, I have a musical style that appeals to many."
She is enthusiastic about being a part of the Enbe Orchestra, which is very popular in Turkey and abroad. "The fact that Behzat discovers new talents and places them in an album both as a singer and as a composer is amazing. The song 'Yarım Sevda' has been loved very much and became the hit single of the album. Behzat is one of my idols. Also, he places special importance on young people. He always says, 'You, too, pave the way for other singers in the future.'"
SHOCKED TO RECEIVE OFFER
"Love makes people write very good songs. Those who listen to them find themselves in those songs. There is no other way to touch hearts. Sometimes the inspiration just comes and sometimes it is just emotional density. I wrote 'Yarım Sevda' in one sitting after an unfinished love," she said while explaining how the hit song came into existence.
Ayçe recently received an offer from RedOne, the producer of Geo Slam and Lady Gaga's albums. "RedOne is a world famous producer and has performed duets with many big names. He discovered Lady Gaga. One day, Geo Slam saw me on stage in Istanbul and sent me a message on my fan page on Facebook," she said.
"'We are considering your type and voice for a world-famous project. It is a three-song project,' they said. I will go to the U.S. very soon. He will write the songs, and I will sing them. I still cannot believe that I received the offer," she said excited about the project.
When it comes to Ayçe's future goals, she highlighted the importance of becoming a world-famous pop-oriental music artist and bringing quality music and dance to the stage. "Two people in the world have successfully achieved this: Beyonce and Jennifer Lopez," she noted.
The Enbe Orchestra will perform morale concerts for Turkish soldiers in Afrin. "A concert will be held featuring all of the singers at Zorlu Shopping Center. There will also be concerts across Turkey. The income gained from launching concerts will be donated to the soldiers," Ayçe said.
I AM A SMALL-TOWN GIRL
For those wondering about Ayçe's personal life and hobbies, she has a humble and peaceful lifestyle.
"I am as I am: Passionate, determined, principled, persevering, hardworking, emotional, deep, honest, energetic and positive. I grew up in Akçakoca and am such a coastal town girl. I became urbanized later and became a city girl. I do not smoke or drink alcohol to preserve my vocal cords. I care about sports. In my free time, I read books and watch movies. In addition, I dance. In fact, my life is all about music. My lover is music. My love life is about music and I put the stage in the center of my life: Working on stage repertory, singing lessons and meetings. In terms of social life, I don't see my friends much," she concluded.