The heritage of Hayri Dev, who was selected as a Living Human Treasure of Cultural Heritage by the United Nations Educational, Scientific and Cultural Organization (UNESCO) with the "pine whistle" he created, passed away last week at the age of 85. His legacy will now live on with his son Bayram Dev, who makes local musical instruments.
The 63-year-old Bayram Dev, living in the Gökçeyaka quarter of Denizli's Çameli district learned his craft from his father, Hayri Dev, known as "big master" by Denizli locals, on how to make and play local instruments such as three-stringed reed (cura), rebab and pine whistle. Learning all the details of local instruments, Bayram Dev played with his father and his brother Zafer Dev at weddings but then, he later concentrated only on making instruments.
Creating local instruments in his home workshop, Bayram Dev will conduct workshops at the "Hayri Dev Culture Center," which will be opened by the Denizli Metropolitan Municipality in order to pass on his father's legacy to new generations. Dev will carry on his father's heritage by teaching youngsters how to make instruments such as the three-stringed reed, rebab, pine whistle and bağlama.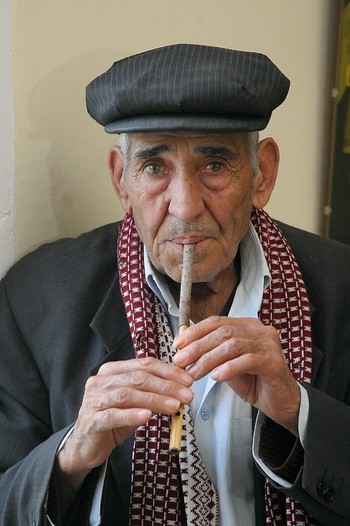 Hayri Dev with the "pine whistle" he created, passed away last week at the age of 85.
Speaking to Anadolu Agency (AA), Bayram Dev noted that he is deeply in sorrow due to his father's passing away and said "While the whole world knew about my father, if you look at him from my point of view, he had a smiling face. He was my master. He was a very good person, a person who never broke anyone's heart, he did not say 'no' to anyone."
Dev noted that Hayri Dev has left great cultural heritage behind: "My brother is not making instruments, he is more of a performer. My father's worth was understood by the French researcher Jerome Cler when he discovered him. Before him, my father was a village musician at weddings. He became a professor in the eyes of the French. He went abroad to concerts seven or eight times. He taught French children. So the whole world got to know him."
Dev stated that his father taught him all the delicacies of making pine whistle, which led him being chosen by UNESCO as a "Living Human Treasure of Cultural Heritage."
The pine whistle is a very special instrument, which not many people can produce. Dev stated that the whistle can only be made from trees cut in April and June as pine trees can only be peeled at that time of the year and that rest of the year the crust sticks to the tree and therefore, cannot be used for making instruments.
He explained that they open holes in the pine crust for notes and combine them with a pike, Dev noted that they then add the mouth piece, also made from pine trees.
Dev also noted that the instrument cannot be played immediately and has to be wetted and let to sit for two days. He added, "The most important feature is that it has a sound like no other instrument. It does not sound like a reed flute nor pipe. Nor does it sound like the sipsi. It has a thick voice and low volume and that is why it is special. My father called it the 'secret whistle.' The reason is that it cannot be heard on the other side of hill when one plays it."
He further stated that they have a great responsibility for cultural heritage they have inherited from their father and that he will put effort in passing on this cultural heritage.
"We inherited this cultural heritage from my father. I am teaching my children and whoever is willing to learn how to make and play local instruments. We will do our best to make sure this is not lost. I will teach my children and my students. Hayri Dev's legacy will live on and we will make sure. Soon, the Hayri Dev Cultural Center is opening. I will have a workshop there. This workshop will continue there and we will both sing and teach," said Dev.