The Turkish National Youth Philharmonic Orchestra (TUGFO) will hold its preseason training at Istanbul's Sabancı University between Aug. 15 and Sept. 4.
The orchestra, now in its 12th year, is managed by the Cultural Awareness Foundation (KBGV). It continues to give opportunities to young talents and will prepare them for a marathon of concerts at the preseason training.
The training sessions and rehearsals will continue for 20 days, under the watchful eyes of conductor Cem Mansur, American flute artists and trainer, James Lyman, and famous Turkish violinist, Hande Küden.
Küden herself came through TUGFO, before joining the Deutsches Symphonie-Orchester Berlin, one of the world's most prominent orchestras.
After the training, the musicians will go on a tour of Europe. They will perform in 11 concerts in Germany, the Czech Republic, Slovakia, Austria, Hungary and Poland, after their opening concert in Istanbul on Sept. 4.
The orchestra comprises of 100 talented musicians, who are handpicked from Turkish conservatories. It offers promising, young talents an opportunity to share the stage with world-renowned figures.
Leonard Bernstein to be commemorated
This year, TUGFO will commemorate world-famous conductor, composer, writer and pianist, Leonard Bernstein, on the occasion of his birth centenary.
Conductor Cem Mansur was one of Bernstein's students, and now his group will perform some of Bernstein's most notable works, including "Divertimento," "Serenade" and "Candide."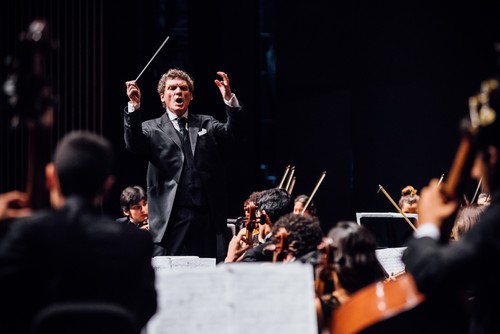 The Turkish National Youth Philharmonic Orchestra's conductor Cem Mansur.
The first half of its Istanbul concert will be dedicated to Bernstein, while the other half will feature the works of Sergei Prokofiev, Cemal Reşit Rey and Wolfgang Amadeus Mozart.
Russian violinist Alena Baeva will be the soloist at TUGFO's Istanbul concert, to be held at Zorlu Performing Art Center (PSM).
Having made a mark with her performance at a very early age, Baeva now Works with some of the best orchestras and conductors in the world. She also draws a lot of attention with her large repertoire.
Supported by the Sabancı Foundation, TUGFO was founded by Cem Mansur in 2007. Its 100 members are all aged between 15 and 22. They were all handpicked from all of Turkey's conservatoires.
Since its first concert with the great pianist Murray Perahia, the orchestra has performed with a number of distinguished soloists, including Salvatore Accardo, Shlomo Mintz, Natalia Gutman, Alice Sara-Ott and Kristof Barati.
TUGFO has performed in some of Europe's most prestigious festivals and concert halls, since its first international tour in 2008.
It has appeared among others, in the Konzerthaus in Vienna and in Berlin, Sala Santa Cecilia in Rome, Auditorium di Milano, Brucknerhaus in Linz, Prague, Budapest, Bratislava, Bologna, Florence, the Ravello Festival, Teatro Filarmonico di Verona, the Bozar concerts in Brussels, and the Bayer Concerts in Leverkusen/Köln, where the young orchestra had the honor of opening the season.
It is managed by the KBGV and is a full member of the European Federation of National Youth Orchestras.