In a few days the Zorlu Performing Arts Center (PSM) will transform into a giant dance floor with the start of the MIX Festival which will bring hotly anticipated DJs and artists to Turkey from Nov. 16-17, with everyone having their own reason to attend.
For those who want to witness firsts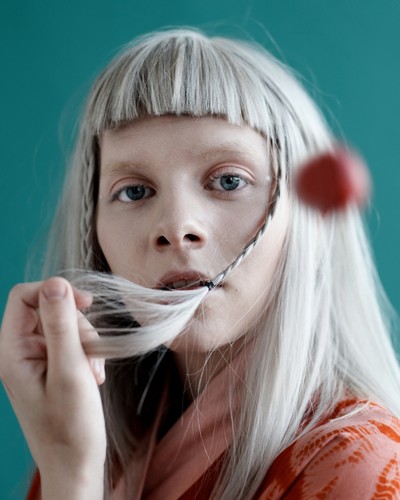 Accepted as one of the most skillful Norwegian artists of all times, Aurora, who transforms pop into a dark and beautiful magic, along with many leading figures will take the stage for the first time in Turkey as part of the MIX Festival at Zorlu PSM.
For followers of French ecole in music
Opening up to the world from Le Baron, one of the old-school disco clubs in Paris; Polo & Pan, French representatives of house and minimal techno music; Losless, a Montpellier version of Indie; Kazy Lambist and one of the most popular electro music figures of France, Her, will bring their French stage to the shores of Istanbul.
All fascinating shows in one ticket
Tender, who presents his combinations of R&B and electro to the world from London; Sophie Hunger, who will take stage with her velvet voice and as a multi-instrumentalist; the project "Otzeki," which offers unique songs composed by two cousins who produce electro; Barcelona-based genius of dance music, Undo and the most leading figures of various music genres such as Emancipator Ensemble offer an unparalleled musical experience with a live performance by electronic music producer Emancipator, showing on the MIX Festival stage.
Local stage with funk, disco and electro!
Hey! Douglas, who add an extraordinary timelessness to the Turkish songs of the 70s; Baba Zula, one of the most successful bands that took disco music to psychedelic limits; Turkish Edits that render nostalgic pieces to be played on the dance floor and Barış K who makes local sounds feature worldwide via his perfect mixes will enrich the MIX Festival floor with folkloric figures. Mabbas, who has energized the dance floor with his sets at many popular concerts and festivals in Turkey, Monality that combines local sounds with deep tech and ethnic electro will also add color the festival with their music.
For Thug Life, hip-hop and R&B aficionados
For the closing of the festival on Saturday night, there will be a Thug Life themed performance, which has featured many times at Zorlu PSM since early 2018 and has turned into one of the most enjoyable party series of Istanbul night life. Audiences will be offered an EXTRAVAGANZA version of the Thug Life special in the festival. This special concept, which presents hip-hop classics and the hottest selections performed to date, will cater to the tastes of festival goers and be full of surprises.
Looking for more than performances?
Bringing local and foreign figures and DJs producing various musical styles together, the MIX Festival will take the most popular record sellers in the city to the festival area. The records market to be set up under the context of the festival and will offer an area for participants in addition to performances. What's more, with workshop schedules that will be announced in the following days the festival will bring together people who want to make music and those who are curious about making music.