Elazığ / Malatya - Prime Minister Recep Tayyip Erdoğan, touring the country as part of his local election campaign, is drawing larger crowds, with the number of spectators in the eastern Anatolian city of Malatya said to be more than 80,000. Erdoğan, confident in his AK Party's chances in the March 30 local elections, also said that if he loses the election, he would quit politics.

During the rally, Erdoğan said his rallies are watched not only in 81 cities across Turkey, but also in Cairo, Gaza, Baghdad, Aleppo, Jerusalem, Homs and Sarajevo."They called me after the rallies and said 'we have watched you again today.' From the west to the east of the world, victims, aggrieved people, watched these rallies and your excitement.

March 30 will put a smile on not only our faces, but also on the aggrieved ones since you are showing your trust in us here and they are seeing it." Referring to claims by the opposition and certain media outlets that photos from Erdoğan's rallies are montaged to show the large crowds, Erdoğan said, "This is an open call for the Republican People's Party (CHP), Nationalist Movement Party (MHP) leaders and pro-opposition media outlets. Come to my rallies and watch rallies from the platform that I am standing on now."
He accused opponents of taking pictures of venues before and after rallies and leaking them on social media, claiming they were taken during one of Erdoğan's public addresses. He said, "After taking those photos, they claim that the arenas are empty and accuse us of montaging the photos." Erdoğan also echoed statements he made previously, that if his party does not come in first in the upcoming elections, he will step down and retire from politics.

He also challenged opposition parties to take similar steps and asked whether "CHP and MHP leaders, will leave politics if [they] do not come in first? You will not, because one of you [CHP leader] became leader by discharging the former leader, and another of you has been insisting on not leaving since the first election we won." The prime minister added that opposition parties will be disappointed on the night of March 30 and will accuse the AK Party of cheating in the elections. Erdoğan, also making the Rabaa sign with his hand, said the sign signifies four things for him: a single nation, single flag, single homeland and single state for all ethnic groups living on Turkish territory. The prime minister slammed the U.S.-based controversial imam Fethullah Gülen, saying the Gülen Movement's "ends don't justify the means." Erdoğan said, "The Gülen Movement is not a religious group, but a politically-motivated illegal organization. Its mission is to seize the government." He also challenged Fethullah Gülen by saying that if he wants any involvement in politics, he should establish a party.
Erdoğan highlighted certain points:

"The Gülen Movement is taking advantage of your labor, your bread, and your pure and sincere emotions. One cannot be so low, so shameful. You [Fethullah Gülen] should judge yourself before making such remarks. You [Fethullah Gülen] stoop so low as to mention my deceased mother."

"These people are no longer a religious community, they are a political organization. As we boarded the plane I was informed of the 80,000 supporters in the Malatya arena. This is a deep and meaningful message. A message to all. May Allah preserve our unity."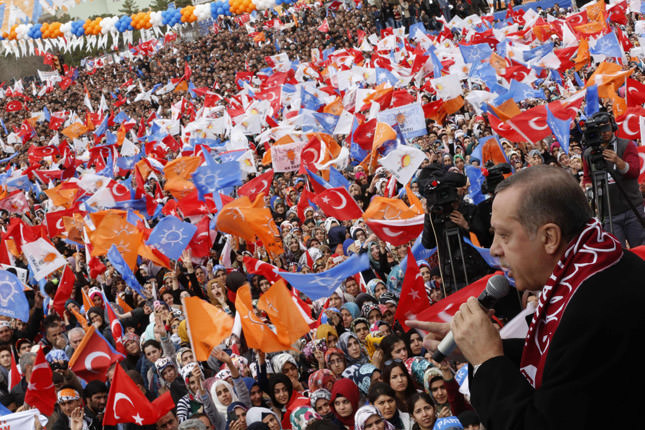 Prime Minister Erdoğan spoke to a massive flock of supporters at his Elaziğ and Malatya rallies ahead of the March 30 local elections.