ISTANBUL –
Prime Minister Recep Tayyip Erdoğan was in Bitlis yesterday for the election campaign. Bitlis is known as the birth city of Said Nursi, the Islamic scholar who influenced Fethullah Gülen.
The prime minister emphasized the significance of the municipal elections. He commented on the unification of five parties against the AK Party in the upcoming municipal elections and criticized them for not equaling a single competent party.
Erdoğan said people will be voting for "performance" rather than "words." He noted that the Kurdish names of villages are being returned because of initiatives of the government based on instructions given to the Ministry of the Interior. Returning Kurdish names of villages was a crucial step taken by the AK Party government as part of the democratization package in efforts to eliminate despotic measures implemented by the May 27 and Sept. 12 coups.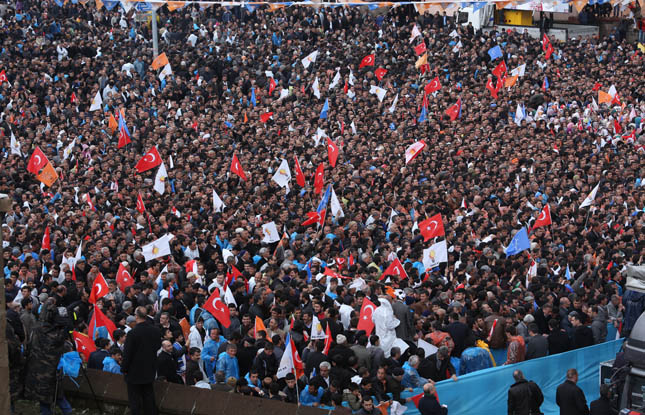 Touching upon the fact that Nursi did not leave the country even when he faced persecution as he spent most of his life in prison or forcibly removed from his home, Erdoğan indicated Nursi never sacrificed his values for the sake of personal gains, whereas Gülen chooses to live in Pennsylvania, in the United States, by choice. He claimed Gülen should not be associated with Nursi as their ideas are very different.
"A scholar is not only someone who has information, but is someone who is also in his or her right mind, is able to overcome worldly ambitions and who loves his or her country," said Erdoğan.
He went on to criticize Gülen for creating troubles and tension by wiretapping and unlawfully recording people. He also criticized the Gülen Movement for forcing people in student houses and prep schools to vote for the Republican People's Party (CHP), which is extremely ironic as the CHP was the main force behind the persecution of Nursi. Erdoğan equated the upcoming municipal elections to general elections that will determine the fate of the country.