ISTANBUL –
A huge group of supporters warmly welcomed Prime Minister Recep Tayyip Erdoğan at an election campaign meeting held at Adapazarı Town Square.
At the AK Party's local election campaign meeting in Sakarya Prime Minister Erdoğan commented on the recent attack in Niğde. Erdoğan condemned the attacks on security forces and conveyed his condolences to the family of an officer and two soldiers martyred in the incident.
Referring to the Gülen movement, Erdoğan said "There is an attack on our national security and state by Gülen supporters". According to Erdoğan, supporters of the movement have already started to "flee."
PM Erdoğan added that he lost his respect for Fethullah Gülen, who did not shed a single tear for the martyrs of the Mavi Marmara incident, or for those who perished in Syria, Palestine, Egypt and Myanmar.

March 30 elections to mark the beginning of a new era

At the local election campaign rally in Sakarya, Erdoğan said the government was experiencing a transitional period and the March 30 elections would mark the beginning of a new era.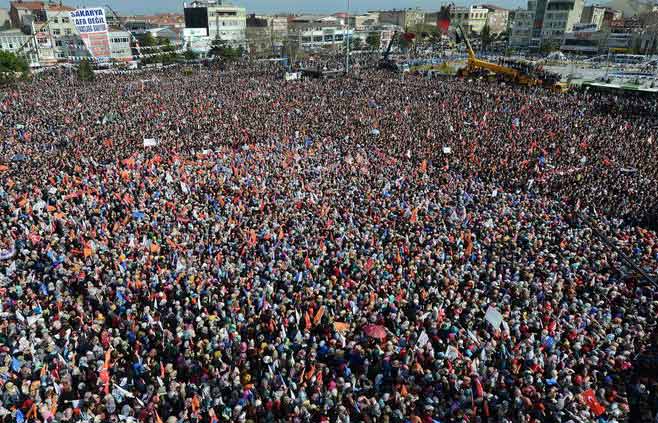 In response to allegations by former Istanbul Police Department Intelligence Bureau Chief Ali Fuat Yılmazer, that the prime minister ordered the arrest of former Chief of General Staff retired Gen. İlker Başbuğ and others accused in the controversial Ergenekon coup attempt case, Erdoğan denied the charges and stated they were complete lies.