ISTANBUL —
Turkish nongovernmental organizations in Germany have raised concerns over the latest unfavorable news about Turkey in the German media ahead of Turkish Prime Minister Recep Tayyip Erdoğan's presidential campaign rally on May 24 in the city of Cologne.
As the upcoming presidential election and the parliamentary election in 2015 are considered tough tests for Erdoğan, who is expected to run for president in the first presidential election by a popular vote, the prime minister is scheduled to address over 2 million Turkish citizens residing in Germany to garner their votes. Erdoğan's scheduled visit caused a stir in Germany when some politicians and German media outlets called for the trip to be cancelled over fears it could lead to new divisions and tensions among immigrants in Germany.
They criticized Erdoğan over the latest Soma mine tragedy that claimed hundreds of miners' lives and demanded that Erdoğan cancel
his campaign rally in Cologne.
In response to the German media's criticism, the German government expressed a clear stance that it will happily host Erdoğan despite opposition. German Chancellor Angela Merkel yesterday stated that she believed Erdoğan would act with "a sense of responsibility and sensitivity" during his campaign.
Yet, Turkish citizens living abroad raised their voices against the German media's stance toward Turkey and its government by saying that German media and certain figures have purported black propaganda against Turkey, and Turks living in Germany have for years felt uncomfortable due to such smear campaigns.
Speaking to Daily Sabah, Cologne-based Union of European Turkish Democrats (UETD) head Süleyman Çelik stated that baseless news discrediting Turkey has been published in the German media with just days left until Erdoğan's Cologne rally. Asserting that there is a defamation campaign against Turkey, Çelik said, "German media outlets have been continuing their black propaganda against Turkey as if all the news had been published from one central point."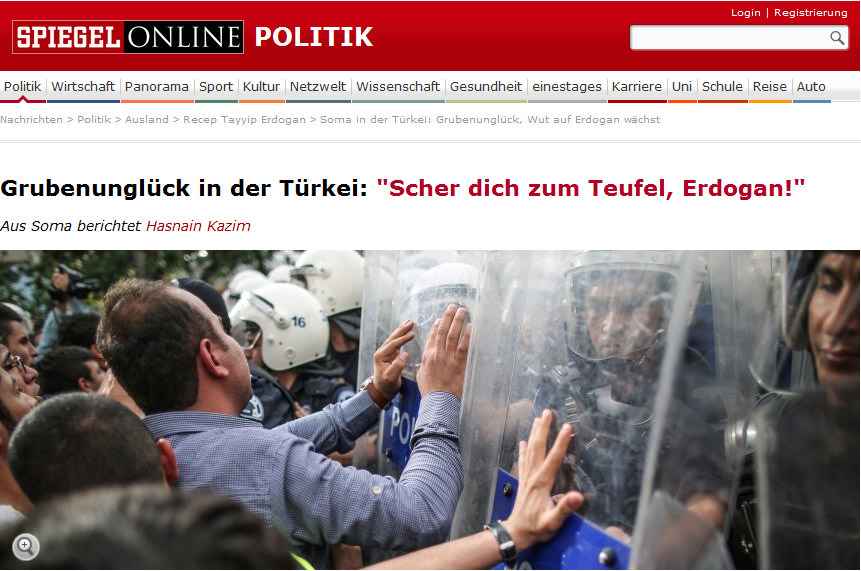 Çelik said the German media brought even the slightest problem in Turkey to the forefront and added, "Turkey and us [Turks living Germany] do not deserve this attitude. They [the German media] tried to tarnish the Turkish government's image, but millions of Turks in Germany are proud of Turkey."
Highlighting that Turkey's development in the last 12 years disturbed certain figures, Çelik said Turkey's developing economy and firm stance on international platforms make Turks living abroad proud of their home country and allow them walk with self-confidence on Germany's streets.
Çelik said he had lived in Germany for 36 years and it was the first time that he witnessed all German media outlets carry out a smear campaign against Turkey in such cooperation.
When asked to what extent Turkish citizens in Germany were affected by the news against Turkey, Çelik said it worked as reverse psychology and the more news against Turkey that is brought to the fore, the more Turks living in Germany praise Turkey and the prime minister.
The head of the Turkish Citizens Council in Germany, Yaşar Bilgin, said there is an incomprehensible state of fear in Germany regarding Erdoğan's visit, but the only authority to decide whether Erdoğan will visit Germany is Erdoğan himself.
When asked how the news against the prime minister affected Turks in Germany, Bilgin stated that Turks in Germany are used to that kind of news because they are constantly exposed to it in Germany.
Bilgin further noted that sharp news is not only purported by German media outlets, but also by Turkish media outlets.
The Head of the Turkish Islamic Union Association in Europe (ATİB), İhsan Öner, remarked that there are efforts to create a negative atmosphere between Turkey and Germany with both German media and Turkish media reacting furiously at one other.
Highlighting that he has been living in Germany for 40 years, Öner said, "I have rarely witnessed a positive story about Turkey in the German media. This is the general structure of German media. The reason behind the increasing Islamophobia and opposition to Turkey is German media and certain political figures. They have unilateral viewpoints, but what they do is discrimination and xenophobia. Both German citizens and Turkish citizens are affected by this negative atmosphere created by the media outlets."
Öner said that while German citizens had negative viewpoints against Turkey and Turks living abroad, Turks in Germany are polarized as pro-Erdoğan and anti-Erdoğan due to the effects of such news articles.
"German media uses the Soma mine tragedy as a trump card against Turkey. Turkey and the Turkish media, on the other hand, added fuel to the flames. Both sides need to evaluate the situation with commonsense," he said.
The Independent Industrialists and Businessmen`s Association (MÜSİAD) Berlin head Veli Karakaya stated that Turkey and Germany are strategic partners and Germany has benefitted from Turkey's partnership.
"As a German citizen, I would like to see Turkey as a strong partner of Germany. German media outlets try to create a public opinion against Turkey. For the last two years, there has been a smear campaign against the prime minister. I agree with the German government's spokesperson and German Chancellor Angela Merkel, Turkey and Germany are strategic partners and Germany always welcomes Erdoğan," Karakaya said.
He also noted that German media outlets only picked certain negative news to publish, but they disregarded some important facts. He added, "Of course, they have the right to criticize, but their criticism levels show that they are not sincere and what they do is only a defamation campaign."
Head of the Industrialists and Businessmen's Association (TÜMSİAD) Europe Cahit Kerenciler reacted against the latest news in the German media concerning Turkey in recent times: "There are powers behind certain media outlets that purported black propaganda against Erdoğan's rally to be held in Cologne. These powers do not accept Turkey's audacious moves in the latest years, but those media outlets do not represent the entire structure of Germany."
Pointing out that Turkish people in Germany supported developing bilateral relations between Turkey and Germany, Kerenciler said the German media purported black propaganda against Turkey, but German citizens do not give harsh criticism against Turkey.