The World Economic Forum in Istanbul has taken place from 28-29 September shedding light to Turkey's stance on critical issues including the nation's regional and economic outlook. The Forum began with President Recep Tayyip Erdoğan's analysis of what has to be done in order to ensure peace and equality in the Middle East region and ended with Prime Minister Ahmet Davutoğlu's insight on the same matter.
PRESIDENT RECEP TAYYIP ERDOĞAN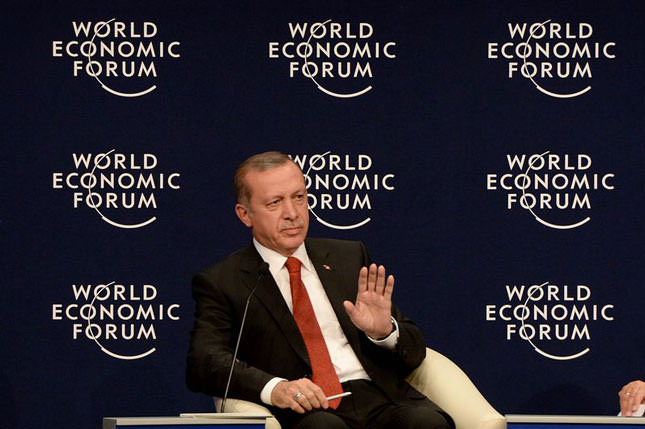 Speaking at the World Economic Forum held in Istanbul on Sunday, Turkish President Recep Tayyip Erdoğan touched upon the crisis that has befallen on the Middle East, and the steps being taken to subdue the problems Iraq and Syria are currently facing.
The World Economic Forum was the venue where President Erdoğan cleared up any misconception purported by the media, credit rating agencies, and etc. Erdoğan said speaking the truth even if it hurts must be done in order to solve the matters at hand. Erdoğan strongly condemned the current situation that Iraq and Syria has fallen into with the rise of the self-proclaimed Islamic state of Iraq and al-Sham (ISIS). His insight on a valid solution was to implement a buffer zone in the region and stated that peace in that region is a must.
President Erdoğan also said that businessmen know well who really governs credit rating agencies whose remarks on the Turkish economy are inaccurate and non-economic, but more so political.
"They increase credit ratings of countries [like Greece], which are on the verge of bankruptcy, by six points while making negative comments on Turkey, which has a constantly growing economy. Either they don't understand economics and science or they are not even a new apprentice in this field. They make decisions based on politics. This is a perception management operation. They are assigned a duty and they must fulfill their duties. Supposedly, they are going to pull Turkey down. That is what they do. Let me repeat myself, we didn't achieve all of this with the help of some credit rating agency or international media outlets," Erdoğan said.
He also described that Turkey made its way with the efforts of workers, farmers, industrialists and tradesmen, saying, "We reached this level with great effort by invaluable exporters who are here now. From now on, we will continue to benefit from working hard not from headlines or rambling comments."
The Turkish army could be used to help set up a secure zone in Syria if there was an international agreement to establish such a haven for refugees fleeing ISIS militants. The logic that assumes Turkey would not take a position militarily is wrong," Erdoğan said.
Erdoğan said that negotiations are underway to determine how and by which countries the airstrikes and a potential ground operation would be undertaken, and that Turkey is ready to take part.
"In the distribution of responsibilities, every country will have a certain duty. Whatever is Turkey's role, Turkey will play it," he said, adding that an air operation alone was not sufficient.
"You can't finish off such a terrorist organisation only with air strikes. Ground forces are complementary [...] You have to look at it as a whole. Obviously I'm not a soldier, but the air [operations] are logistical. If there's no ground force, it would not be permanent," he said.
Erdoğan said that Turkey would defend its border if necessary, and added that the necessary steps would be taken once a Parliamentary mandate is passed next week that enables Turkish troops to conduct operations outside its borders.
"No one is responsible for protecting your borders. Will other people come and protect? We are the ones who will protect our own borders," he said.
DEPUTY PRIME MINISTER ALI BABACAN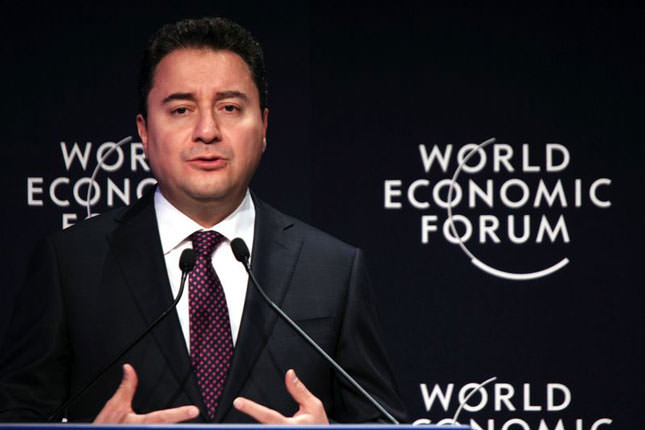 Deputy PM Ali Babacan said on Monday he sees the importance of "networks for solidarity and cooperation" across the Middle East and North Africa. Babacan delivered a wide-ranging speech yesterday at a WEF meeting that attracted 480 participants from over 70 countries. Babacan said one major responsibility of Turkey in the MENA region is to seek peaceful settlements in disputes. "In this geography multiculturalism is key, as well as respecting differences and seeing diversity as richness, [something] which we achieved for centuries."
"We are very hopeful for the future. That is why we have lifted visa restrictions and signed free trade agreements with many countries in the region; we did so to allow an easier circulation of people, goods and services." Pointing to recent developments in Syria, Iraq and elsewhere in the MENA region, Babacan stressed that it is a difficult area to maintain stability. "Turkey has certain principles whenever it approaches MENA and we continue to respect those principles regardless of the developments," he said. Answering a question on how the ongoing crisis in Syria and Iraq would affect the global economy, Babacan said that it is now "one of the greatest geopolitical threats to the global economy and a long-term issue" which needs to be solved. "We are observing a huge humanitarian problem in Syria and Iraq. Twenty thousand people are dead already. Iraq and neighboring countries are natural resource-rich nations. Oil supplies or transportation roots could cause a higher oil profile picture which will affect the global economy," Babacan said.
The Islamic State of Iraq and al-Sham (ISIS) launched an offensive in mid-September, capturing large swathes of land in Iraq and Syria, declaring what it calls a cross-border Islamic "caliphate," killing thousands and displacing millions in the two countries. It has posted graphic online videos of mass executions, as well as the beheading of Western hostages. Additionally, ISIS has captured a number of oil-producing areas in northern Iraq.
Pointing out that Turkey has undergone major economic and political transformations in the last 12 years, Babacan said the accession process to the European Union helped Turkey with its reform process. "Accession to the EU increased the quality of democracy and the observance of human rights ... the EU criteria acted as a guide to further reform. "But we still have a lot to do. We need to improve the quality of democracy, to make sure that fundamental rights and freedoms are even more widely practiced and to ensure that Turkey sees a real rule of law," he added.
Over a million Turkish people found work between June 2013 and 2014 according to Babacan, who said the government offered advantages to companies or employers who hired young people or women. Babacan also noted that Turkey's average economic growth rate from year-end figures since 2010 has averaged almost 6 percent and that citizens understand sustainable consumption very well. "Growth is coming both from domestic consumption and exports ... 6 to 7 percent growth next year would be easy for us but it's risky, so we want to keep the growth slow," Babacan added. Finally, the minister touched upon Turkey's G20 presidency in 2015, saying that Ankara will try to be a bridge between G20 countries and less-developed states "because these countries have huge potential."
ENERGY MINISTER TANER YILDIZ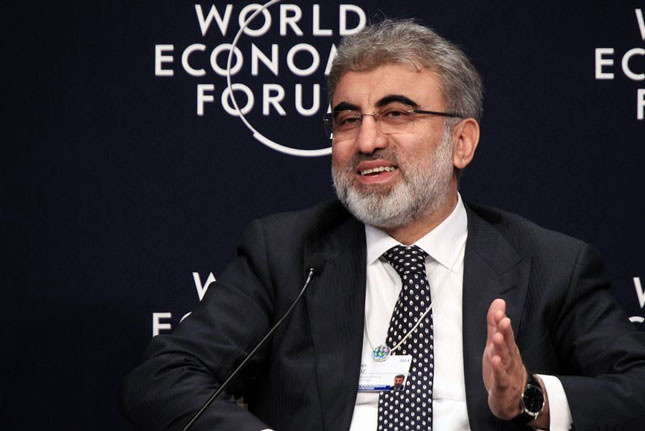 Russia will continue with its $22 billion nuclear energy investment in Turkey, and both countries will strengthen economic cooperation despite their differences in outlook regarding regional political issues, said Turkey's Energy Minister Taner Yıldız on Monday.
Speaking at the World Economic Forum's Special Meeting entitled "Unlocking Resources for Regional Development" at the Hilton Hotel in Istanbul; Taner Yıldız said he will visit Moscow on Wednesday to discuss Russia's economic investments in Turkey.
Yıldız said that despite Turkey and Russia's different outlooks on the political crises in the Middle East such as with Syria, their mutual interdependency takes priority, and he stressed this point with Russia's $22 billion investment in Turkey including nuclear power plants.
The Akkuyu Nuclear Power Plant project is estimated to cost around $20 billion and total of $3.5 billion worth of equipment is expected to be used in the construction process, of which $1.8 billion will be spent this year alone.
Funds received from Russia are expected to be used specifically in the building of the infrastructure for the plant, in constructing roads, power lines, water pipelines, temporary housing and cranes.
If the project license is approved, the reactor construction is estimated to begin in 2016, and to be operational by 2020 with the entire plant being fully operational by 2023.
The Russian energy company Rosatom signed an agreement in 2011 to build and operate a four reactor nuclear power plant in Mersin province on Turkey's Mediterranean coast, with the aim of having the plant fully-operational by the Turkish republic's 100-year anniversary in 2023.
Yıldız also said that despite the political instability in the Middle East, the conflicts will not prevent Turkey becoming an energy hub in the near future.
"With the international projects that Turkey participates in, the country will shine as a symbol of stability in the region and will continue to make such projects lighten the political burden," he said.
Turkey is currently involved in several pipeline projects, such as the Trans Anatolian Pipeline Project (TANAP) which will carry Azerbaijani natural gas to Europe by the end of 2018.
EU AFFAIRS MINISTER VOLKAN BOZKIR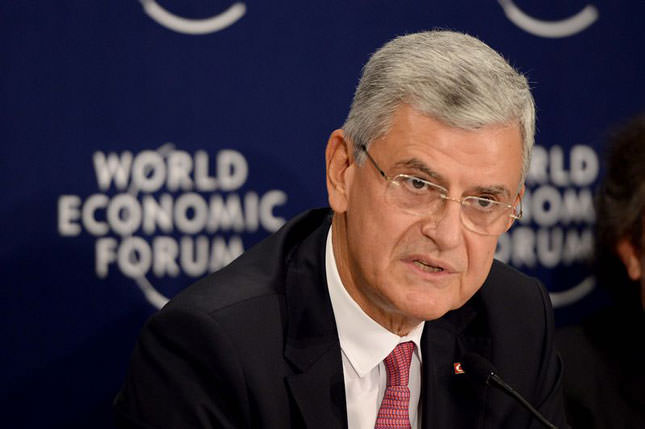 The European Union can benefit from Turkey's markets, young population and strong army, EU Affairs Minister Volkan Bozkir has said. Bozkir told the World Economic Forum on Monday: "For the EU to be a superpower, it needs strong markets, a young population and a strong army-which Turkey can provide and the EU can benefit from."
Previously the economic and social benefits of joining the EU were obvious but today, Bozkir said, "the picture is gloomy." He added: "Still, the EU is making life better for individuals and countries, from food security to education and the environment, as well as energy."
Turkey began negotiating to become an EU member in 2005, having applied to join in 1987 and becoming an associate member in 1963. Bozkir said: "Turkey has 'sufficiently' fulfilled the political criteria for EU membership. The task now is to 'completely' fulfill the criteria... We look forward to reaching the values and standards and enjoying the benefits." Opinion polls in Turkey show that 55 percent of Turks support the country's membership bid, the minister added.
Bozkir also touched on sanctions imposed on Russia by the EU following the invasion of Crimea. "I personally believe that sanctions will not get any results... We have always stressed the territorial integrity and political stability of Ukraine, with whom we have good relations."
PRIME MINISTER AHMET DAVUTOĞLU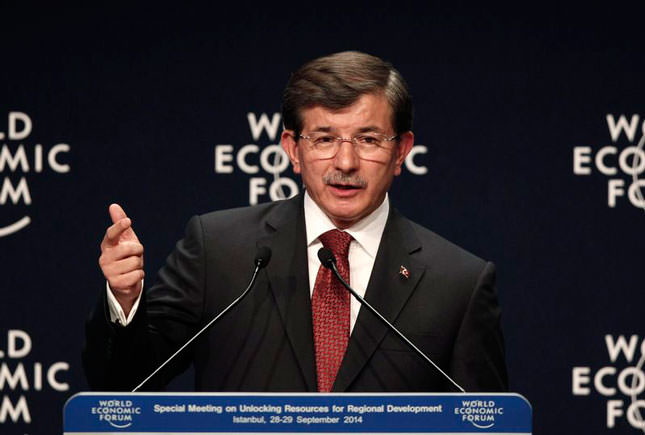 "ISIS is a threat to Turkey and to the Muslim world more than to the rest of the world but we cannot cooperate with Assad to defeat ISIS, How can we make a deal with one devil to fight another? And apart from that any cooperation with the Syrian regime can cause ISIS to gain more supporters from other factions in the region," Turkish PM Davutoğlu said on Monday in his closing speech at World Economic Forum.
Davutoğlu condemned attempts to link ISIS to Islam. "Islamic communities that have a deep-rooted culture of politics have the capacity, like any other nation and religion, to both keep democracy alive and improve it," he added. "Neither Islam nor the world of Islam can be correlated with entities like ISIS."
Underlining the fact that Turkey is now on the fault line of the economic crisis of Europe and the political crisis of the Arab Spring, Davutoğlu said that the crisis in Europe is not any different than political and geopolitical crises in the Middle East.
"A Geopolitical earthquake shattered lives in the Middle East and we felt the aftershock in Turkey, I have been saying for years that we need dialogue and economic interdependence in the region in order to keep it safe."
"Every single country in the world can be ruled by democracy, including countries in the Middle East. We supported people who want democracy in the Middle East. Those who were preaching democracy to Turkey left their beliefs aside in the Middle East."
Davutoğlu also criticized the international community for not taking action against ISIS in Syria. He said that radicalization and extremism gained ground in Syria only because the international community had failed to act.
He also called Europe to share the refugee burden with Turkey saying, "We are taking care of the Syrian refugees while everyone else is telling us what we should do. Turkey spent $3.5 billion of citizen tax money to pay for Syrian refugees notes. The total number of refugees in Europe is 130,000 while Turkey accommodates more than 1.5 million refugees."
Davutoğlu also stressed that Turkey and Europe has an important connection with each other and said, "Turkey is a European country and is a part of European history. You cannot understand the history of Europe without looking into the Turkish archives. We felt the financial crisis in Europe very deeply. Turkey is a part of European integration."