Two figures very close to President Recep Tayyip Erdoğan, chief advisors Mustafa Varank and Aydın Ünal, who were targeted as part of the December 17 and December 25 operations, have spoken for the first time about the details of the operations to Daily Sabah. Their account of the developments and hidden aspects of the operations revealed Erdoğan's reaction to the operations, the initiatives of the "parallel structure" and the causes of this coup attempt in detail.

Daily Sabah: How do you define December 17 and December 25?

Aydın Ünal:
It was the closure of a bracket opened on May 27, 1960 [the military coup that led to the execution of then Prime Minister Adnan Menderes]. It was strongly proven that democratically elected governments would no longer be overthrown through undemocratic means. December 17 was a beginning. And December 25 was the most unprincipled, lawless and unethical coup attempt so far. In some chambers of the Istanbul Police Directorate, defiant expressions were being uttered such as, "We will be done with Erdoğan once we arrest this person on December 25." They were so self-assured that they did not even think of what they might do in case their plans failed to work out. I regard the media and social media attacks between December 17 and the March 30 local elections as acts of discrediting after the coup. They were going to arrest the prime minister just as they did the late Prime Minister Adnan Menderes and then attack his reputation through these organs.
Mustafa Varank:
December 17 was a preliminary operation to prepare the public. The real target was December 25. In the first phase they intended to arrest Erdoğan's family members. They knew how hard it would be for a prime minister. They based all their calculations on this. We know the vigorous efforts of prosecutors and how they exerted efforts to activate police and gendarmerie forces. There was no lawful action. There was an explicit coup attempt against the government through the facilities of a fanatic group.
DS: What was Erdoğan's attitude during those days? What do you think would have happened if they had attempted to arrest him?

AÜ:
Our president [then prime minister] perfectly showed his leadership abilities and acted very calmly. If his enemies had seen the slightest hint of helplessness, panic, fear or hopelessness on his face, they would have taken courage to destroy all the public order in the country. I guess Erdoğan remembered Adnan Menderes and Mohammed Morsi. He was guessing what would happen to him if he surrendered. It was certain that he would not repeat the mistake of Menderes, who surrendered to the military officers on Kütahya highway. I guess that is why he constantly underlined the "white shroud," remembered and reminded people of Menderes and often talked about "killing the death in his soul" for the sake of this cause. I can say that even though they attempted to arrest him, they would not find a prime minister surrendering to handcuffs who would rather mark the history by holding his head high as a paragon of courage.
MV:
As a leader who has not allowed any tyranny or sordidness throughout his life, of course he would not have allowed such an unlawful attempt. The public would not have allowed it either. Our public has overcome so many obstacles so far that it has insight into such incidents. They are aware of the developments in Turkey and Erdoğan's significance and contribution in this journey of great progress.
DS: Can the Gülenist structure engage in any other activities again? How can the state be clear of it?

MV:
I don't think they have power to make an organized attempt again. Their masks fell off and they showed their true colors. Most importantly, they were already tried and sentenced by the public conscience. For years they tried to create an impression that they were an organization of tolerance and dialogue. Their empire of lies founded with the maledictions they said in a trance, the religious exploitations they made and their slanders and curses collapsed.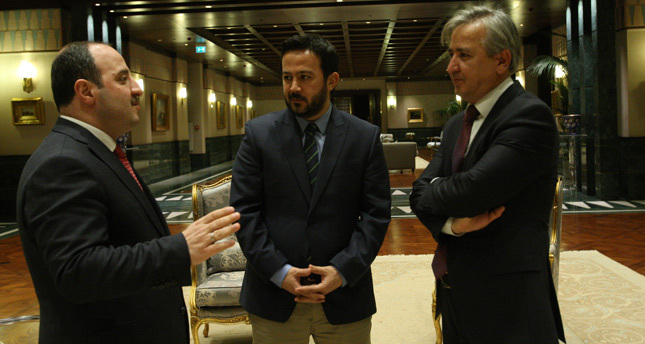 DS: Do you think necessary steps were taken against this structure after the February 7 incident?

AÜ:
I think saying "the necessary measures were not taken after February 7" would be unfair criticism. As the reality of the parallel structure started to unveil and as they started to show their true colors, politics started to part ways with them. It was not possible to do this suddenly and with strict measures.
DS: What would have happened if December 25 had been a success?
MV:
There was one more thing to do after targeting and arresting Erdoğan and his entourage – silence everyone objecting to or reacting against them. The final goal was obvious. After staging a coup and imprisoning everyone, they would bring Fethullah Gülen to Turkey with a structure similar to Ruhollah Khomeini's.
AÜ:
While serving the superior mind by which it was bound, the parallel structure also dealt with its own personal matters. The Tahşiye operation was one of these personal issues. Since they saw TÜRGEV as a rival, they tried to eradicate it. They were silencing writers and journalists criticizing them and mercilessly eliminating those blocking their way in institutions with slander. No need to say that Gülen was so curious about intelligence and satisfied his curiosity while serving some circles at the same time. Also, the case they made up, namely Selam Tevhid, was an operation through which they would both settle their personal affairs and serve the superior mind.