Iranian Minister of Foreign Affairs Mohamed Javad Zarif's visit to Ankara was postponed yesterday without a future date set due to President Recep Tayyip Erdoğan not giving an official appointment. After Ankara's reaction, Iran began to try and find ways to redeem itself.
Even though there are problematic areas between Turkey and Iran such as Iran's Syrian policies and sectarian expansionism, Ankara has tried to not make an issue of these problems and aims to improve bilateral relations. Additionally, Iran's nuclear deal with world powers was warmly welcomed by Turkish officials. Nevertheless, according to Turkish officials, Iran's recently started defamation campaign against Turkey conducted by Iran's state-run media organizations is considered the last straw. Sources from the Turkish presidency said Iranian officials ignored Ankara's warning and continued the smear campaign that Turkey is supporting the Islamic State of Iraq and al-Sham (ISIS) and Iran's "hostile" statements about Turkey regarding the fight against the PKK. Because of this Erdoğan did not give an official appointment to Zarif and his visit to Ankara was postponed.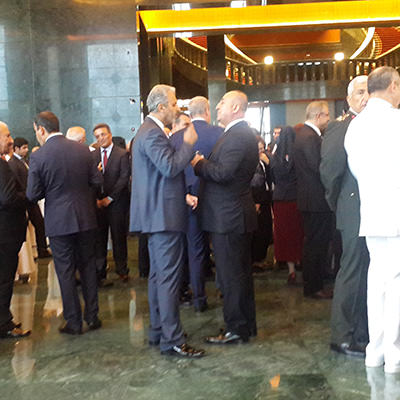 Iranian ambassador to Ankara speaking with Turkish FM Çavuşoğlu at a reception at the Presidential Palace.
In order to redeem itself after Ankara's reaction, Iranian Ambassador to Ankara Alireza Bikdeli tried to persuade Foreign Minister Mevlüt Çavuşoğlu and presidential spokesman İbrahim Kalın in a reception at the Presidential Palace on Tuesday evening. During the Honorary Medal award ceremony for Chief of General Staff Gen. Necdet Özel on Tuesday Bikdeli spoke with Kalın for about 10 minutes and immediately after he tried to persuade Çavuşoğlu that Iran is not behind a defamation campaign. However, sources indicated that Bikdeli's efforts to persuade both Kalın and Çavuşoğlu were not successful and they told Bikdeli that Iran's overlook on this issue might further hurt bilateral relations.
In recent days Iranian media has repeatedly made claims that Turkey helps ISIS. Iran's official Islamic Republic News Agency (IRNA) has given wide coverage to the charges against Turkey. In an article published on July 26 in the Aferinesh daily, the IRNA report claimed that the Turkish government has secretly given military assistance to ISIS. Moreover, in an analysis, the IRNA on July 27 reported that Turkey has allegedly given space to ISIS in Syria. In another analysis about Turkey's cross-border operations, the IRNA on July 28 claimed that Turkey is allegedly supporting ISIS, and only in recent days gave up its support that prompted ISIS to attack Turkish territory after the group got out of control. Several other Iranian media organizations, including Fars News Agency, Tasnim News Agency and Press TV, which is close to the Revolutionary Guard, are also playing important roles in creating a negative perception of Turkey. Moreover, Keyhan newspaper, backed by Iranian Supreme Leader Ali Khamenei, is supporting the claims against Turkey. The newspaper reported on June 25 in one of its headlines that Turkey, Saudi Arabia and Qatar are the alleged headquarters of ISIS. Keyhan on July 25 also reported that Turkey has allegedly made an alliance with ISIS to topple the Syrian regime. It reported that Turkey has allegedly made a secret deal with ISIS so the terrorist organization would not carry out any terrorist attacks in Turkey.
The Fars News Agency, which is controlled by the Revolutionary Guards, reported on July 27 that ISIS and Ankara allegedly have extensive economic ties, adding that the militant group is being armed by the Turkish government. It published an interview with Khamenei's chief adviser, Ali Akbar Velayati, on Aug. 1 in which Velayeti alleged that Ankara supports terrorist organizations in the region.
In addition, Turkey's cross-border operations against ISIS and the PKK have annoyed the Iranian government. Iranian media has alleged that Turkey attacked Syrian territory "under the color of terrorism."
Press TV in an English broadcast on July 21 also put blame on Erdoğan's daughter Sümeyye Erdoğan for allegedly visiting ISIS militants in a hospital on the Syria border. Even though the charges based on Canadian website globalresearch.ca have been denied strongly by the presidency, Press TV has continued to publish the charges on its website. The IRNA has also taken aim at Turkish Airlines, claiming on Feb. 6 that the airline is supporting militants in Yemen. "Turkish Airlines transported Yemeni terrorists fighting in Syria to Yemen," IRNA said in a report based on the claims of the Saba News Agency, which is under control of Houthis and which in turn is controlled by Tehran. Moreover, the Fars News Agency claimed on June 1 that eight alleged spies working for Turkish, Qatari and Saudi Arabian secret services have been caught in Sanaa, Yemen.
The Turkish government has taken notice of Iranian media organizations' government-supported defamatory campaign against it and relayed its regret to Tehran through several mechanisms, however Iranian authorities have continued to ignore Turkey's warnings.