President Recep Tayyip Erdoğan on Wednesday has attended the opening of Moscow Mosque with Russian President Vladimir Putin and Palestinian National Authority President Mahmoud Abbas.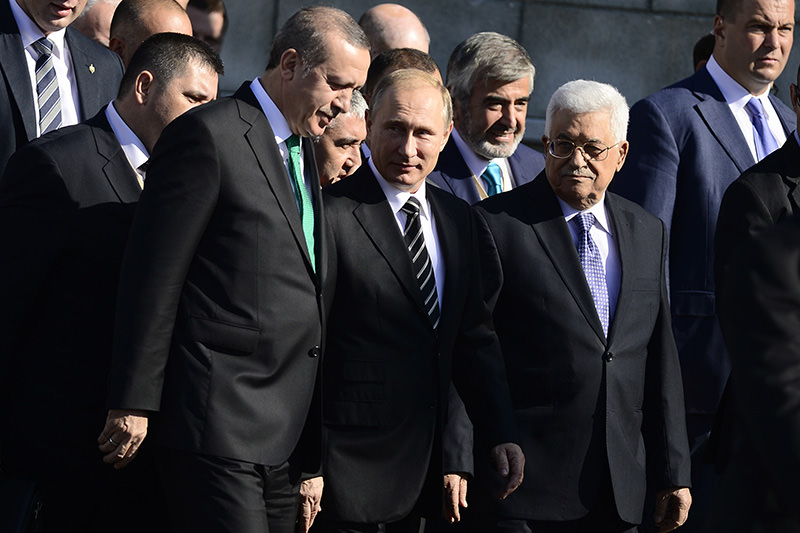 An estimated two million Muslims now live in Moscow, which has seen an influx of people from the North Caucasus republics of southern Russia, Azerbaijan and the former Soviet states in Central Asia.
The new mosque built on the site of a smaller, more than 100-year-old mosque destroyed in 2011 can accommodate 10,000 worshippers, but it is still one of only six mosques in the city. Calls from Muslim religious leaders to build more mosques have met with opposition from city officials and residents.
Speaking at the reopening of Moscow Central Mosque alongside Turkish President Recep Tayyip Erdoğan, Putin said: "Muslim opinion leaders always contribute to the development of peace and common sense against extremism in Russia."
The Russian leader went on to condemn ISIS's exploitation of Islam.
"Attempts are being made to cynically exploit religious beliefs for political goals," he said, quoted by the state-owned Sputnik news agency.
He added that ISIS was "compromising a great world religion, compromising Islam, spreading hatred, killing people, including priests, and barbarically destroying objects of world culture.
"Their ideology is based on lies and blatant perversion of Islam."
The Turkish Diyanet Foundation, an agency of Turkey's religious affairs directorate, helped with the mosque's interior design.
Erdoğan and Putin were expected to have a meeting following the opening ceremony and discuss Russia's increasing military presence in Syria and its support for Bashar Assad 's regime in Damascus, which continue to stand as the major thorn in Turkish-Russian relations. Erdoğan will argue to Putin once again that the al-Assad regime is the main source of instability in the region and will underline that Russia and Iran's peace initiatives are unlikely to bring peace as long as Assad remains in power.
The two leaders will also try to solve disagreements over the Turkish Stream project, a natural gas pipeline project to deliver Russian natural gas to Europe via the Black Sea and Turkey via four pipelines with a capacity of 63 billion cubic meters. Turkey has been in favor of starting the first line, which has a capacity of 15.75 billion cubic meters, but the project could not start due to the failure of Turkey and Russia to reach an agreement.
Apart from Erdoğan, Palestinian National Authority President Mahmoud Abbas and Kazakhstan President Nursultan Nazarbayev are also expected to attend the event. The mosque in Moscow, built back in 1904, is the biggest in Europe and a large reconstruction of the mosque began in May 2005. Over 10 years, about $170 millionwas spent on reconstructing the mosque, as Russian Council of Muftis deputy head Rushan Abbyasov said.