Having spent all of her life in Syria's second largest city, Aleppo, in which the most violent clashes of the civil war are ongoing, Emine M., 45, said Turkey is a safe haven for refugees as she stresses that going to a European country is not an option for them. The mother of a refugee family who had arrived in Ankara nearly a year ago told her story to Daily Sabah and said getting into the country was a tough ride while the Islamic State of Iraq and al-Sham (ISIS) and the Assad regime conduct attacks.
Emine, a mother of four, said living as a Turkmen in Syria was always difficult due to constant pressure from the Assad regime. However, with the beginning of the civil war in Syria and ISIS emerging in the region, Emine said their life became unbearable. With three of her sons residing in Ankara with her, she said that her eldest son, who was a renowned journalist in Syria, was kidnapped by ISIS two years ago and they do not know whether he is dead or alive. It was only after his kidnapping that they realized as a family that they needed to escape the country due to threats caused from the Assad forces and ISIS, she said.
"My son was one of the most well-known Syrian journalists who had always given speeches throughout elections against the Assad regime, and eventually Assad had declared an arrest warrant on him. However, Assad couldn't capture him, but ISIS did. The Assad regime and ISIS are one, and it is more apparent now," she further added. Emine's son has a wife and three young children who are waiting for the return of their loved one.
Though the living conditions for refugees in Turkey are better than Jordan and Lebanon, Emine said, she claims that there were some people who burned down the house of their neighbor, who was a Syrian refugee. When asked if she had personally faced such treatment by her neighbors, she said that being a Turkmen prevents it from happening, as the attacks she said, comes from nationalist extremists.
As Turkey currently hosts more refugees than any other nation, according to the U.N. with $3.5 billion of official development aid and $1.6 billion of overseas humanitarian assistance, Turkey is also the third largest humanitarian donor in the world.
However, after the tragic photo of the body of 3-year-old Aylan Kurdi washed up on a Turkish beach, the Syrian refugee crisis, as well as the increased refugee flow to Europe, caused EU countries to play attention to the Syrian crisis. In this regard German Chancellor Angela Merkel even said Turkey plays a key role in solving the "historic task" of dealing with Europe's migrant crisis. Merkel, who plans to visit Turkey on Sunday for talks with President Recep Tayyip Erdoğan and Prime Minister Ahmet Davutoğlu, is to address the refugee crisis during her visit.
While the majority of the 2 million Syrian refugees in Turkey are in eastern and southeastern parts of Turkey, the capital Ankara is hosting more than 50,000 Syrian refugees in the heart of the city called Altındağ. When traveling to the neighborhood, in which they mainly reside, it is clear to see reminisces from the streets of Syria. Stores and small shops, such as barbers, and signs are written in Arabic. It is very uncommon to hear Turkish on the streets of "small Syria" – as it's called - the people strive to continue their daily lives as they did in Syria.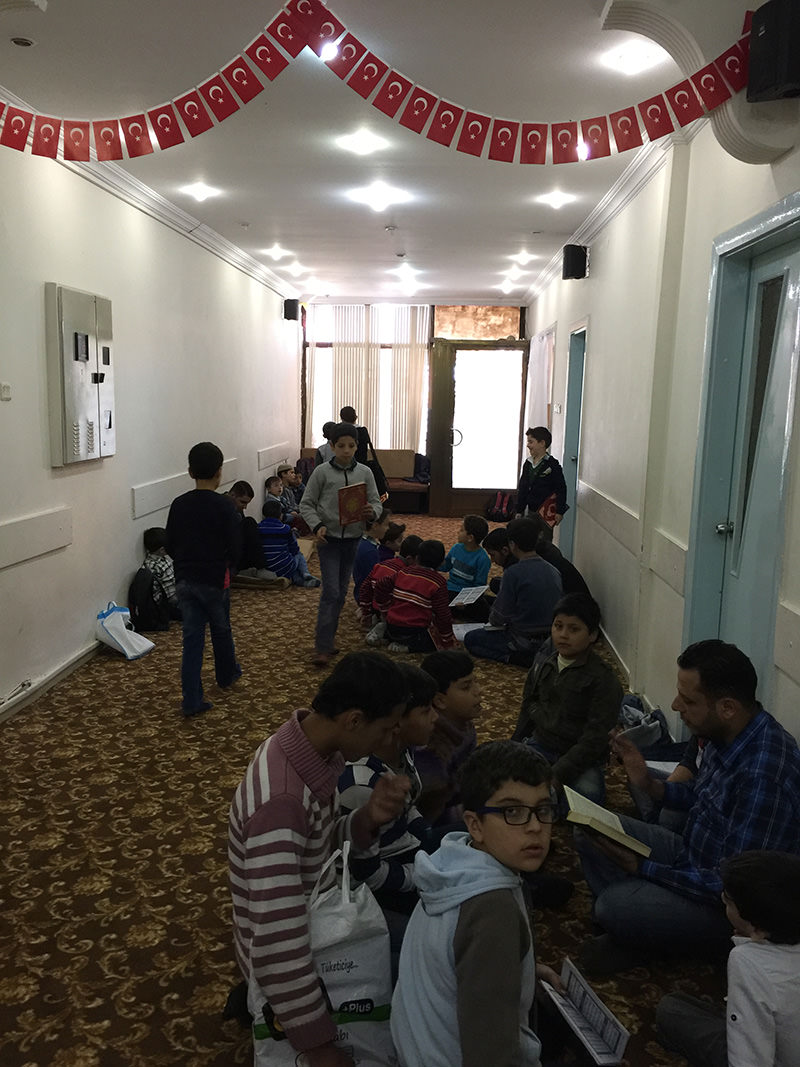 Yusuf M., 27, who's one of the sons of Emine, came to Ankara before his family arrived and thought he had to do something for the Syrian people living in Turkey despite the government's devoted efforts. "We cannot thank the government of Turkey enough for their help, however I felt the need to further help my people to ease their integration into the country and during their stay. Thus, with help from NGOs, charity groups and even locals, I have managed to create an education center for the children. Here, they mainly focus on learning Turkish so then they can attend the government's schools to continue their education," Yusuf said.
In the very beginning, the education centers conditions were poor and with devoted efforts they managed to fix it at minimal cost. Yusuf said when the children first arrived at the school they were traumatized and were even afraid of the rain as they thought Assad's forces were coming to bomb them. During their art class, when children were asked to draw, all they did was draw pictures with blood, tanks, and guns in them, Yusuf said.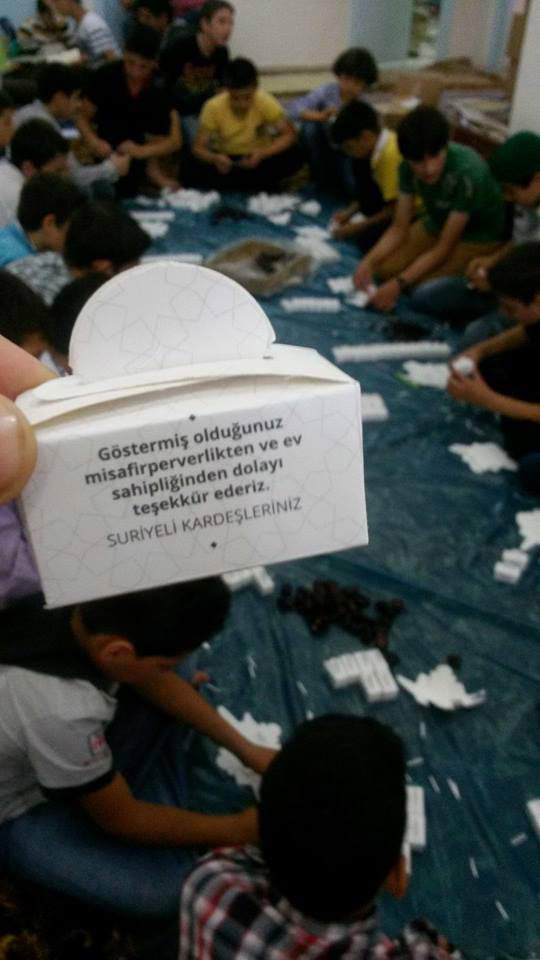 There is a perception that all refugees end up on the streets and become street beggars, thus resulting in unpleasant situations between Turkish citizens and refugees. Yusuf told Daily Sabah that they give out small treat boxes that have dates with walnuts in them. The boxes on them say, "We thank you for hosting us and showing hospitality, your Syrian brother/sister."
Yaseen, 8, is one of the lucky ones who arrived in Turkey via plane as he and his family had passports. Yaseen said he misses his life before the war and wants to return back to his country as soon as the war ends. Saying that his Turkish friends are very kind to him, he said "our neighbors even share their food with us."Similarly to Yaseen, all the children who had wished to share their stories do not want to stay in Turkey forever as they all miss their homeland, and they all harbor hopes of returning to the old days.
Abdulbasid, 14, and Abdullah, 13, are two brothers who came to the center for only half a day, as they stated they both had to work. Each receives about TL 100 ($30) per week, and tries to take care of their mother and sister, as their father, who was a Free Syrian Army soldier, was killed by Assad's forces.
The center not only provides Turkish lessons but also math, English and Arabic lessons to the children as well as their parents on the weekends. While Yusuf talked further about the center, a young girl aged nearly 8, came by with her brother. Muhammed, 11, barely speaks Turkish as they only arrived in Turkey six months ago. Sarah takes a candy and leaves the room as we start our conversation with her brother, who tells us that his sister is currently getting treatment for her burns caused by Assad's bombings.
"Ankara is definitely better than Aleppo," said Muhammed and added that he would never want to go to a European country due to the strong religious and cultural differences between Europe and the Middle East.
Government officials have continuously emphasized that Turkey will continue to apply an open-door policy to the refugees, and the EU leaders have agreed to provide political support for an "action plan" for Turkey and have said they will offer Ankara around 3 billion euros in efforts to improve the lives of the 2 million Syrian refugees in Turkey and to encourage them to stay put.