The PKK terrorist organization, which declared an end to the unilateral truce it announced three years ago in July, has expanded the scope of its campaign of violence by detonating a car bomb in a civilian-populated area.
A car bomb parked in an area housing buildings of state-run organizations and a hospital by PKK militants exploded late Wednesday in Şemdinli, a district of the southeastern province of Hakkari. Though no casualties were reported, several buildings were heavily damaged in the attack. The hospital's emergency room, a unit for newborn infants, surgery rooms and hemodialysis unit were rendered unusable after the attack.
Hakkari has been a hotbed of terror attacks threatening hard-earned stability in the region, which came after a government-sponsored reconciliation process to end terrorism.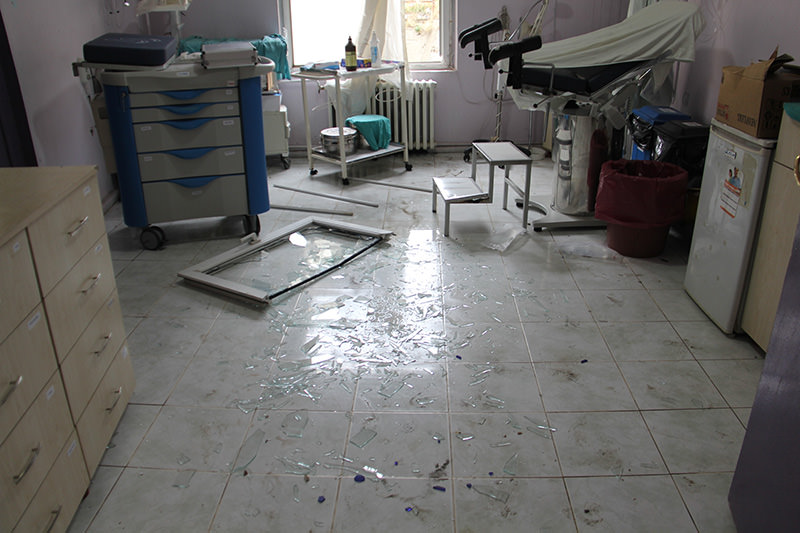 The damage of the attack was revealed on Thursday morning as shop owners were shocked to see their businesses heavily ruined.
Şemdinli district Governor Murat Öztürk said the attack specifically targeted daily life in the district.
The three-floor hospital in the district of more than 50,000 people was closed as of Thursday and renovation work is expected to take a long time.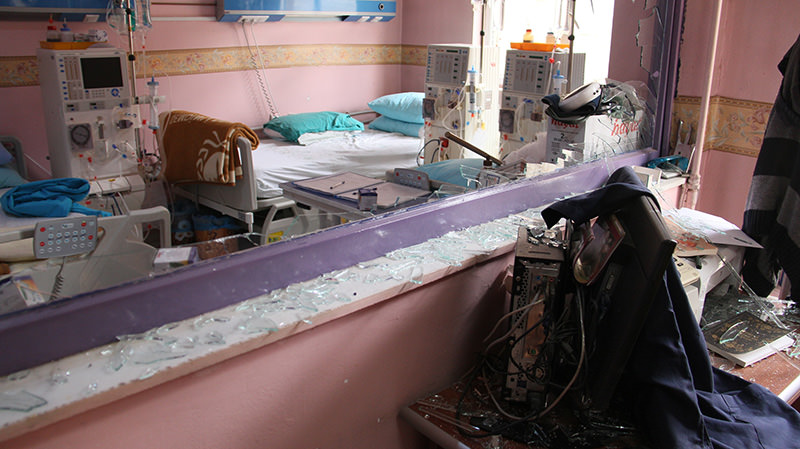 The governorate of Hakkari announced on Thursday that some neighborhoods in the Şemdinli and Çukurca districts will be designated as "special security areas" starting from Saturday to Nov. 4, a designation that enables the declaration of curfews and frequent security checks and patrols.
The terrorist organization has killed more than 130 soldiers and police officers since they resumed their attacks following a bombing in southeastern Turkey blamed on the Islamic State of Iraq and al-Sham (ISIS), a foe of the PKK's allies in Syria. More than 30 civilians also perished in the renewed violence.
The PKK's attacks in Turkey's eastern and southeastern regions have not only claimed the lives of military officers and civilians, but also jeopardized the daily lives of the people in the region where Kurds are the majority. Terrorist attacks such as bombing bridges, attacking the construction sites of dams and industrial areas and setting fire to construction equipment and vehicles have disrupted many projects planned to employ thousands of people. Some of these projects have come to a halt due to the assaults.
Hospitals, clinics and medical staff are among the primary targets of the terrorist organization, particularly to cut off medical aid to the security forces. Health workers working in two regions complain of death threats by the supporters of the PKK against them, warning them not to help soldiers and police officers wounded in the clashes with the terrorist organization.
In the face of threats and deteriorating security, many health care workers in southeastern Turkey have resigned from their posts due to safety concerns. In the eastern province of Bitlis, for example, 30 doctors and 35 medical staff recently resigned from a state-run hospital. In Hakkari, 13 doctors working at public hospitals resigned recently.
Recent attacks by the PKK have validated doctors' fears. Eyüp Ergen, a nurse at Cizre hospital in the southeastern province of Şırnak, was the first casualty of the PKK's renewed campaign of terror. Ergen was killed when he was caught in the crossfire during a clash between terrorists and security forces in August. Abdullah Biroğlu, a doctor, was killed in Diyarbakır's Kulp district a few days later when PKK militants blocking a street opened fire on his car. Lastly, Şeyhmus Dursun, an ambulance driver, was killed in Şırnak's Beytüşşebap district when terrorists opened fire on his vehicle as he was driving to the scene of an attack to pick up soldiers injured in a September attack.
Binod Kumar Shah, a Turkish doctor of Nepalese origin, had made the headlines after he was forced to quit his job at a public hospital in eastern Turkey due to the terror threat. Shah, who was named "Doctor of the Year" by the Health Ministry last year for his distinguished services, told Anadolu Agency how he was forced to leave Siirt, an eastern province where he worked at a public hospital. Shah has been working at Pervari, a district of Siirt where he was assigned two years ago when he quit. His remarks reflect the fears of medical personnel. "We used to go anywhere at any time before terror attacks started. You could go out at midnight and nobody would do anything to you. But this has changed and we are now scared to even step outside," he said. Shah said he felt like he was in a prison as security forces advised them not to leave their home at night. He felt particularly distressed when eight soldiers were killed in an explosion caused by a PKK landmine. Then, he wasn't able to visit villages for medical checks due to the lack of security. One day, as he was leaving Pervari for a vacation with his colleagues, they were stopped by terrorists. "I was scared. They simply made propaganda and spoke about the PKK but their guns were pointed at us. We all were very scared," he said.
Gunshots ringing outside and continuous clashes confined him to his home. Finally, he decided to quit as he was more concerned about his 11-month-old son. Then, at a farewell ceremony held, a car bomb was discovered outside the venue. "There were people, the governor, commanders, at the ceremony. We could all have died if they fired a rocket there," he said.